When you start receiving opt-ins, you can access lead data in a few different ways. It all depends on how you've set things up inside Leadpages. In this guide, we'll cover the various ways to access and manage contact data.
While there are ways to access your leads directly from Leadpages, we recommend integrating with a third-party service in most cases.
The fine print
In most cases, we recommend integrating your forms (in pop-ups or pages) with an email service provider, CRM, and/or a webinar service. That way, you can access and act on your leads once they opt in through Leadpages.
Deleting leads will not remove the leads from your analytics or 3rd party integrations
It is not possible to recover permanently deleted leads. If you are unsure, export leads to CSV before bulk deleting leads from your library.
Most services we integrate with store leads in a database (like a subscriber list). Check with the services you use to learn how you can access your opt-ins—many will even allow you to export your lead data.
To check where leads are sent to, open the integration settings for your form. You can find step-by-step instructions for accessing integration settings here: Connect your integrations
Leads library
You can search and filter your leads, exporting them from multiple pages, sites and pop-ups from within your account navigation menu under Leads.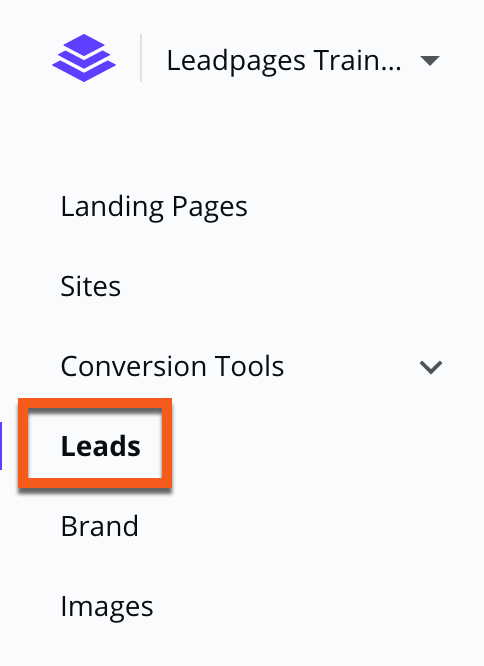 Search, sort and filter
Within your leads library, you can use the search bar to search for a keyword, email address, page name and more. Sort by "Email Address" or "Date Added" by clicking on the column names. Change the dates to filter for a specific range of time.
Filter by "All", "Spam", "No Spam" or "Deleted" by clicking each item in the dropdown menu.
All (All leads except deleted leads)
No Spam (Leads that have not been detected as spam and have not been deleted)
Spam (Leads detected as spam and not deleted)
Deleted (Leads that have been deleted)
NOTE: Once a lead has been permanently deleted, it will no longer appear in Leadpages.
"Source" is the name of the page, pop-up or site where the leads opted in. "Form Name" is the specific form where the lead opted in. More info on form names ↗
TIP: Click on a source or form name and your leads will be automatically filtered to show only leads coming from that destination. Click the ← to remove the filter.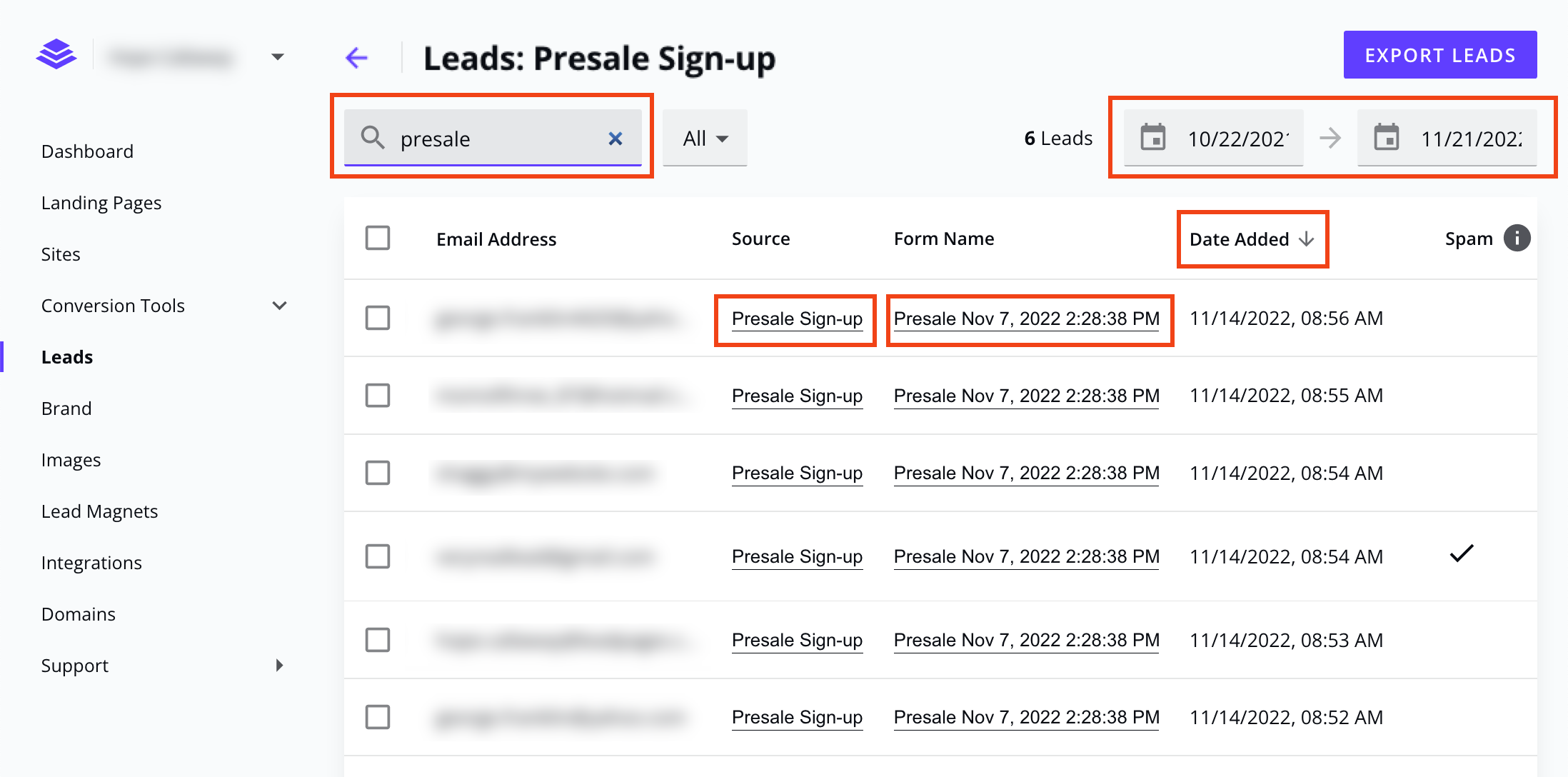 Spam
A "spam" lead occurs when the system determines the lead was submitted by a spambot and is indicated by a checkmark in the Spam column.
The system does not currently flag human based spam leads. You can also use the filters No spam or Spam to quickly view leads belonging to each category. It is not currently possible to mark leads as spam or remove the spam marker from a lead.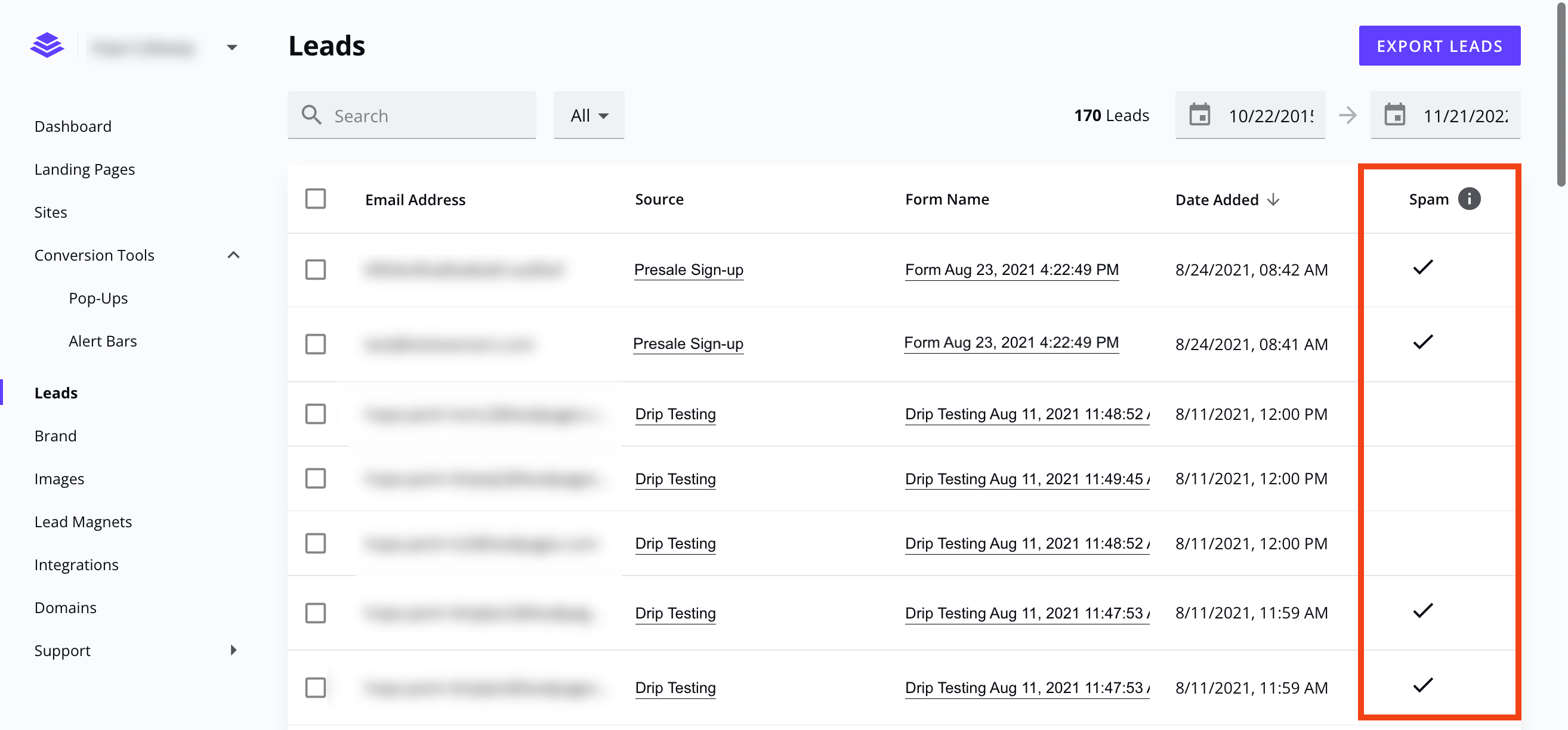 Delete leads
To delete your leads, simply select the leads you wish to remove, click the trash can that appears beside your filters, then click Delete to complete the action.
You can locate your deleted leads in your Deleted filter.
NOTE: Deleting leads from your Leads library will not remove those leads from your analytics or from any third party integrations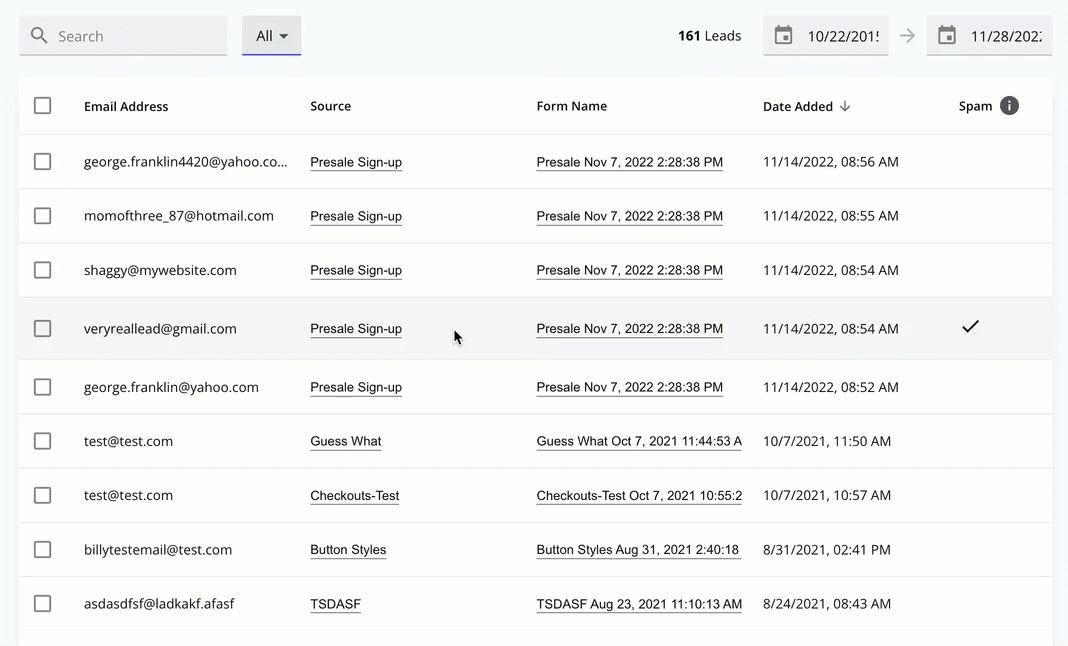 Restore
To restore a lead back to your Leads:
Filter to your "Deleted" leads.

Select the lead(s) you want to restore.

Click the restore icon (trash can with up arrow) beside your filters.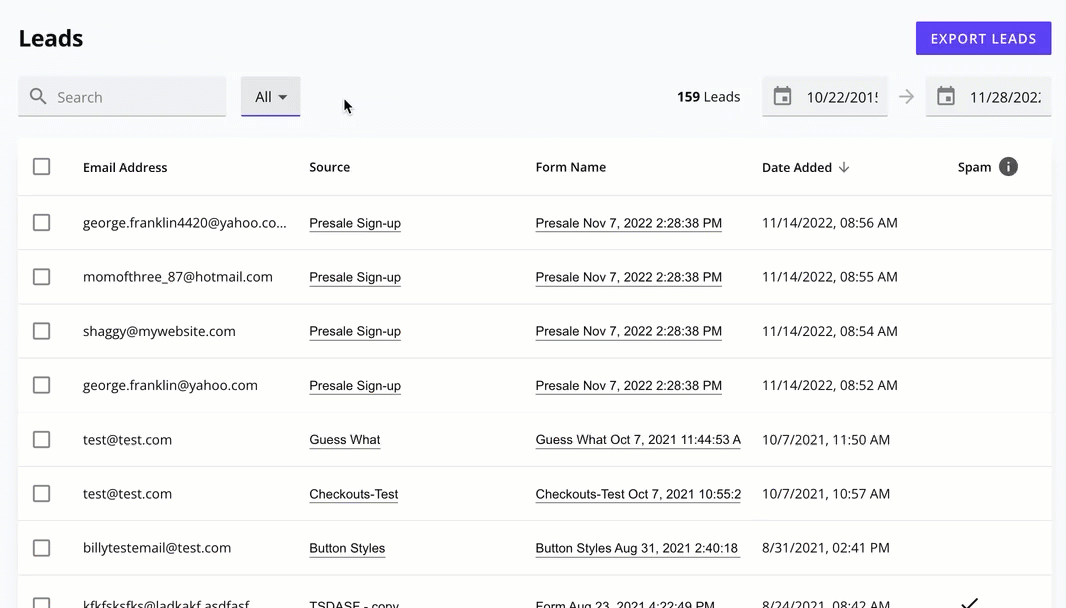 Permanently delete
To permanently delete a lead:
Filter to your "Deleted" leads.

Select the lead(s) you want to permanently delete.

Click the permanent delete icon (red trash can with "x") beside your filters

Complete permanent deletion by clicking DELETE
WARNING:
Permanently deleted leads cannot be recovered.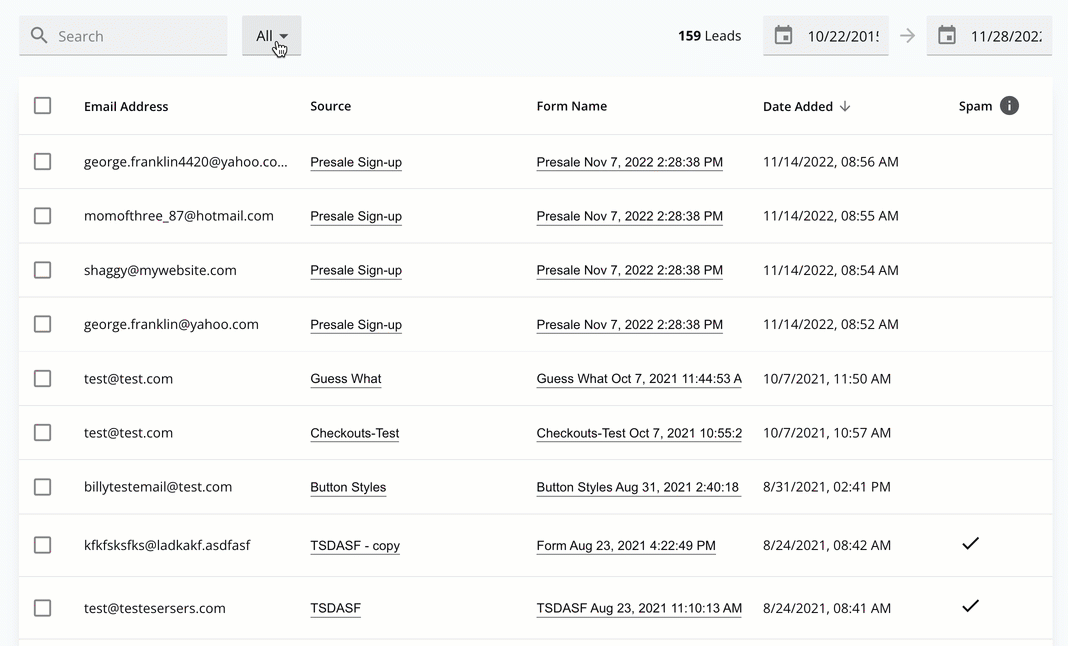 Export a CSV
From leads library
To export all leads in your search, click the top checkbox on the left-hand side or select the checkbox next to individual leads to export a select number, then click Export.
You will then confirm the CSV export and click Export once more.
CSV generation may take several minutes, especially for large sets of leads. When it's ready, the link will be emailed to your Leadpages account email address. The link will expire after 72 hours.
You can also export leads from within a specific site, page or pop-up by using the directions below.
In the builder
It is also possible to export your leads to a CSV from within the Leadpages Builder.
Open the page whose leads you'd like to export in the builder.
Click the drop-down menu next to the Update button in the top-right corner of the page. Then, select Export All Leads.

Leadpages will export your opt-in data to a CSV file that you can use in your favorite spreadsheet app (ex. Google Sheets).
Gather lead info via Lead Notifications
You can also gather lead data via Lead Notifications—the default integration for our builder. When Lead Notifications are enabled for your form, our system will send opt-in data to your email every time someone submits their information.
Each email will contain opt-in data such as leads' email address, names, postal code, etc. depending on what information your form is set up to collect.
NOTE: Any custom fields set up in your email service provider will not appear in the Lead Notifications email.
That said, we do recommend integrating with a third-party service for more robust lead storage.
For a list of our integration services, click here.
Frequently asked questions
What happens to my leads if my integration experiences a service disruption or goes down?
Although it's rare, sometimes third-party services we integrate with will experience downtime or other issues. In such cases, our system will store a backlog of any opt-in data that's collected during the outage. When the service you use is operating normally again, we'll send the lead data to them.
Sometimes, services limit how much data can be sent at once—so it can take a bit longer than normal for your leads to end up in their system. We always send over lead data at the highest rate possible.
---
Need more help?
You can always get in touch with our support team—just click Support in your Leadpages navigation menu, or submit a ticket ↗