You're probably wondering, "Where do I start?" You're in the right place! 😉
This article has got some sequential lists of resources for building out landing pages and websites with Leadpages. Check out the help center mastery section below to assist in finding what you need here in our ecosystem of help articles.
Dashboard checklist
Use the checklist on your Dashboard to help get you started on the most important tasks to complete after creating an account. Including, booking a one-on-one onboarding session with our team to help you get going!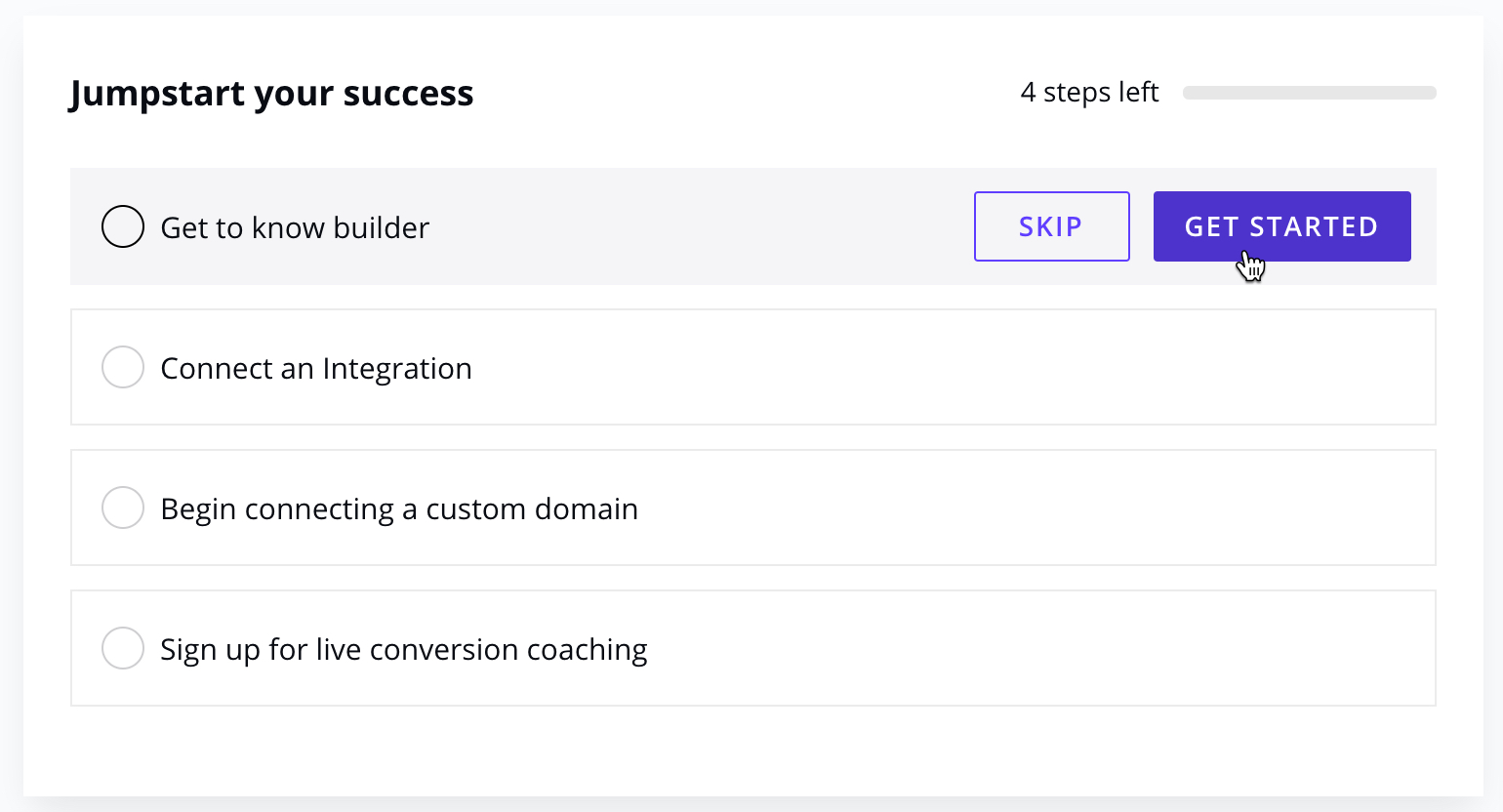 First step guides
6 steps to a landing page campaign
Taking these six steps will get you well on your way to collecting new leads and growing your business. The pillars of a simple template with a single call to action, an incentive to opt in, and a custom follow-up are baked into a landing page's DNA.
6 must-do's for building a Leadpages website
If you're looking to grow your business, there's no reason why you should solely depend on landing pages to collect new leads. Take the core concepts of a high-converting landing page and apply them to a website you've built right within Leadpages.
Utilize all of the conversion tools you would on a landing page
5 not-to-miss articles
Mastering the help center
This help center is full of how-to resources for all of your technical questions, so we want to let you in on a few quick tips for how to find your way around.
From the home page of the help center, you'll notice helpful links above and below the search bar. Take advantage of these to give you a broad net of resources that you can narrow down to what you're looking for.
If you choose to use the search bar, make sure to put in only keywords, like "lead magnet," "connect domain," or "integrate aweber." Full sentences or questions don't always work best, so feel comfortable entering just the keywords.
Once you've been given the results of your search, open an article and utilize the anchored titles at the top of the article to pull you straight to the section of the article that pertains to your question.
Still not finding what you're looking for, you can try holding command+F, then searching for keywords using your browser to show you just where the article talks about that keyword or topic.
Staying up-to-date with Leadpages
The bell icon at the top-right corner of your Leadpages account will have a blue notification dot on it to always notify you of new features or changes within Leadpages. You can also stay connected with our "What's new" article.
Get feedback from the Leadpages team
While in your 14-day free trial, submit for feedback from the Leadpages team after creating your site or page to make sure it's ready for visitors.
Our team will review your work and deliver feedback on its layout and functionality, aimed at conversion.
To get feedback, click Actions more then Get Feedback.
You will receive your feedback within 72 hours of submitting.
Marketing learning resources
Essentials webinar
Master Leadpages faster with this live webinar! Get more from your Leadpages account with our step-by-step, guided workshop. Register here!
Leadpages blog
Our blog contains a wealth of case studies, best practices, and other marketing advice. If you're looking for posts on a specific topic, you can search for articles in the right-hand sidebar.
Guide to landing pages
This guide is designed to cover the 'must-know' fundamentals as well as the most important tips & savvy strategies that have proven to work across hundreds of thousands of business.
For a complete list of our learning resources, click here.
---
Need more help?
You can always get in touch with our support team—just click Support in your Leadpages navigation menu, or submit a ticket ↗