At the heart of all our tools—from pages to sites to pop-ups—is the ability to send leads to an email service provider or list-building software. To do so, you'll need to connect your accounts. This guide will walk you through the process of integrating your accounts, regardless of how you use Leadpages.
The fine print
Once your integration service has been connected to your Leadpages account, the service is not automatically connected to your forms. Therefore, make sure to follow the "Choose where to send your leads" section of this article after connecting.
You can connect multiple accounts from one integration service to your Leadpages account for your sites, pages and pop-ups. However, only one can be used per form.
If your integration service is not one of our native integrations, you can also use our Zapier integration to connect to thousands of different apps.
Connect your integration service
Step-by-step
In order to send leads to your integration service, you will first connect your integration service account to your Leadpages account.
NOTE: Only one of each integration type (ESP, CRM, webinar service) can be used per form widget. However, you can connect your Leadpages account to multiple integration services to add them to other forms and pages.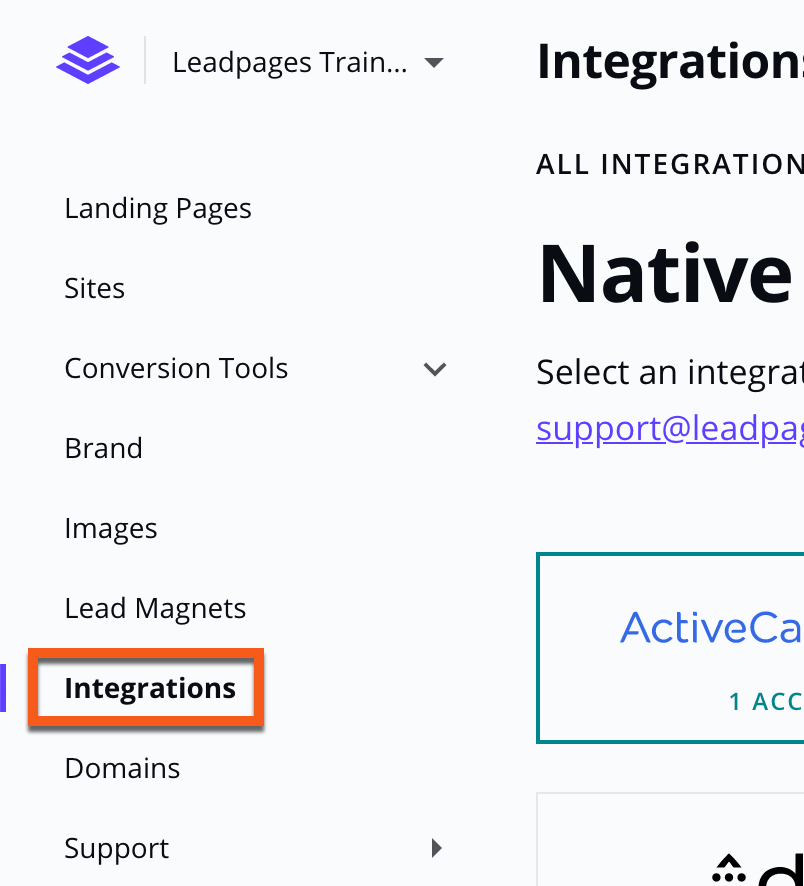 Once you connect a service, that account will be available to select in any of your forms to then select a destination for your leads within that service.
Click Integrations in your account navigation menu.
Select your integration service from the listing.
Click Connect New Account.
Name the integration account, then click Connect and follow any on-screen instructions to complete the process.
After the service has been connected, its status will show as "Connected."
After an integration service has been connected to your Leadpages account, the next step is to select it from your form's integration settings under the ① INTEGRATIONS tab. For more info, the next section details how to choose where you will send your leads.

NOTE:
Keep in mind that each service has different requirements for connecting. Some may provide an API key and password that you'll need to use. Others will allow you to log in through a popup window. For more information on your service, check out
our detailed articles here
.
Connect your form to your integration
Step-by-step
Once you have connected your integration service to your Leadpages account as indicated above, here's how to configure where leads will end up in your connected integration (such as choosing a specific list, form, or campaign) in our builder:
Hover over your form and click Edit Integrations to open its settings. Keep in mind, your form might be within a pop-up on the page.
On the ① INTEGRATIONS tab, click +Add an Integration under "Choose where you want form data to go."
Select your integration from the menu, then choose the specific list/tag/campaign where you'd like leads sent.
For more on form fields (i.e. custom fields) and follow-up actions after someone opts in, check out our form widget article.
Be sure to click Update at the top-right corner of the builder when finished.
TIP: After making changes (i.e. requiring form fields, creating a new list etc.) within your integration service, we recommend clicking ⟳ Refresh List inside of your page or pop-up form settings.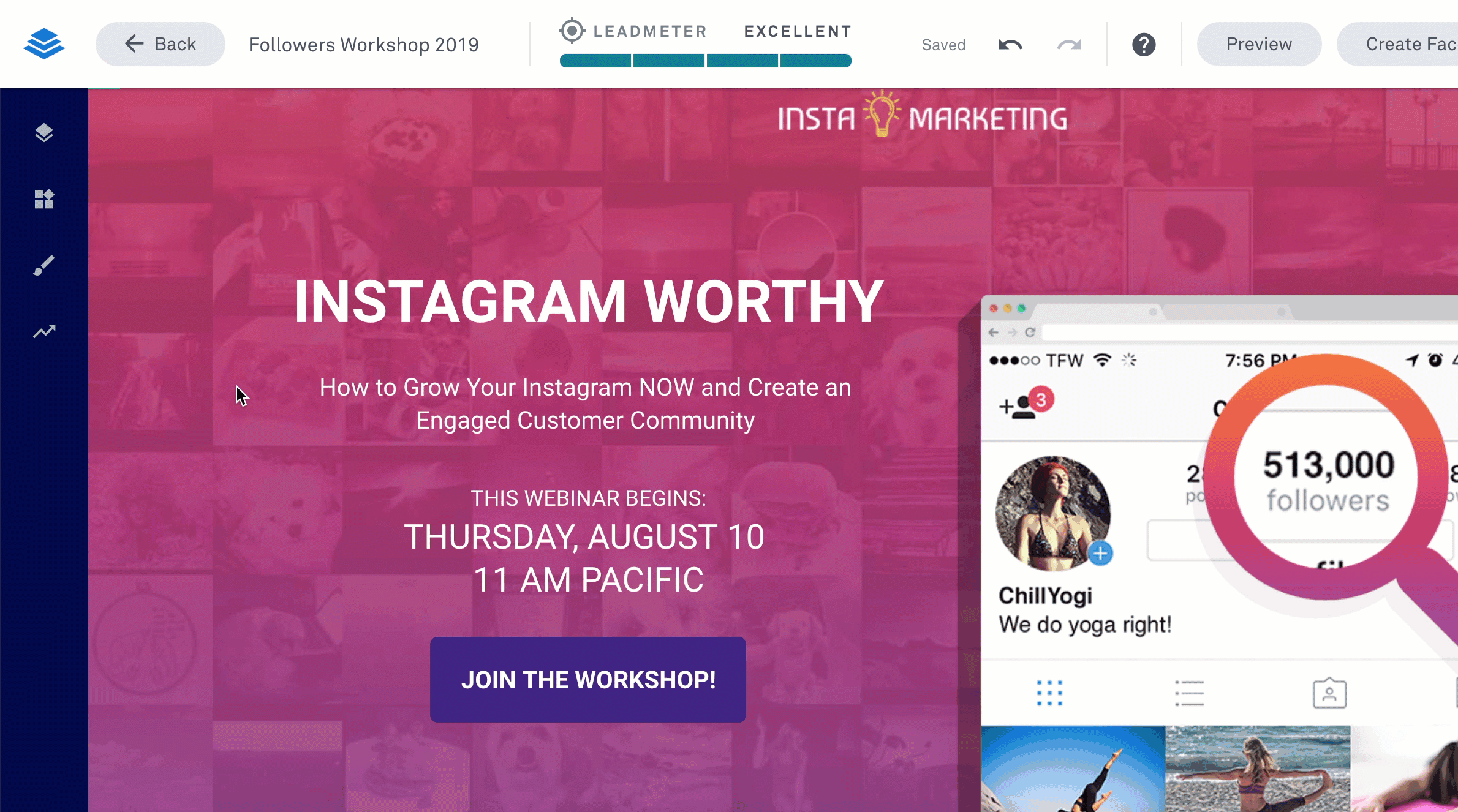 If you don't see your integration service, you should be able to add it under +More Services. For full details, take a look at the "Connect your integration service" section at the top of this article.
NOTE:
Depending on which service you're integrating with, you might not be sending leads to a
list
, but rather to a form, webinar, or something else entirely. For more information,
check out our service-specific articles here
.
Frequently asked questions
What if my integration isn't available?
If we don't officially integrate with the service you're looking for, we do have a couple solutions for you to try.
First is our integration with Zapier. Zapier allows for you to pass form information from Leadpages to thousands of other services. Do a quick search here for your integration here in Zapier. If your integration is listed there, the benefit to our Zapier integration is that you can continue to design and style your form within Leadpages, as well as use our thank you page and lead magnet settings. Here's more on our Zapier integration.
If Zapier's not for you, we do have one other way to get your leads to the right place. Please keep in mind that we can't guarantee that it will work, though it's definitely worth trying.
This option is to use our HTML Widget with the HTML form code provided by your email service provider.
You can drag the HTML Widget to the location on your page or pop-up where you would like your form to display. Then, paste your embeddable HTML form code into the widget. Your form will be displayed as designed in your email service provider, both in preview mode and on the live version of your page.
Please note that we can't provide support for third-party code added to your pages, but it is a great option to try out!
Can I connect more than one account from the same integration with Leadpages?
You can! To do so, select your integration from the drag-and-drop integrations page and click Connect New Account. Then, follow the on-screen instructions to complete the integration just as indicated above.
How do I reconnect my integration?
If your integration has disconnected or you're seeing an error symbol next to your integration in your form settings, you can learn how to reconnect your integrations here.
I want to connect a new integration but I keep getting an error?
This can happen when switching between two of the same type of integrations. For example moving from MailChimp to AWeber. To avoid error, you will want to reconnect Lead Notifications. From there you will delete your old integration, which will open it up for you to connect a new integration of the same type.
---
Need more help?
You can always get in touch with our support team—just click Support in your Leadpages navigation menu, or submit a ticket ↗