Time to build a website that converts! One that does more than just look good. This is a comprehensive resource to get you started in building a site with Leadpages as well as help you navigate to specific troubleshooting resources for sites.
Choose a site template
To get started, you'll need to begin with a template. Under the Sites section of your navigation menu, there's a purple button that says, "Create New Site." This button will launch the sites template gallery.
Here's how to choose a template from the template gallery:
Navigate to Sites in your navigation menu and click the Create New Site button.
Select a type of template from the drop-down on the left, search for a template, or simply browse through our collection.
Hover over any template's thumbnail, click Start Building to jump right in or Preview to take a closer look.
Once you've chosen a template, name your site, then click Continue.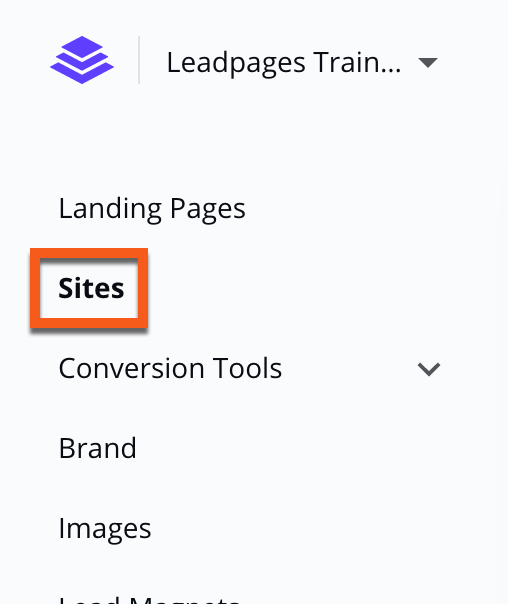 Edit your site's content
Every template includes pre-built sections with placeholder widgets. You can edit, rearrange, duplicate, delete, and add new content to customize your site.
Our builder automatically saves changes as you go, so you don't need to worry about losing any work. If you make a mistake, there are plenty of options to undo your edits.
Also, if you already have a Leadpages site, landing page, or pop-up built, you have the option to copy + paste sections onto your new site. Learn more ↗
You can also use section templates to help you add a new section to a page without designing it from scratch.
Edit header and navigation
The site header is the go-to place for your visitors to see your company logo, the places they can navigate on your site, and even a quick call-to-action button if you want to encourage them to sign up for newsletters or promotions.
Hover over the header and click Edit Header to change its layout and access customization and styling settings.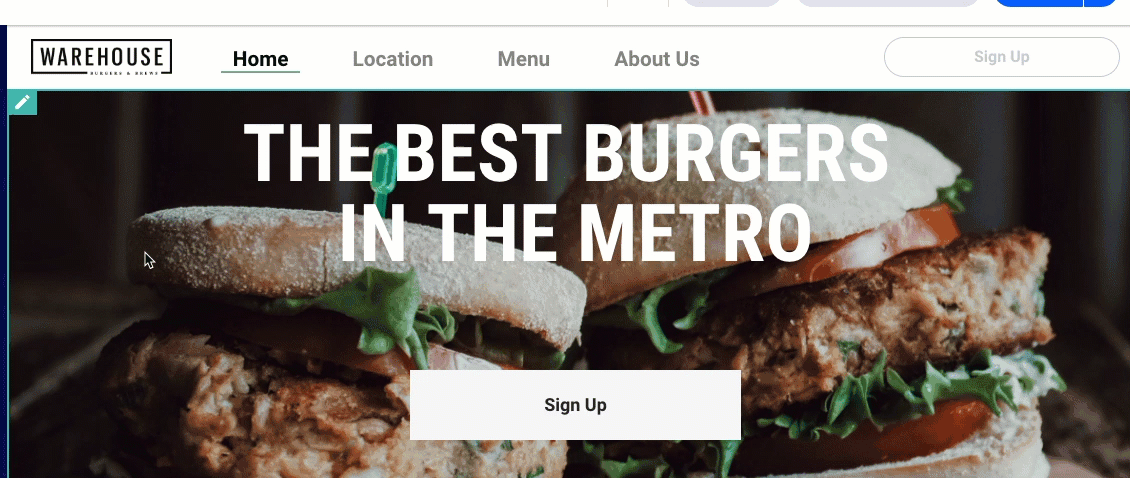 Learn all there is to know about site headers here: Customize site headers and navigation
Edit widgets
Widgets hold all of the content on your site—from text to images to buttons. Click on any widget to access its settings and edit its content.
NOTE: Many widgets can contain text, including buttons. Click on any placeholder text and start typing to replace it with your own copy.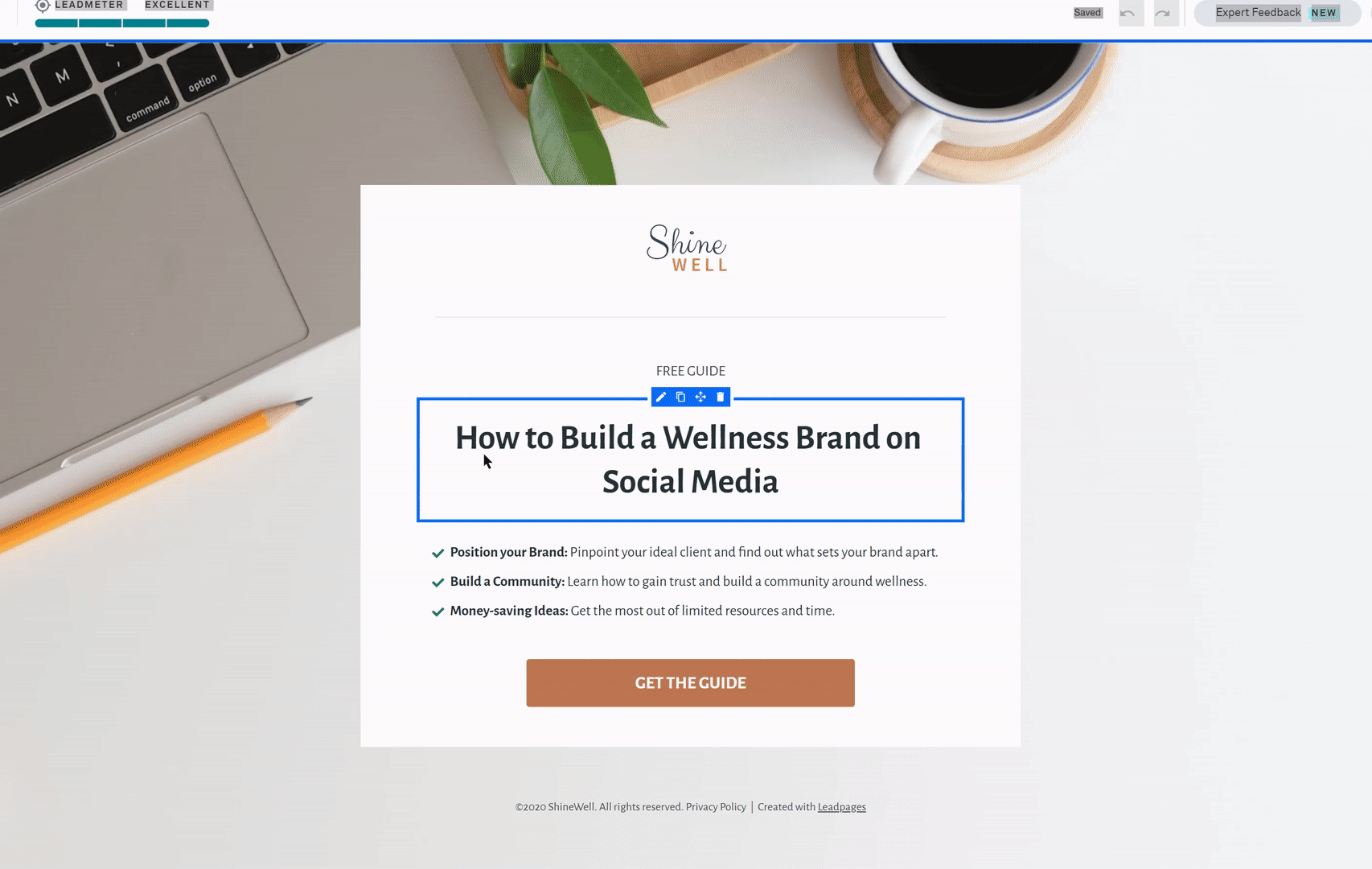 Each widget also provides various customization and styling options. You can learn more about each widget's options here: Using widgets
Edit site pages (homepage, hidden pages etc.)
Each site template comes with a few pre-loaded pages that you can edit with your brand's look and feel. You can also add or delete site pages, mark them as draft, make them hidden, add sub menus, set your homepage and more.
Navigate to the site pages panel by clicking the Pages tab on the left-hand side of the builder. This is also where you have the ability to rearrange pages in your site's header navigation as well as add pages that link directly to a page outside of your Leadpages site.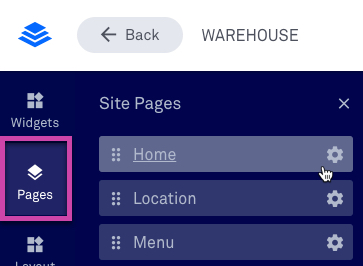 NOTE:
Leadpages Sites have a limit of 100 pages. For more pages, you may consider
creating landing pages
and linking to them from your site.
For more details on site pages: Edit and manage site pages
Other customization options
Each site template is organized into distinct sections, columns, and rows—each of which you can customize to further edit your page.
NOTE: Any changes to the Styles or Settings tabs in the sites builder will be applied to the entire site.
We have in-depth resources you can check out to learn more here:
Set up a form
You'll need at least one form widget in order to collect opt-ins on a site page. Most templates include an opt-in form by default, normally within an on-page pop-up. Here's how to find and adjust your page's form:
Form settings
Look for a call to action (usually a button). Keep in mind that many templates include several calls to action.
Hover over your button and click Edit Pop-Up. (Learn more on button widgets and click events.)
Once you open the pop-up, hover over the form and click Edit Integrations (or click anywhere on the form to open its settings).
Navigate through the three tabs, INTEGRATIONS, FIELDS, and ACTIONS, to adjust your form's settings. When you're finished, click Save & Close.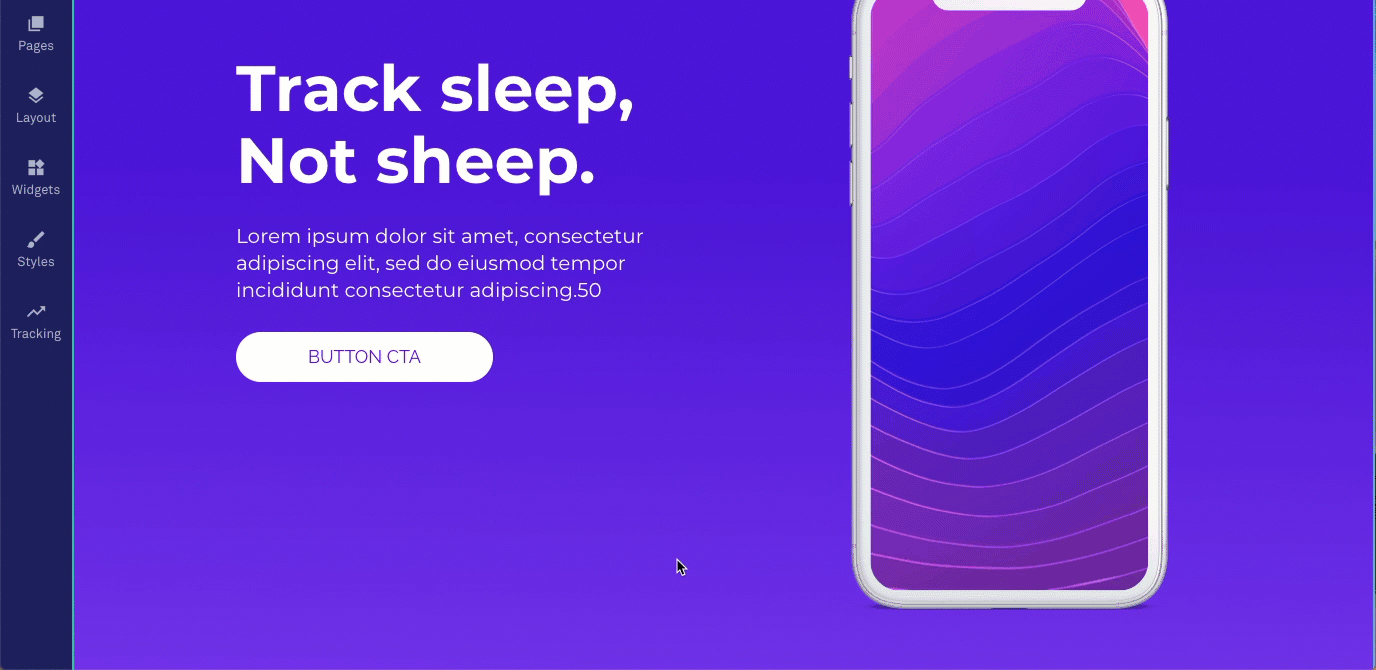 TIP: Multiple calls to action can link to the same pop-up, so any changes you make can affect multiple button or text links.
For more details, check out:
NOTE: Form settings contain a lot of power—you'll use the form widget options to set up everything from your integrations to lead magnet delivery options.
Attaching a lead magnet
You can incentivize visitors to opt in on your site by offering a lead magnet. Learn how to set up a lead magnet here.
Thank you page settings
By default, visitors who submit a form on your site will get directed to a generic thank you page. We recommend creating a custom thank you page to use with your forms. Here are details on setting up a custom thank you page.
Publish your site
Before publishing your site, click the Preview button in the top-right corner of the builder to see it in action—you can even make sure your site looks good on mobile devices.
TIP:
Use
device-specific display
to create mobile-only sections of your page to craft a customized look for different devices.
When you're satisfied, click Publish in the top-right corner of the builder to go live! When you publish your site, each site page will get its own URL at your Leadpages Domain (hosted on our servers). Using that URL is the quickest way to share your site—but you can also connect your own domain to Leadpages.
To learn more about publishing, check out: Publish your site.
Test your site
We always recommend submitting a test on your forms and looking over each site page before sending it out into the world. We've got a video here demonstrating how best to test a page.
Frequently asked questions
How can I blog with Leadpages Sites?
If you plan to blog only a few times a year, when adding a site page, use the Blog or Blog Article page type within the Leadpages site builder and hide those pages from navigation. Add links to the blog posts from a section of a homepage or primary blog page.
Leadpages is first and foremost a conversion platform, not a content management system, therefore, for a prime Leadpages site builder experience, you'll want to keep your site to less than 30 pages.
If you blog or plan to blog more than 2-3 times a month, we would recommend setting up a WordPress blog on a subdomain of a domain you have connected to your own web host. You'll connect your site through your domain provider under the CNAME record.
You can create blog.yourdomain.com for your WordPress installation.
Read our article How to Blog with Leadpages (With or Without WordPress)
How do I access a site map?
An XML file is created for all Leadpages Sites. To access the site map, simply add
/sitemap.xml
to your site's domain.
NOTE:
Hidden pages will not be included in the sitemap
---
Need more help?
You can always get in touch with our support team—just click Support in your Leadpages navigation menu, or submit a ticket ↗