When you integrate Lead Notifications with your conversion tools, we'll send new subscribers' information straight to your email inbox. Most forms you create use Lead Notifications by default. We recommend keeping Lead Notifications integrated when…
you want to get up-and-running as quickly as possible
you don't use an email service provider (ESP)
you're in a testing phase and aren't yet ready to connect to your ESP
you prefer to have new leads sent directly to you
Keep in mind, you can use Lead Notifications with each of our tools: sites, pages, pop-ups, trigger links, and opt-in texts.
Set up Lead Notifications
You don't need to do much to start using Lead Notifications. Whenever you set up a new form, whether that's on a page or in a pop-up, it'll send opt-in data to your account's email address. You can check your setup in your form's settings, as shown below.
Drag & Drop (sites, pages, pop-ups)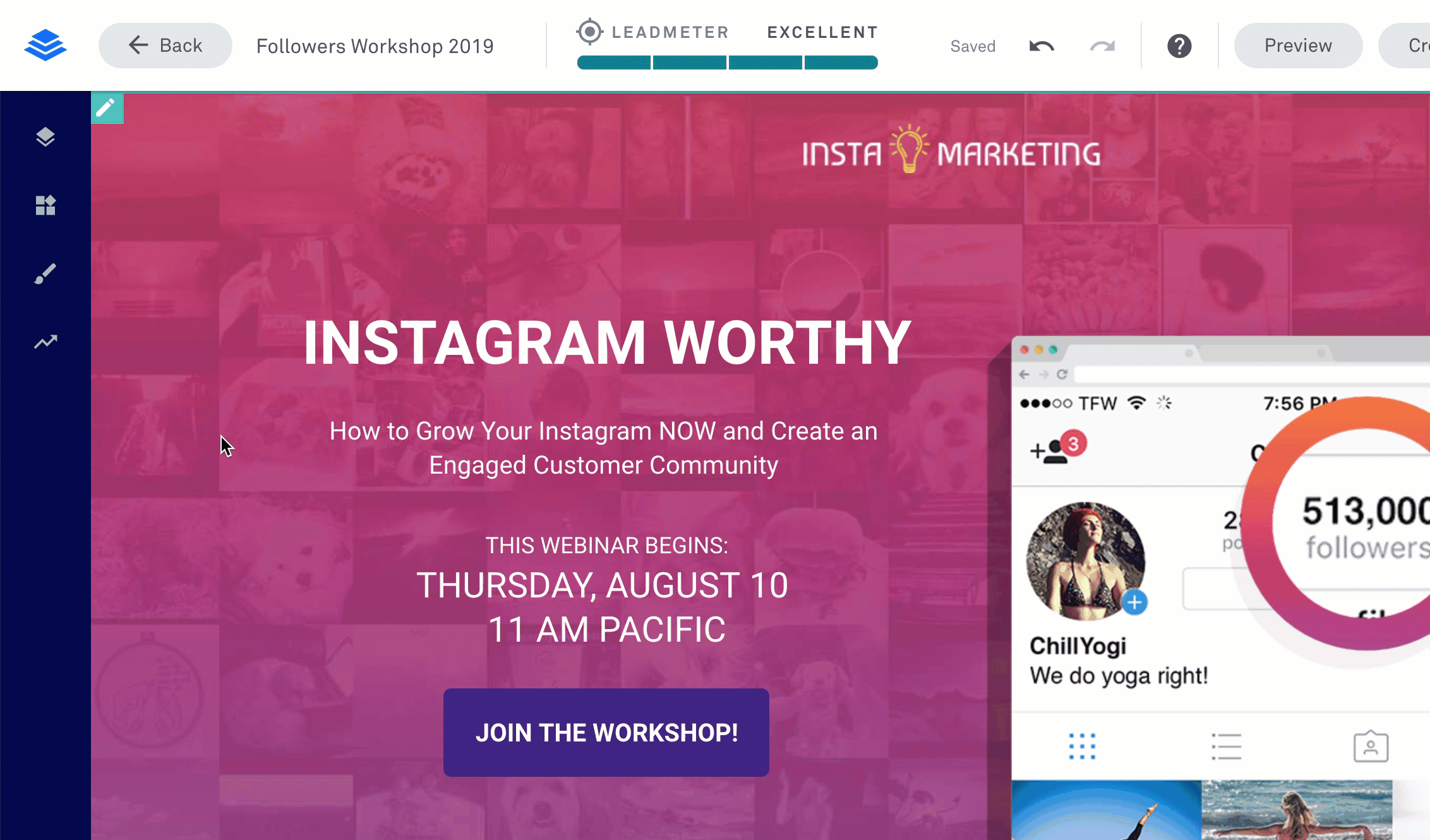 Standard pages, pop-ups, and trigger links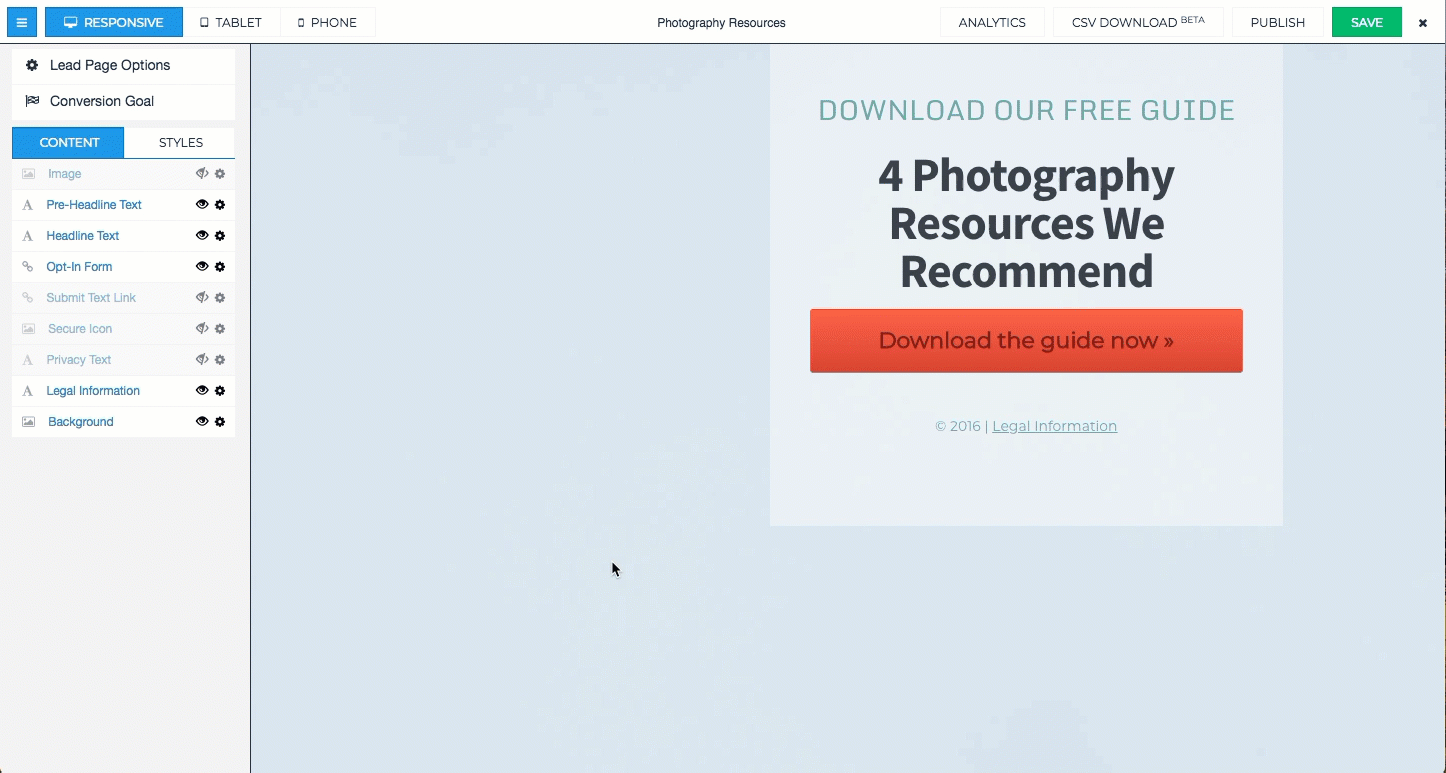 NOTE: The example above uses a landing page, but you can find Integration settings in the left sidebar for Standard pop-ups and trigger links as well.
Opt-in texts
Note that opt-in texts are only available with Pro subscriptions and above.
When you use Lead Notifications without any other services, subscriber data will get sent to your email address directly. Keep in mind that except for opt-in texts, you must integrate with Lead Notifications if you don't connect to a third-party service.
Add email addresses
If you prefer, you can send new leads to email addresses other than your account's default address or in addition to that address.
Within the Lead Notifications drop-down in your form settings, click Manage Available Emails to navigate directly to your account settings.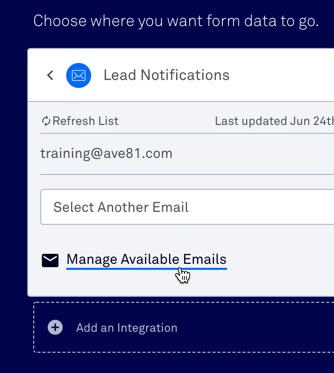 From your navigation menu, you can also access available Lead Notification email addresses by clicking on the account name at the top-left corner, then Lead Notifications.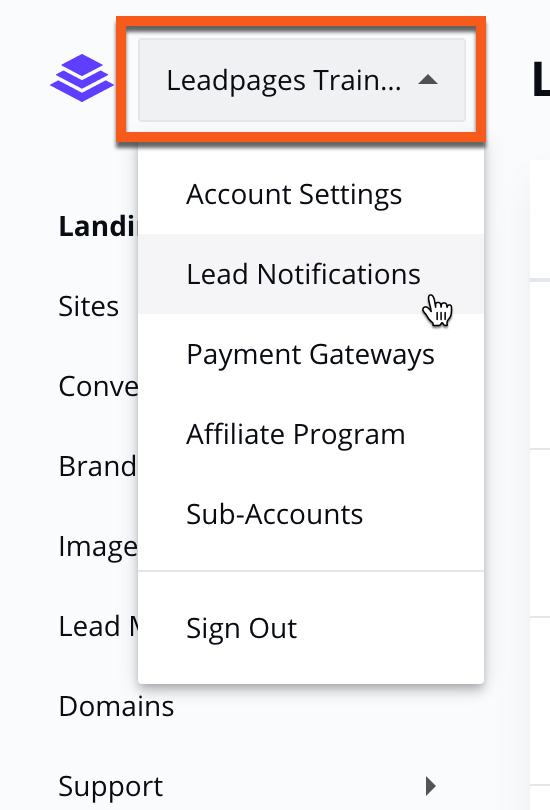 Here's how to add an email:
Once on the Lead Notifications management page, enter the new email address you'd like to use, then click Add Email.
Check your inbox for a confirmation link and click it to activate the email address (or instruct whomever owns the email address to do so).
Verify the "Confirmed" status of the new email back in your account. You may need to click Refresh List if you don't see changes right away.
TIP: You can remove any unused email addresses by clicking the "x" next to their status (found in your account under Integrations › Lead Notifications).
Use additional email addresses
To actually use another email address, you'll need to select it in your form's settings. You can also send leads to multiple email addresses simultaneously.
Open your form's integration settings.
Select Lead Notifications.
Click Add Another Contact, then select the email address you'd like to add (click the trash can next to an address to remove it).
Click Save and Update your page.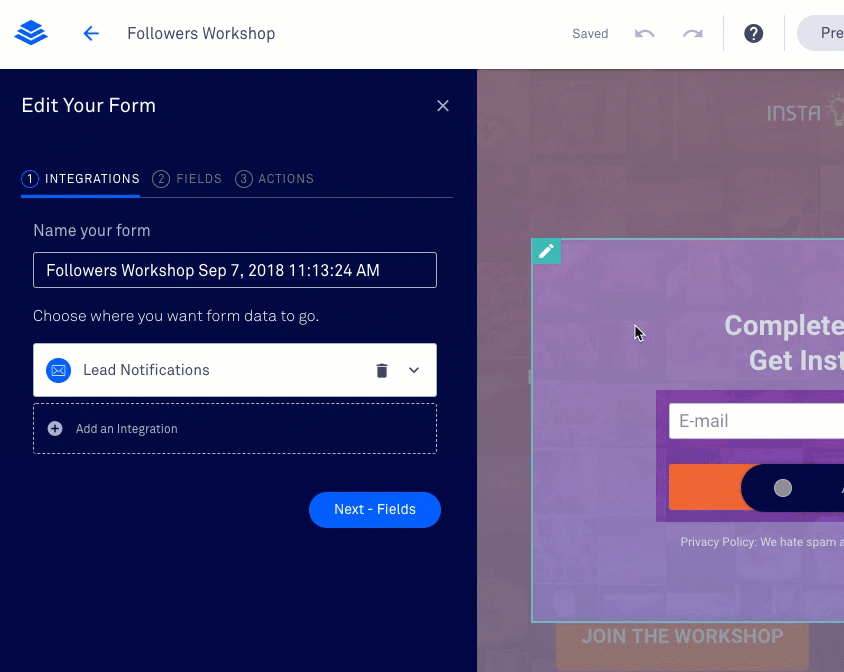 Use Lead Notifications with other services
It's possible to integrate with your ESP or CRM and continue to use Lead Notifications at the same time. If you're using a Drag & Drop form, simply keep the Lead Notifications integration active instead of deleting it.
For Standard pages and pop-ups, set up your ESP or CRM click Yes under the "Integrate with Lead Notifications" option in your integration settings.
Compatible fields
Lead Notifications supports a limited selection of text-based fields. So, keep in mind when you use Lead Notifications with another integration, any custom fields you've set up may not be included in notification messages.
We currently support the following field types:
Email (required)
First Name
Last Name
Phone Number
Street Address
City
State
Zip Code
Comment
Note that even though email notifications may not include certain fields, they should still pass through to your other service(s).
Frequently asked questions
Why am I not receiving emails even though I've added Lead Notifications to my form?
You may want to check your spam or junk folders in your email. Sometimes, email services will send Lead Notifications emails there, since they're coming from no-reply@notifications.leadpages.com or no-reply@leadpages.net.
To make sure your Lead Notifications are making it to the right place, you can whitelist or add this address to your contacts: no-reply@notifications.leadpages.com and no-reply@leadpages.net
If you're still having trouble receiving your Lead Notifications, let the support team know and we'll investigate why they're not making it to you.
What's with the date and time in subject line of the Lead Notifications email?
That date and time is the default name of the form on one of your pages or pop-ups. You can customize this form name here.
---
Need more help?
You can always get in touch with our support team—just click Support in your Leadpages navigation menu, or submit a ticket ↗