Leadpages AI Engine gives customers the ability to quickly create unique content based on simple inputs.
What is AI Engine?
Our AI engine is an artificial intelligence that uses trained knowledge to create new content. The AI Engine currently powers Writing Assistant and Headline Swap. The capabilities of AI Engine will continue to develop and grow so you can expect more ways to use the engine in the future.
AI Engine credits
AI Engine credits are used to create new content for your landing pages, pop-ups, bars, and sites. Each Leadpages plan provides a set number of credits, which automatically replenish on the first of each month:
Standard plans receive 10,000 credits each month
Pro plans receive 30,000 credits each month
Advanced plans receive unlimited credits per month
Note: During your trial, you will have access to 3,000 AI Engine credits. Once you become a paying customer, you will unlock the rest of your plan's credit balance.
Where can I use my credits?
The following are powered by AI Engine:
Credit details
All AI Engine-powered features include credit details, where you can see your usage, your plan's credit allotment, and when your credits will refresh. Simply click the ⌃ on the right to expand your credit details.
Get more credits
If you run out of credits and do not wish to wait until the first of the month for your credits to be replenished, you can end your trial early or upgrade your plan to get more.
Upgrade your plan
If you are on a paid plan and run out of credits, you can upgrade your plan to gain more credits.
Anytime you see Get More Credits you can click there to see your plan options.
Or, from the dashboard, click on your name in the top left corner, then select Billing followed by Upgrade to see your options.
For detailed information on changing your plan, please visit this article.
End your free trial early
If you are in a trial and want access to your plan's credits early, you can end your trial to unlock those credits.
WARNING: Ending your free trial early cannot be undone.
Click your account name at the top-left corner of your Leadpages navigation menu.
Select Billing
Scroll to the AI Engine Credit section and click End Trial to Unlock
Review and accept the order summary; then click End Trial and you will be immediately charged which unlocks the rest of the AI Engine credits on your plan.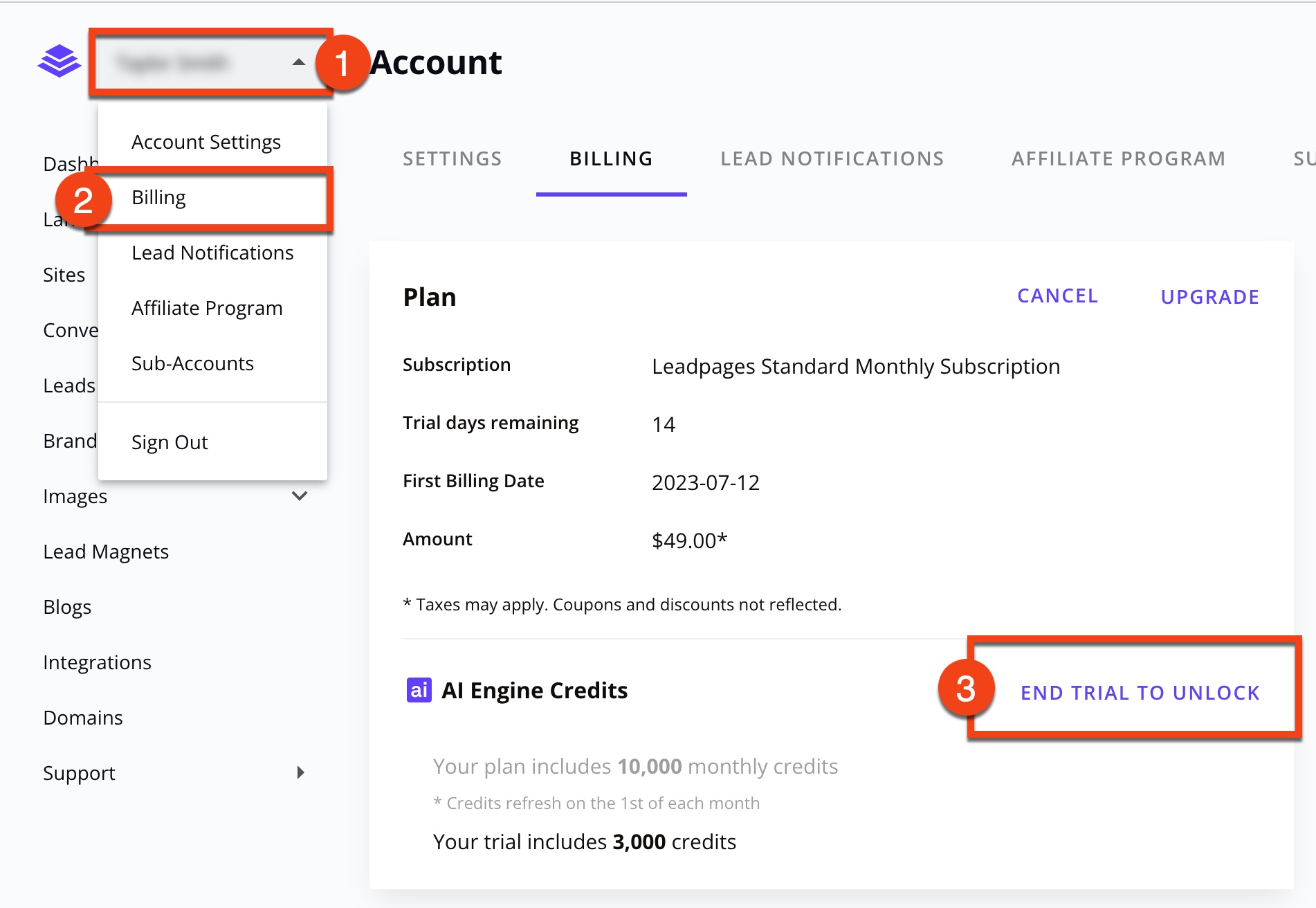 Content Policy
When using AI-Engine powered features, you must adhere to the Content Policy:
Hate: hateful symbols, negative stereotypes, comparing certain groups to animals/objects, or otherwise expressing or promoting hate based on identity.
Harassment: mocking, threatening, or bullying an individual.
Violence: violent acts and the suffering or humiliation of others.
Self-harm: suicide, cutting, eating disorders, and other attempts at harming oneself.
Sexual: nudity, sexual acts, sexual services, or content otherwise meant to arouse sexual excitement.
Shocking: bodily fluids, obscene gestures, or other profane subjects that may shock or disgust.
Illegal activity: drug use, theft, vandalism, and other illegal activities.
Deception: major conspiracies or events related to major ongoing geopolitical events.
Political: politicians, ballot boxes, protests, or other content that may be used to influence the political process or to campaign.
Public and personal health: the treatment, prevention, diagnosis, or transmission of diseases, or people experiencing health ailments.
Spam: unsolicited bulk content.
WARNING: Do not attempt to create content that is not G-rated or that could cause harm.
Don't mislead your audience about AI involvement.
When sharing your work, we encourage you to proactively disclose AI involvement in your work.
You may not mislead others about the nature of the work. For example, you may not tell people that the work was entirely human-generated or that the work is an unaltered photograph of a real event.
Please report any suspected violations of these rules to our team here.
---
Need more help?
You can always get in touch with our support team—just click Support in your Leadpages navigation menu, or submit a ticket ↗