Generate new copy suggestions with a single click and publish pages faster than ever. Writing Assistant gives you more types of copy (use cases), control over tone, and more all powered by AI Engine.
Note: Writing Assistant is currently in beta and available to Pro and Advanced customers.
The fine print
Writing Assistant is available to Pro and Advanced accounts
Standard accounts are limited to Headline Swap
All credit balances are refreshed on the first of each month
The copy options produced will not be stored by Leadpages, so be sure you copy and save them somewhere safe before navigating away or undoing changes
How to use Writing Assistant
Writing Assistant can help you get past your writer's block and publish faster in just a few steps. Click Writing Assistant on the left-hand side of the builder to get started.
Step-by-step
Under Write-up, enter details about the copy you wish to generate
Select your use case, and if desired, choose a tone
Click Get Copy to generate your 3 copy options
Then, simply use the option(s) you like best or go back to make edits and try again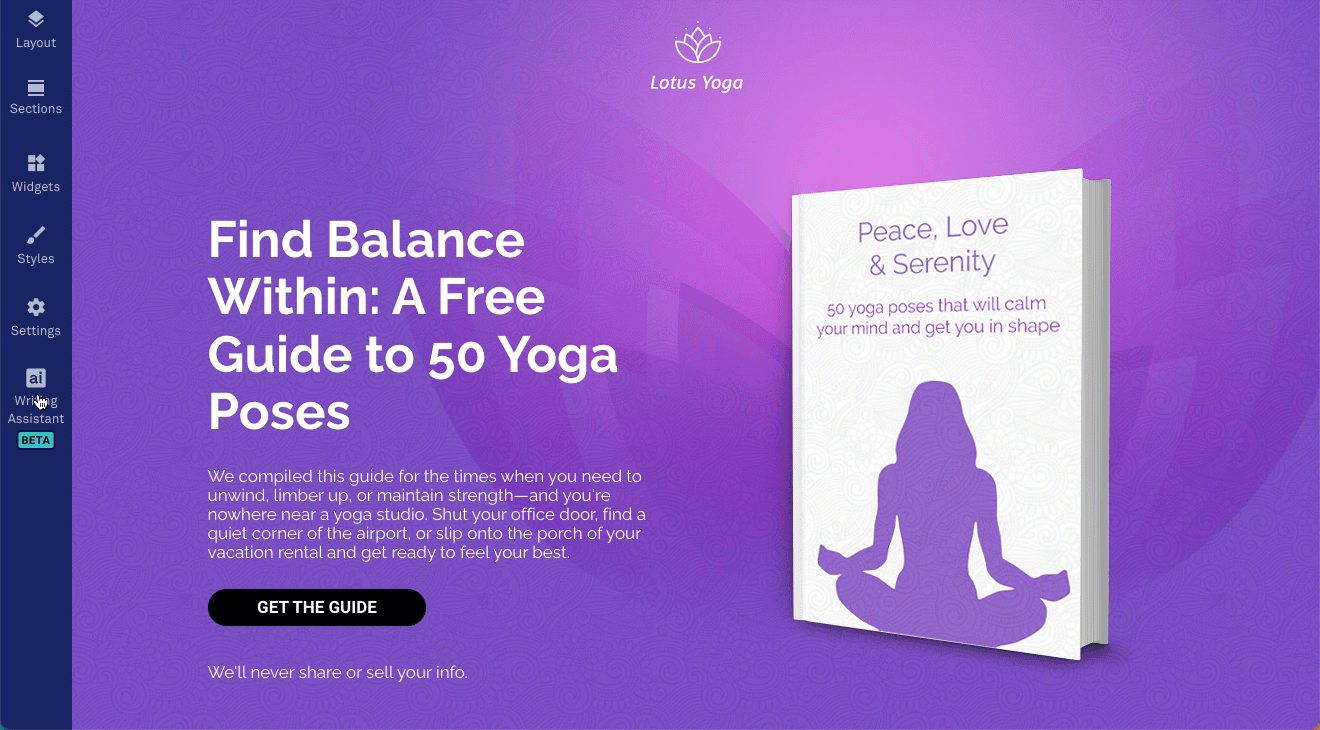 TIP: Text widget options are disabled while using Writing Assistant from the side panel. Simply close Writing Assistant to access your text widget options.
Enter your write-up
Write-up is where you enter details or points about your topic. The more information you provide, the better your three copy options will be.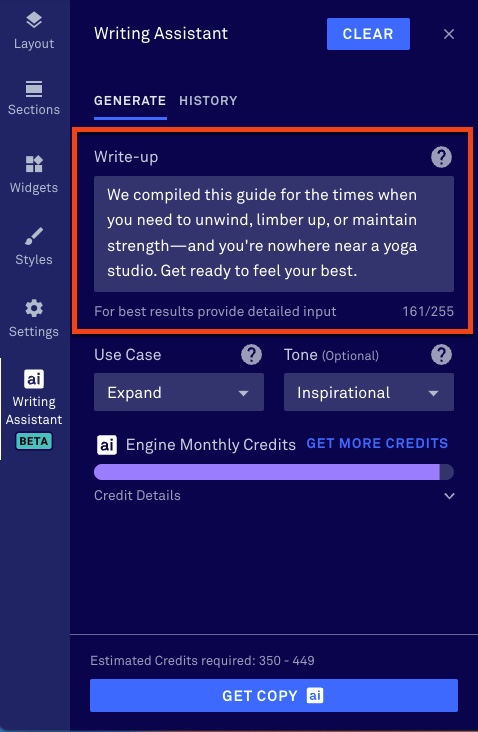 At times, your previous inputs will be retained when opening Writing Assistant. If you'd like to start fresh, click Clear in the top right corner.
Choose your use case
Select a use case for your copy. What you select will impact the options the Writing Assistant gives you.
Call to Action will produce copy designed to make your visitor take an action (often used on buttons)
Headline will produce text intended to hook your visitor
Summary will produce a shorter copy addressing the main points of your write-up
Expand will produce copy elaborating on your write-up
Rewrite will produce copy that reimagines your present copy with no length requirement
Choose your tone
Adding a tone is optional. Choosing a tone helps the engine determine which adjectives to use with the copy options it creates for you.
Available tones include: casual, convincing, enthusiastic, formal, funny, inspirational, joyful, passionate, and thoughtful.
Get copy
Click Get Copy and the AI Engine will take your write-up, use case, and tone (if you chose one) to create 3 new copy options for you, which will appear in the Copy Options screen.
Don't like any of your results? No problem, just go back and make a few tweaks or add more context, then try again. Just be sure you save the results you like somewhere safe first.
Using your copy options
Once you're on the Copy Options screen, you'll see all three options the Writing Assistant generated. From here, you can copy, insert, or swap any of your results.
Your copy option boxes may contain more text than what fits on the screen. In this case, simply use the drag bars in the lower right corner of each copy option to expand the box, revealing the full text.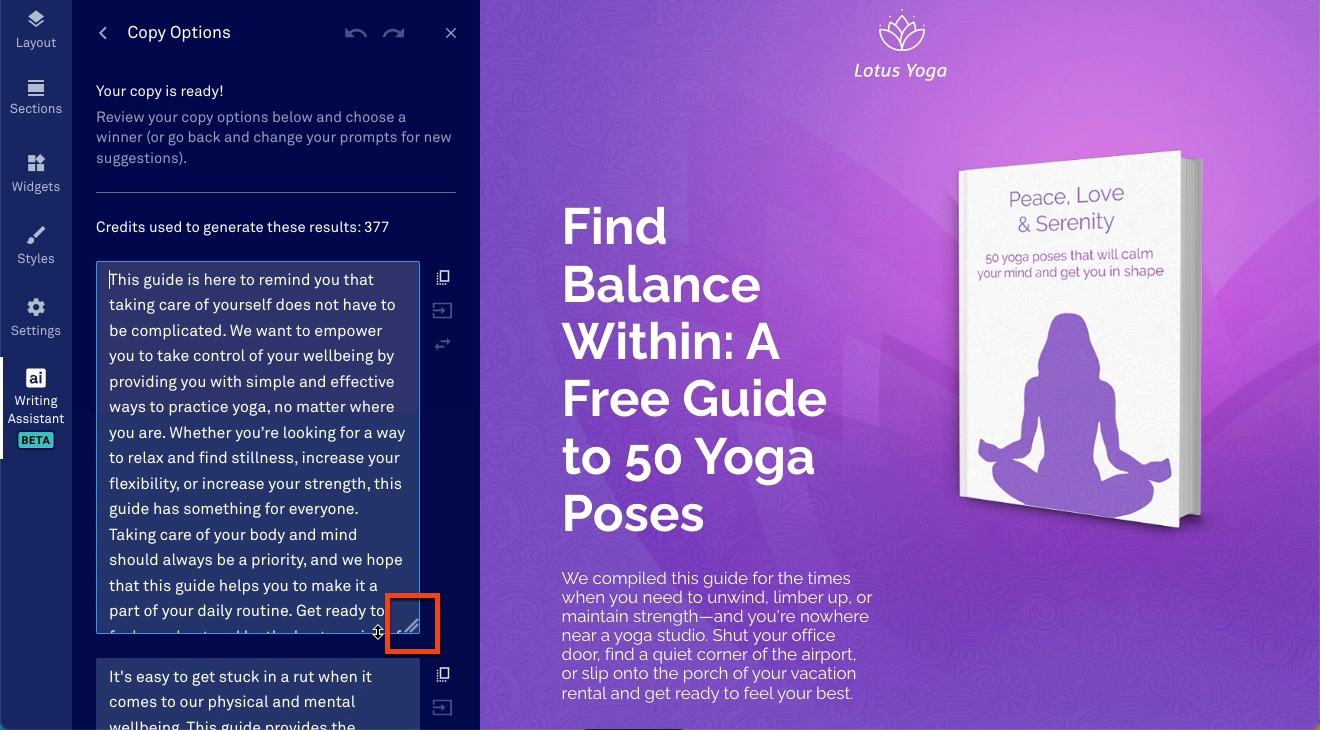 Note: This copy is generated by a robot. We strongly recommend proofreading the options provided.
Copy
Copy is the first icon appearing to the right of each of your copy options. Click the copy icon to then paste your text somewhere. This is especially useful if you want to save it in an external document for safekeeping.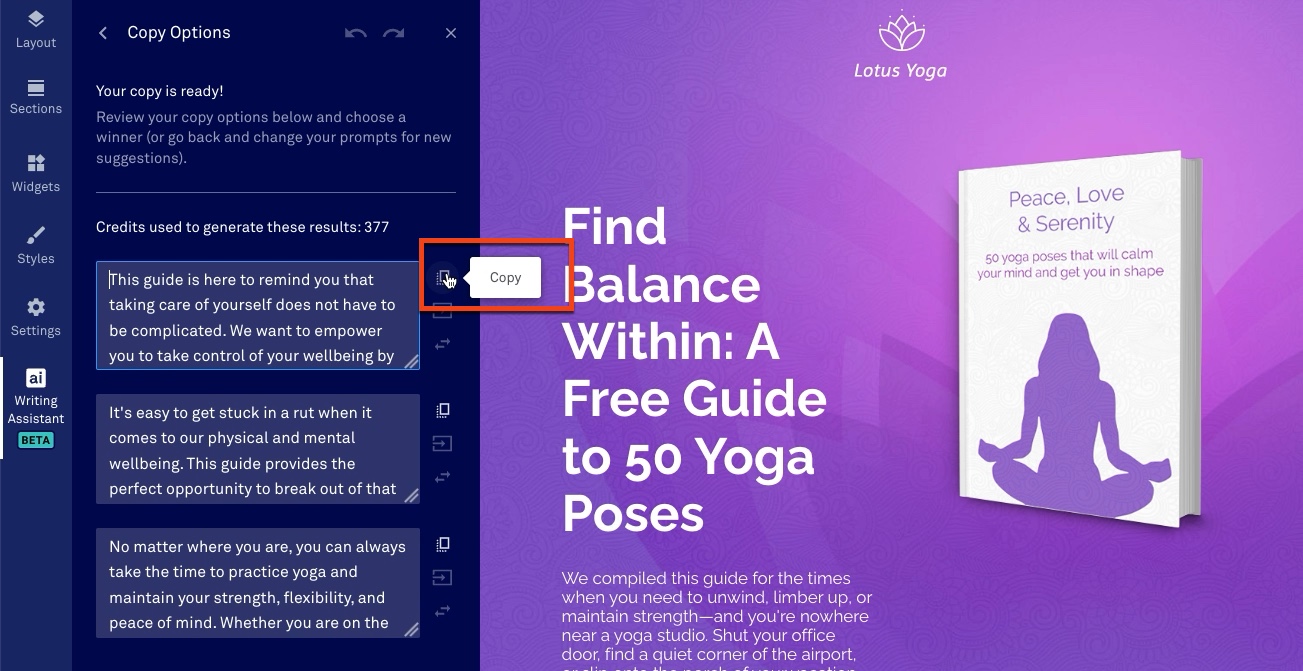 Insert
Insert is the second icon appearing to the right of each of your copy options. To insert your copy in the builder, click into the text widget where you want your text to appear, then click the insert icon. The text will be added after your cursor.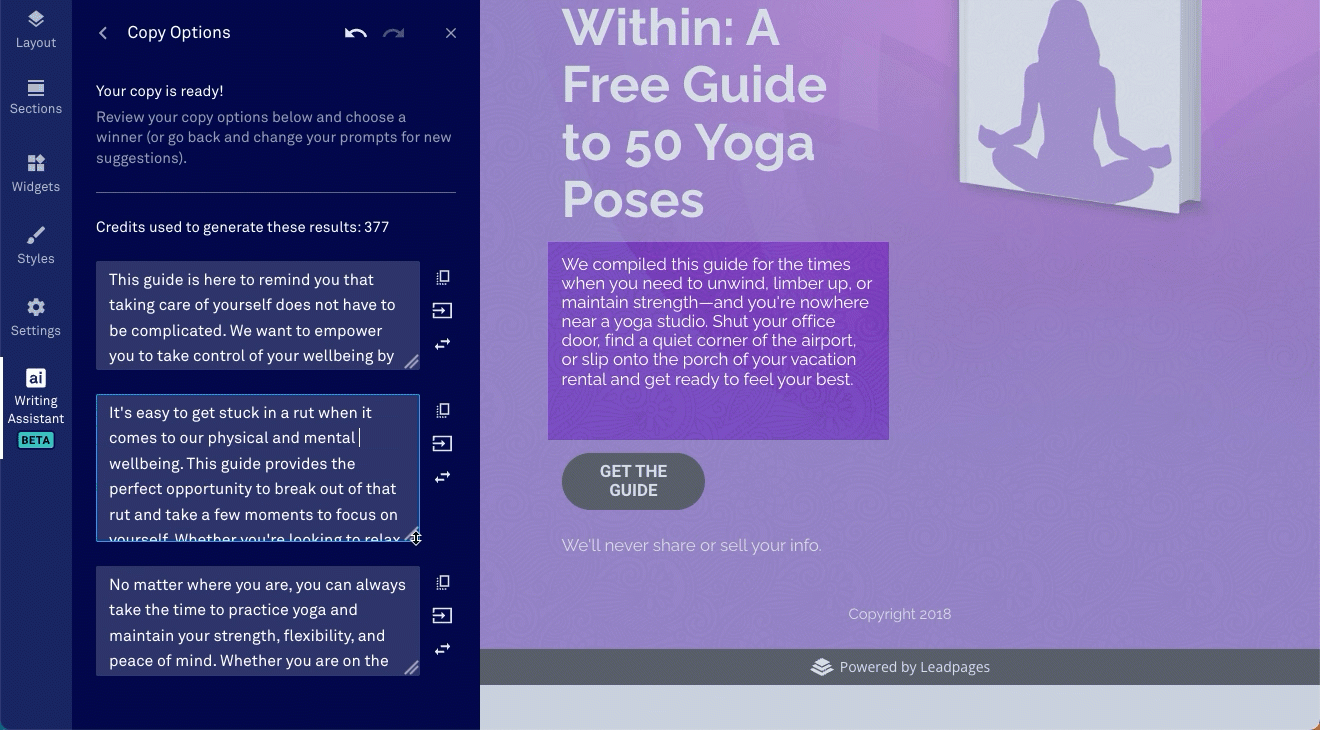 Swap
Swap is the third icon appearing to the right of each of your copy options. To replace existing text with your copy option, either highlight the text you'd like to replace or simply click within the paragraph you'd like replaced, then click the swap icon.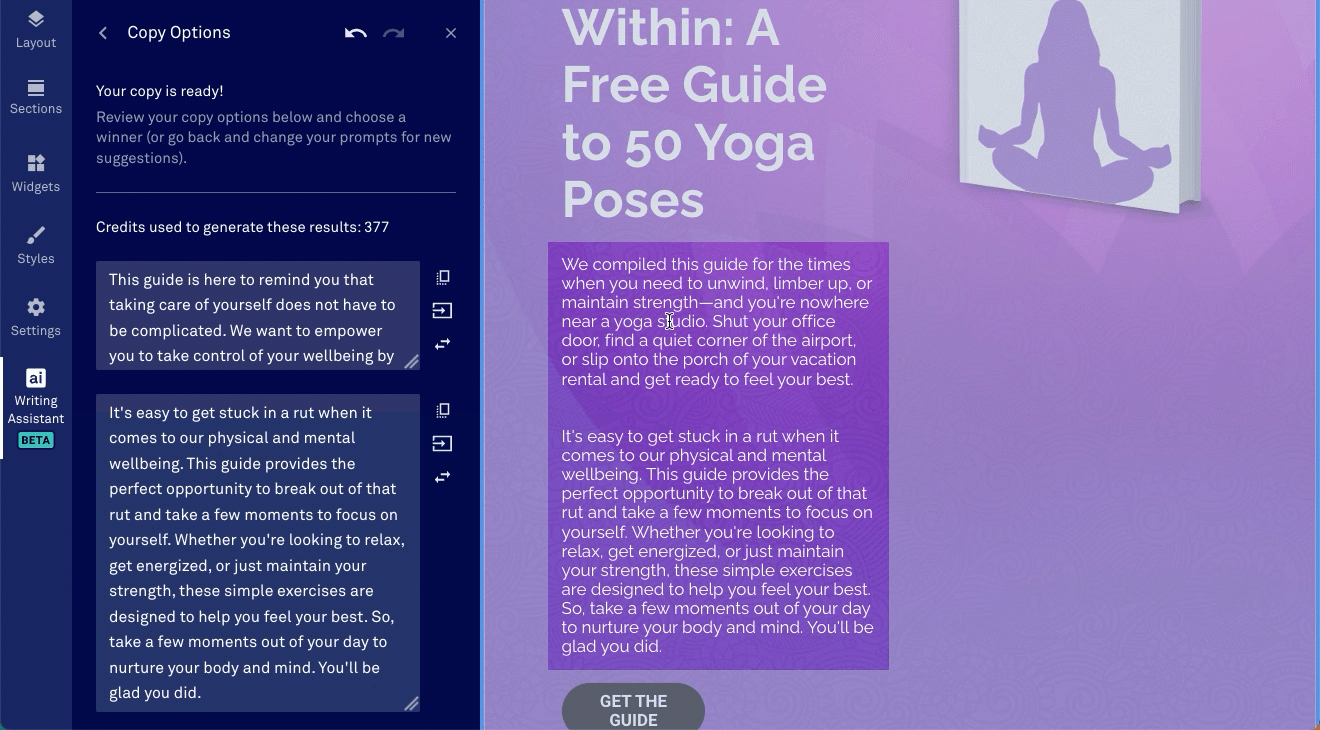 Undo/Redo
Changed your mind? No problem, simply click undo or redo in the top right corner of the copy options screen.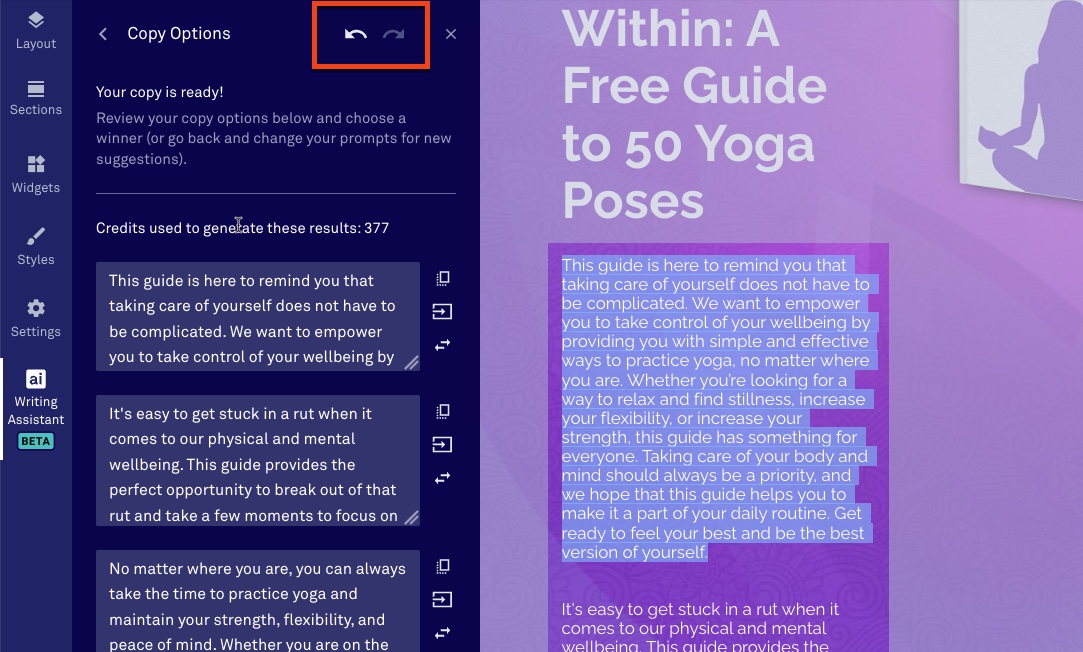 History
Your 15 most recent copy results will be available within the History tab of Writing Assistant. As you generate new results, the older results will be lost, so be sure to save any results you like somewhere external for safekeeping.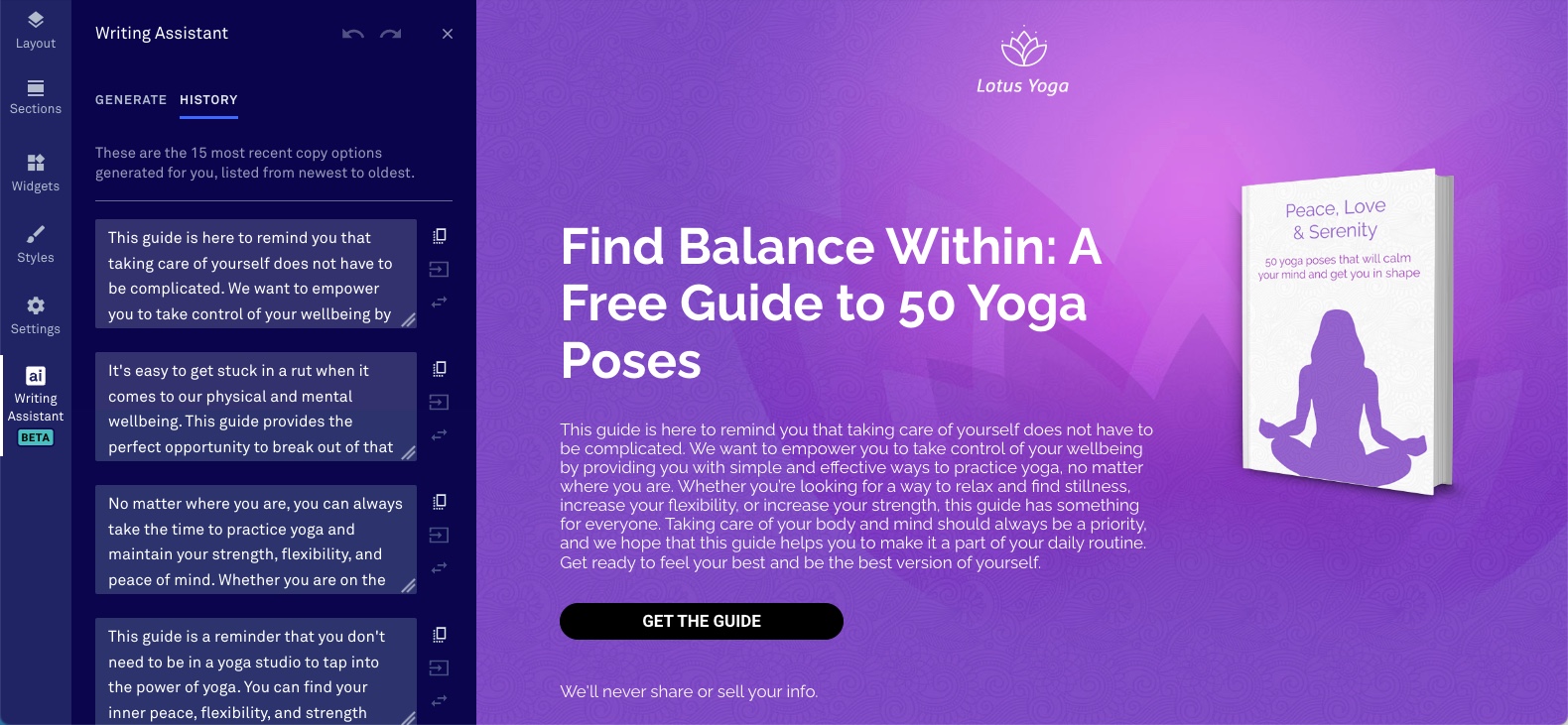 Writing Assistant in the text widget
You can also get quick access to new copy ideas directly from the text widget.
Step-by-step
Highlight the copy you are hoping to get ideas for
Click on the ai tab of the text widget options
Select the use case for your copy and if desired, choose your tone
Click Get Copy and a new copy option will be added below your original text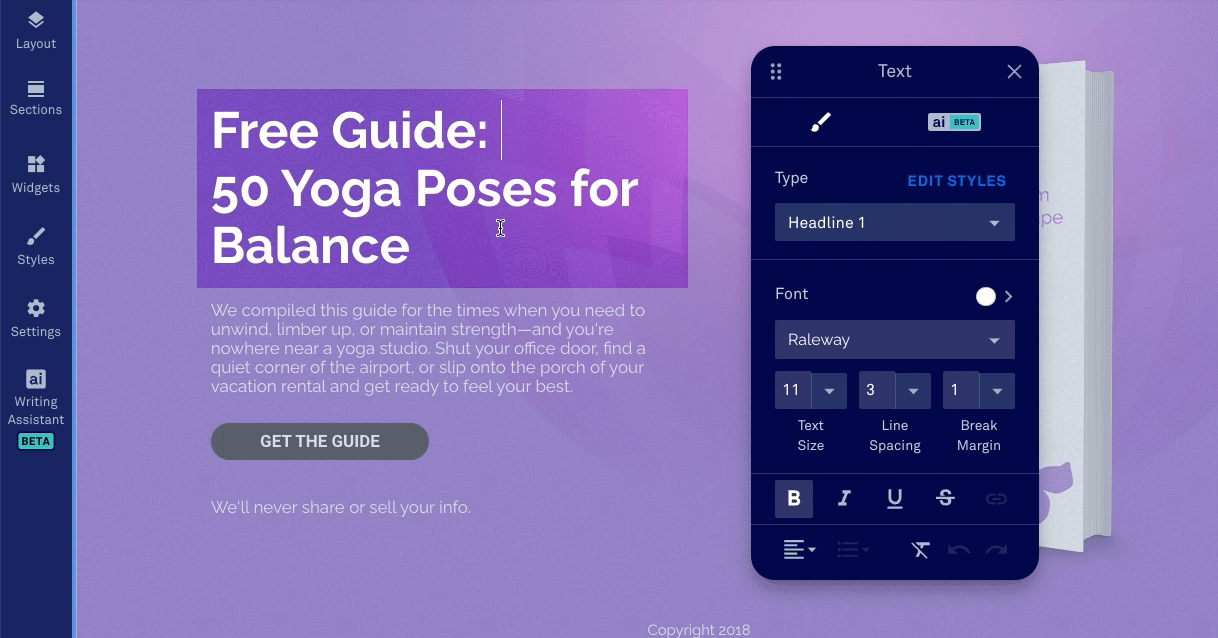 Advanced settings
Want more copy options to choose from? Simply click Advanced Settings to open Writing Assistant in the left side pane and complete your request here to get 3 copy options instead.
To make things easier, any selections you made in the text widget will be retained when opening Writing Assistant, which means less copy/paste for you.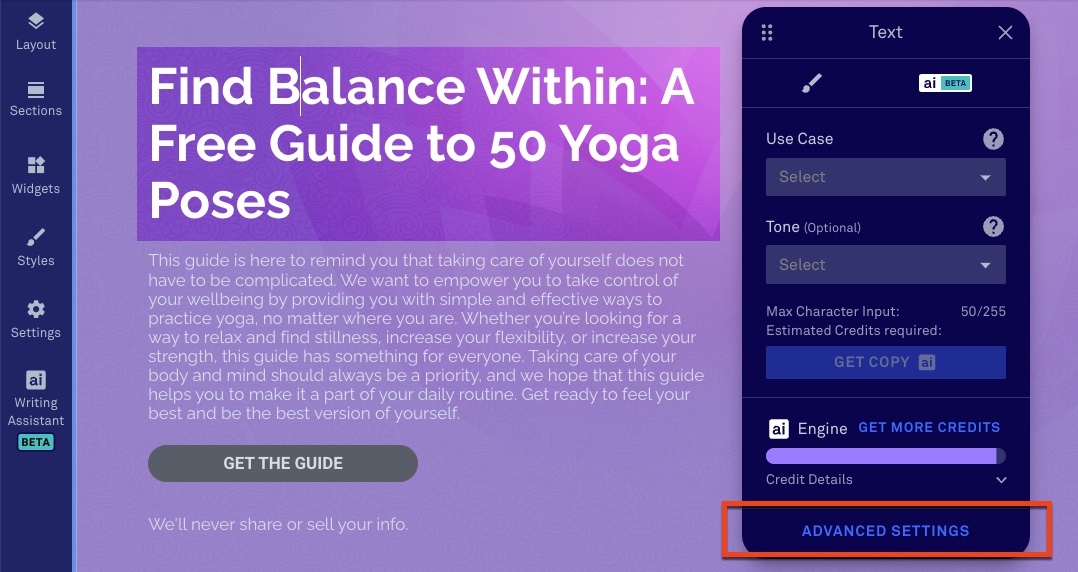 For more information on our Text Widget, please visit this article.
AI Engine credits
Each time you use the Writing Assistant to get new copy options, AI Engine credits will be deducted from your balance. Leadpages plans have a set amount of credits, which automatically replenish on the first of the month.
Pro plans receive 30,000 credits each month
Advanced plans receive 100,000 credits per month.
To learn more about AI Engine credits, click here →
Credit Details
From the Generate tab of Writing Assistant or from the ai tab of the text widget settings, click the arrow to expand or collapse your credit details. Here you'll find your usage, allotment, and when your credits reset.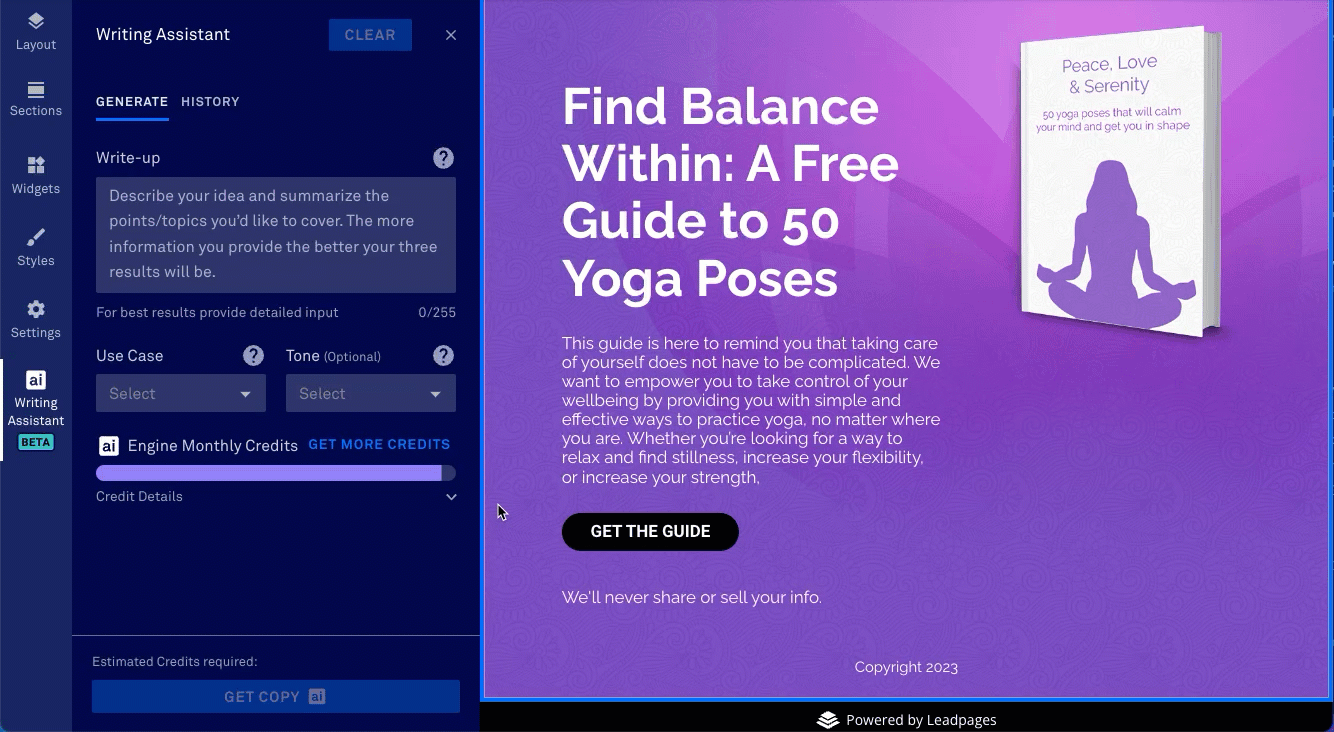 Note: During a trial, users will have access to 3,000 AI Engine credits. Once you become a paying customer, you will unlock the rest of your plan's credit balance.
Estimations
When using the Writing Assistant, prior to clicking Get Copy, you are provided with an estimation range. This range will help you understand how many credits you may be charged before you've actually used them.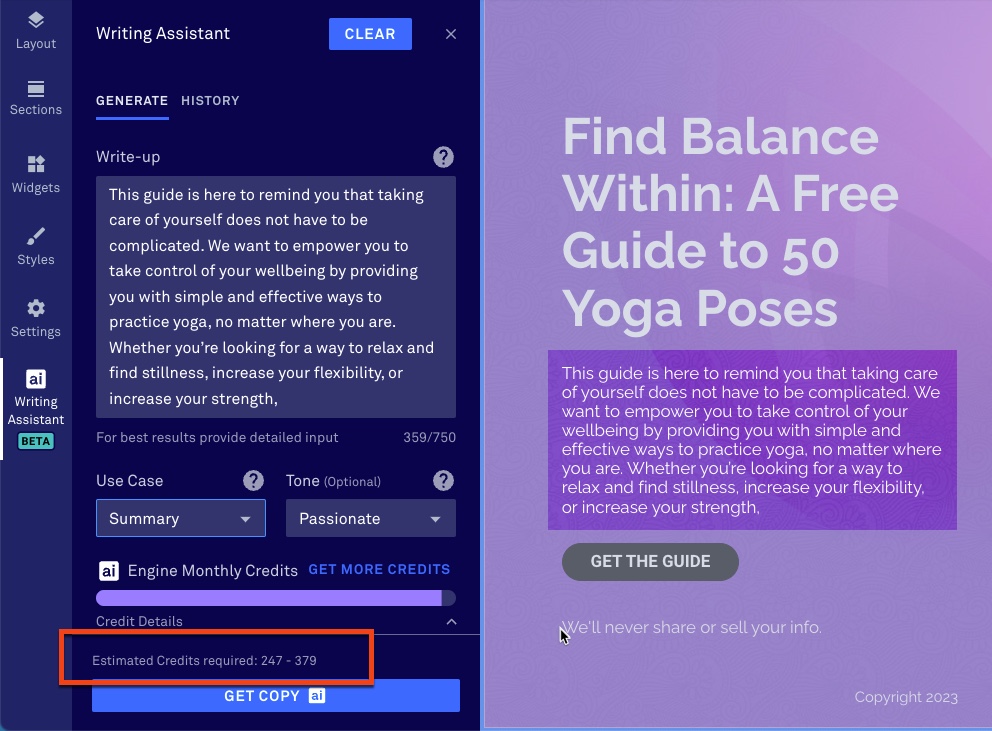 Get more credits
Credits are replenished on the first of every month for every plan, but if you don't want to wait, learn how to get more below.
Upgrade your plan
If you are on a paid plan and run out of credits, you can upgrade your plan to access more.
Anywhere you see Get More Credits, click to see your plan options.
Or, from the dashboard, click on your name in the top left corner, then select Billing followed by Upgrade to see your options.
For detailed information on changing your plan, please visit this article.
End your free trial early
In trial, you'll be provided with 3,000 AI Engine credits. Once you are a paying customer, your plan's credit balance is unlocked. If you are in trial and want access to your plan's remaining credit balance early, you are welcome to end your trial.
WARNING: Ending your free trial early cannot be undone.
Click your account name at the top-left corner of your Leadpages navigation menu.
Select Billing
Scroll to the AI Engine Credit section and click End Trial to Unlock
Review and accept the order summary; then click End Trial and you will be immediately charged for your account, which unlocks the AI Engine credits for your plan.
Frequently asked questions
What else can AI Engine do?
Along with expanding, summarizing text with Writing Assistant, AI Engine also gives users the ability to swap headlines (Headline Swap).
How do I know how many credits it will take to get new copy?
The credits deducted vary each time you use Headline Swap. The AI Engine takes many factors into account, including the character count of your original headline and the output text provided. You can use the Estimations provided before you generate your headlines to understand how many credits it will take to generate a headline.
What if I have suggestions for how to make Writing Assistant better?
We'd love to hear from you! Click here to share your feedback with our team.
---
Need more help?
You can always get in touch with our support team—just click Support in your Leadpages navigation menu, or submit a ticket ↗