ONTRAPORT offers an array of features to help automate your business. Integrate your account with Leadpages to send leads directly to Smart Forms and Sequences.
Learn how to get started using ONTRAPORT with Leadpages below.
The fine print
ONTRAPORT works with all our conversion tools: Drag & Drop pages, sites, and pop-ups, Standard pages and pop-ups, opt-in texts*, and trigger links*.
Some functionality depends on how you connect Leadpages to ONTRAPORT. Be sure to review details in the sections below.
The "Disable Custom HTML Forms" option in your ONTRAPORT account security settings must be turned off in order to use the integration in Leadpages.
ONTRAPORT has replaced Office AutoPilot. Although you may occasionally see references to Office AutoPilot in Leadpages, everything now links to ONTRAPORT.
*NOTE: You must use ONTRAPORT's Sequences for opt-in texts and trigger links to work.
Integrate your account
To use ONTRAPORT with Leadpages, you'll first need to connect your two accounts. Here's how:
Obtain an App ID and API Key from your ONTRAPORT account. We recommend creating a new API Key to use with Leadpages.
NOTE: Although it's rare, ONTRAPORT may require you to submit an API Application form, which can take one to two business days to process.
Once you have your App ID and API Key handy, set up your ONTRAPORT integration with whichever builder you plan to use (or both):
Drag & Drop Builder: To use your integration with the Drag & Drop Builder (sites, pages, pop-ups), follow our guide here.
Standard Builder: To use your integration with our Standard Builder, Standard pop-ups, opt-in texts, and trigger links, follow these steps.
Awesome! Now that you've set up your integration at the account level, you'll be able to start sending leads to ONTRAPORT.
Send leads to ONTRAPORT
Follow these steps to choose an integration as the destination for your leads. Read on below to learn about differences between using Smart Forms and Sequences.
NOTE: We don't pull in ONTRAforms from your account—only Smart Forms and Sequences are compatible.
Smart Forms
Smart Forms' simplicity make them more compatible with Leadpages. Note, however, that Smart Forms are not compatible with trigger links or opt-in texts—you must use a Sequence instead.
Sequences
WARNING: If your automation within Ontraport is triggered by "Submits a form," leads will be passed from Leadpages to Ontraport, but the automation will not be triggered.
Sequences are a legacy feature in ONTRAPORT, but they're compatible with the widest range of tools in Leadpages.
To learn more about them, check out the Sequences Overview ↗
NOTE: All Sequences use a single (unconfirmed) opt-in process.
Sequences are the only tool in ONTRAPORT that are compatible with opt-in texts and trigger links. If you use either tool, be sure to connect to a Sequence instead of a form.
Form fields
You may have access to different form fields depending on your setup. Here's how fields work in each builder:
Drag & Drop Builder
If you connect to a Sequence, we pull in all ONTRAPORT fields, so all fields should available in Leadpages here.
For Smart Forms, only the fields you add the Smart Form within ONTRAPORT will be available in Leadpages.
Multi-select fields (i.e. checkboxes) include a visible "Select…" option by default. Be sure to hide the option within ONTRAPORT if you don't want it to appear—there's no way to hide it from within Leadpages.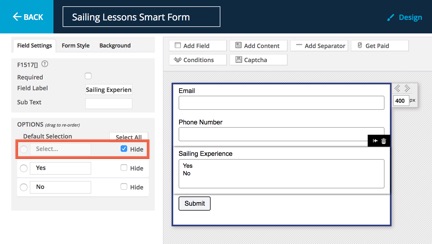 Standard Builder
When you connect to a Sequence, a default set of fields will be available (including name, address, and phone number fields).
As with other integrations, opt-in texts only collect email and phone number fields, while trigger links collect email, first name, and last name.
Duplicate contacts
ONTRAPORT does not automatically de-duplicate contacts. So, if someone submits your form multiple times, their information isn't overwritten. You can manually merge contacts if needed. Learn more ↗
Troubleshooting tips and FAQs
Why isn't my opt-in text working when I connect to ONTRAPORT?
You can only connect an opt-in text to an ONTRAPORT Sequence. If you're still having trouble, don't hesitate to contact us—we'll be happy to help.
---
Need more help?
You can always get in touch with our support team—just click Support in your Leadpages navigation menu, or submit a ticket ↗