Looking to add another section to your page without the hassle of customizing its layout from square one? You can drag and drop a ready-to-use templated section onto your page!
The fine print
Section templates will adopt your page's font styles and you can edit it to include your brand colors and your own copy.
After customizing a section, you can copy+paste a section onto any of your other pages.
Once a section template has been added to a page, its layout can be further customized under the Layout tab in the builder.
Section templates are not available in the pop-up builder, as a pop-up should be one section.
Steps to add a section template
Click Sections on the left-hand side of the builder.
Filter the section templates by "Section Type" for which type of section you'd like to add to your page or browse "All Sections" at the bottom of the drop-down menu.
Drag and drop the section template where you would like it to appear on your page.
TIP:
If you add a section to your page and it's not the right fit, you can always
undo/redo your actions in the builder
with keyboard shortcuts or the arrow icons at the top of the builder.
Customize a section template
After adding a section template to your page, you can further customize its look and feel by editing its content as well as adding/removing widgets etc.
To customize the section's layout and styles, click Layout on the left-hand side of the builder. More information on customizing your page's layout and section styles here.
Add a customized section to another page
After customizing a section, you can copy+paste that section to any of your other pages. More information on how to copy+paste a section here.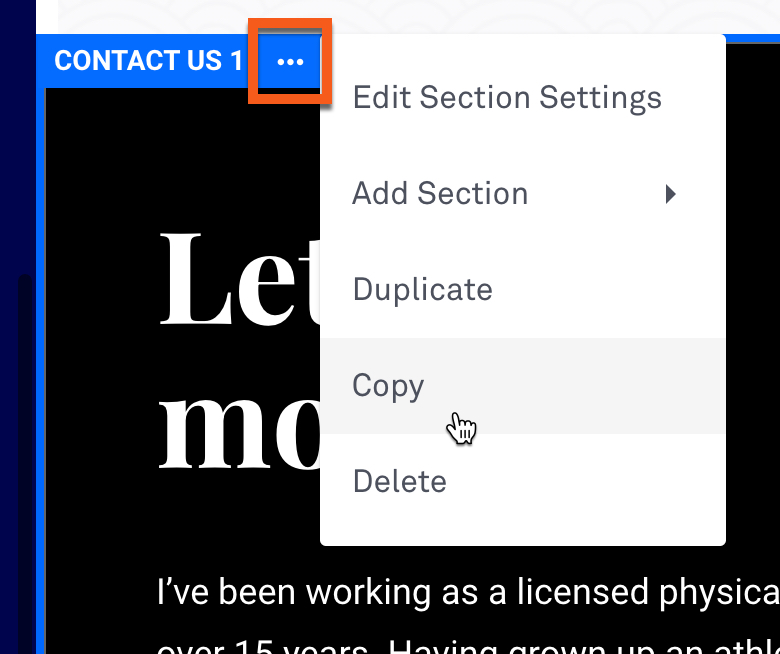 Frequently asked questions
Can I save a customized section to use it on another page?
Not at this time, but you can easily copy+paste the section onto another page as noted above.
---
Need more help?
You can always get in touch with our support team—just click Support in your Leadpages navigation menu, or submit a ticket ↗