Calendly is an online software that helps you easily schedule meetings and appointments. Online marketers not only use Calendly to schedule time with their team, but more importantly to meet with prospective clients, customers and subscribers.
We created the Calendly embed widget and added Calendly pop-ups to our linking options to make it easy for you to paste the URL to your Calendly schedule or events and give your page or pop-up visitors the chance to schedule some time with you and your team.
The fine print
This article specifically addresses the Calendly embed widget, however, a Calendly pop-up is also available as a linking option for buttons, images, or text in the builder. Click here for more information.
Calendly bookings are not currently logged as a conversion in Leadpages analytics.
Using the Calendly embed widget
There is no embed code necessary when looking to add Calendly in Leadpages. Just the URL to your Calendly will do!
Before adding the widget to your page or pop-up, you'll want to copy your Calendly link. Click here to learn how to access your Calendly link.
Step-by-step
Navigate to the Widgets tab on the left sidebar of the builder. Expand the list of widgets by clicking Show More, then drag a Calendly embed widget and drop it wherever you'd like visitors to see your availability.
Paste your Calendly link and click Save.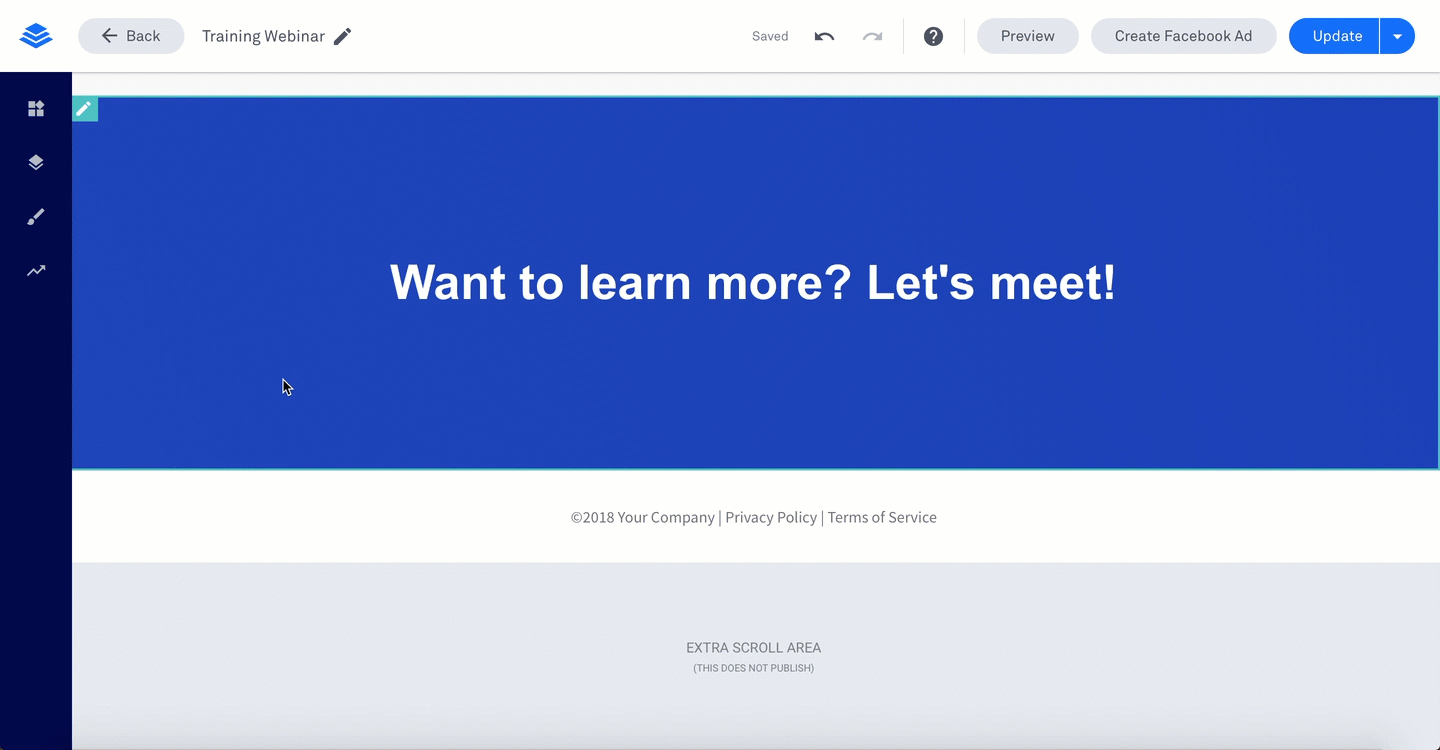 Customization and Styling Details
NOTE: This widget is a direct embed of the Calendly registration experience. Therefore, bookings through this widget will not result in a conversion in your Leadpages analytics and a custom follow-up after booking is not available.
Just as with any other widget, when placed next to another widget, the size and shape of your Calendly embed will automatically adjust.
If placed next to another widget, simply hover over the right or left-hand side of the widget, then click and drag the sizing slider to adjust.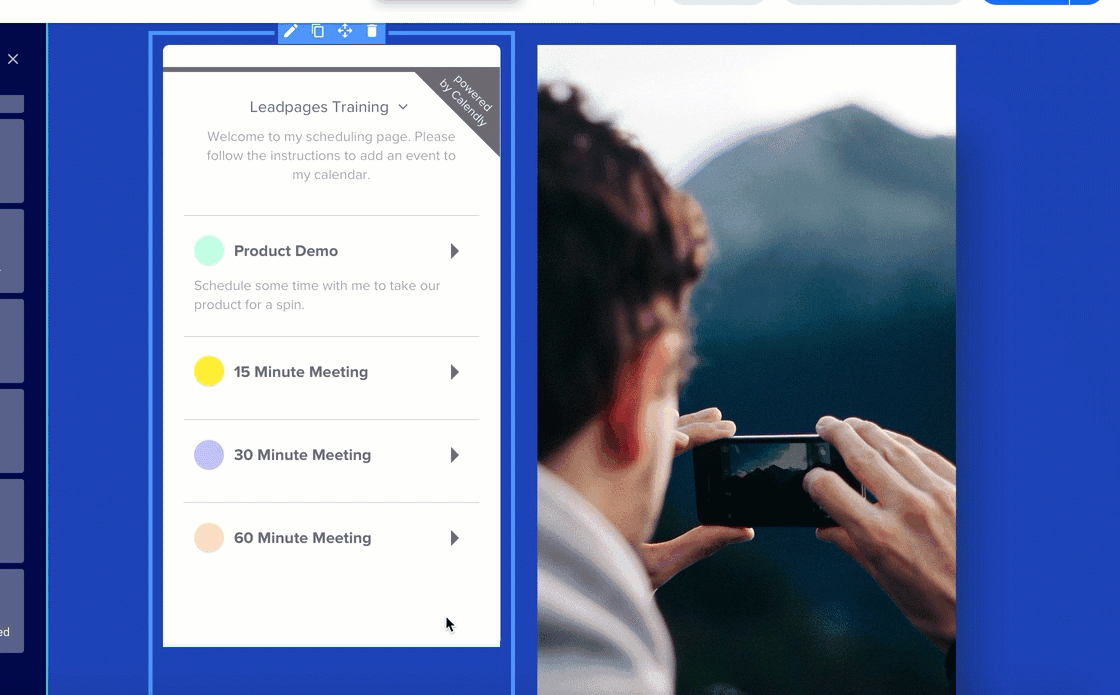 On mobile browsers, the widget will stack just like other widgets and is optimized for mobile viewing.
Tips and Frequently Asked Questions
Can I link a widget to Calendly?
Yes! A Calendly pop-up is also available as a linking option for buttons, images, text and other linkable widget in the builder.
Where should I place the Calendly embed widget?
A few use cases to consider here. You may want to place the widget on your thank you page, after visitors have opted in, inviting them to connect for a consultation or product walk-through. Perhaps you have the widget on your opt-in page for those that want to learn more from you before opting in to your service. On a standalone exit pop-up, you might add the widget to let the visitor know before they go that you're available to meet if they're unsure you've got what they're looking for. These are just a few examples.
Can I use the Calendly embed widget for any Calendly event type?
Absolutely! Calendly gives you the ability to create one-on-one or group events with specified time and location details. More on events here.
---
Need more help?
You can always get in touch with our support team—just click Support in your Leadpages navigation menu, or submit a ticket ↗