NOTE:

The Leadpages affiliate program is now on PartnerStack! If you were an affiliate prior to October 1, 2021,

take a look at our migration page for help with the transition and key dates.
The Leadpages Affiliate Program is an opportunity to earn industry-leading commissions when you promote Leadpages and drive new signups. The program is open to all persons (whether or not you're a Leadpages customer) and offers up to 50% recurring commissions on all sales you generate (including plan renewals and upgrades, and one-time purchases) for as long as your referrals remain customers.
The fine print
This article details the basics of the program and answers some frequently asked questions, assuming your are a Leadpages affiliate. If you'd like to join our affiliate partner program, click here.
We use PartnerStack, an industry-leading (and super easy-to-use) affiliate platform to manage our link tracking and commission payouts. Login credentials and access to your affiliate account are all controlled by PartnerStack.
Leadpages Affiliate Partner Program Terms of Service
For questions beyond what's covered in this article, contact affiliates@leadpages.com.
Applying to become an affiliate
To become a Leadpages affiliate, you will need to submit a brief application and accept the terms and conditions of the Leadpages affiliate program. The application can be accessed here and typically takes <10 minutes to complete.
After you submit your online application, you'll receive a confirmation email from hello@partnerstackmail.com notifying you that your application has been received and inviting you to log into your PartnerStack account.
Once your application is approved by the Leadpages affiliate team (typically within 24-48 hours), you'll receive another confirmation email from hello@partnerstackmail.com.
From that point, all you need to do is log in to your PartnerStack account, accept the Leadpages affiliate program terms of service (by checking the box on your dashboard).
For the best chance of success with your application, please be as thorough and complete in your answers as possible. We do our best to accept affiliates who are strong advocates of the Leadpages platform and who do not significantly market competing products or engage in 'black hat' marketing tactics.
Manage your affiliate account
Logging in to PartnerStack
To access your affiliate account, you'll want to log in to PartnerStack here.
After creating an affiliate account, PartnerStack will send a verification email from hello@partnerstackmail.com. If the link is not clicked in the verification email, you will not be able to log in to your PartnerStack account.
If you've forgotten your password to your Leadpages affiliate program account, you can either click Forgot Password from the PartnerStack login page or click here to reset it.
If PartnerStack says the email address you entered is invalid, you can reach out to their customer service team by clicking here.
Affiliate dashboard
From your PartnerStack dashboard, you have easy access to a snapshot of your analytics including commissions, Leadpages assets to promote, your withdrawal settings and your affiliate link.
Below we'll go into the details of each.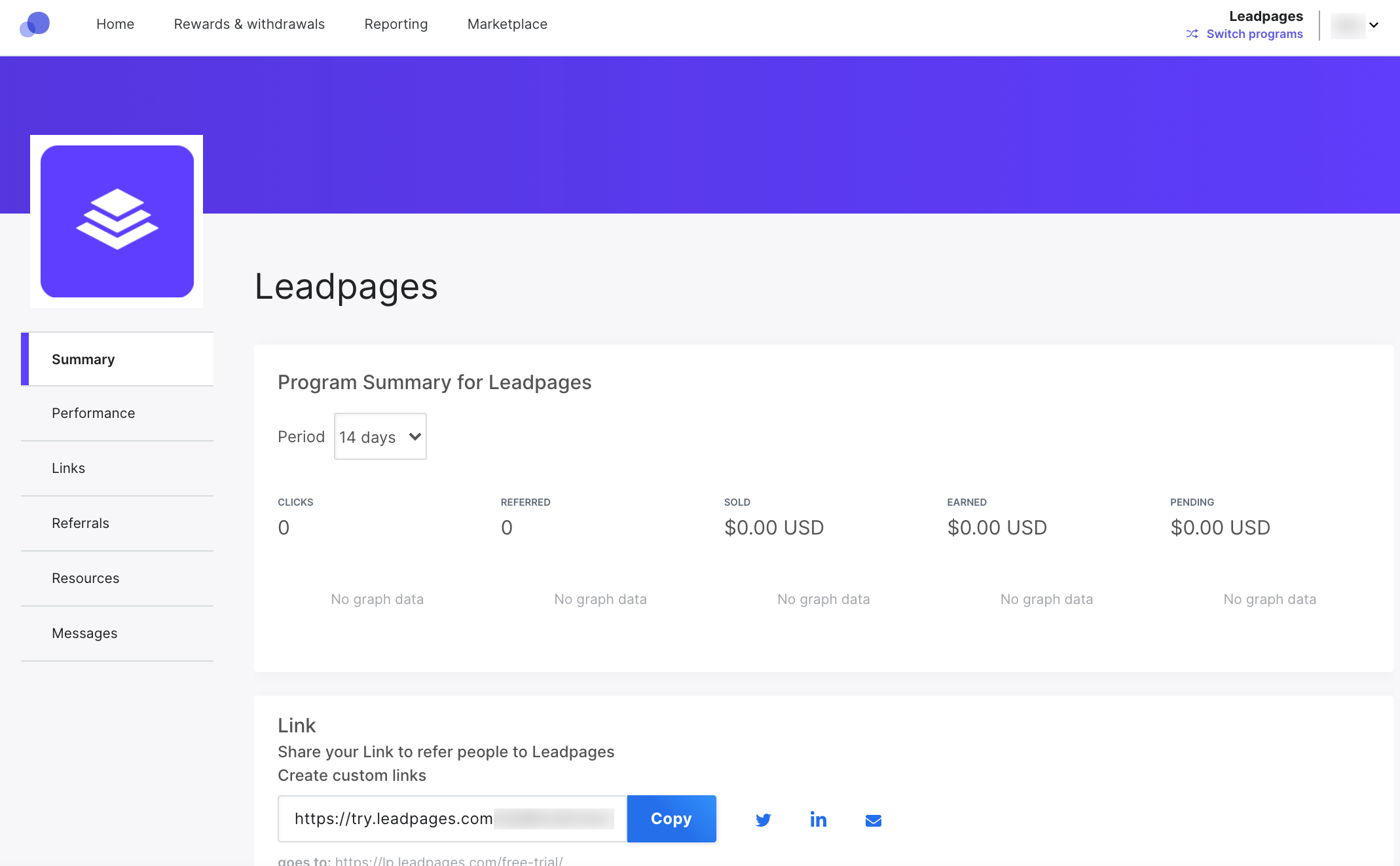 Promoting Leadpages
Accessing your affiliate link
After your affiliate application has been reviewed and accepted by Leadpages, you'll receive an email to confirm your acceptance. After confirming your email, you will receive a welcome email from PartnerStack and a link to log in to your account.
Your PartnerStack account will provide you with a unique tracking link (available on your dashboard). Purchases of Leadpages made through this link (not counting yourself, of course) will be credited to your account. You continue to earn referral commissions for each account renewal (monthly/annually) as long as your referrals remain Leadpages customers.
To find your unique tracking link:
Click

Switch Program

in the top left-hand side of your account (

note

: If you're only partnered with one program, you can skip this step!)

Click 'copy' next to your tracking link.
Create a Custom Referral Link
Want your link to look a bit more professional? PartnerStack also allows you to create a custom referral link. For example, if your default referral link is something like "try.leadpages.com/janesmith5648" and you want it to contain your social media handle instead, you'd want to enter your social media handle only in that field.
Please note that custom links can only contain numbers, letters, and dashes. They cannot contain any special characters such as question marks.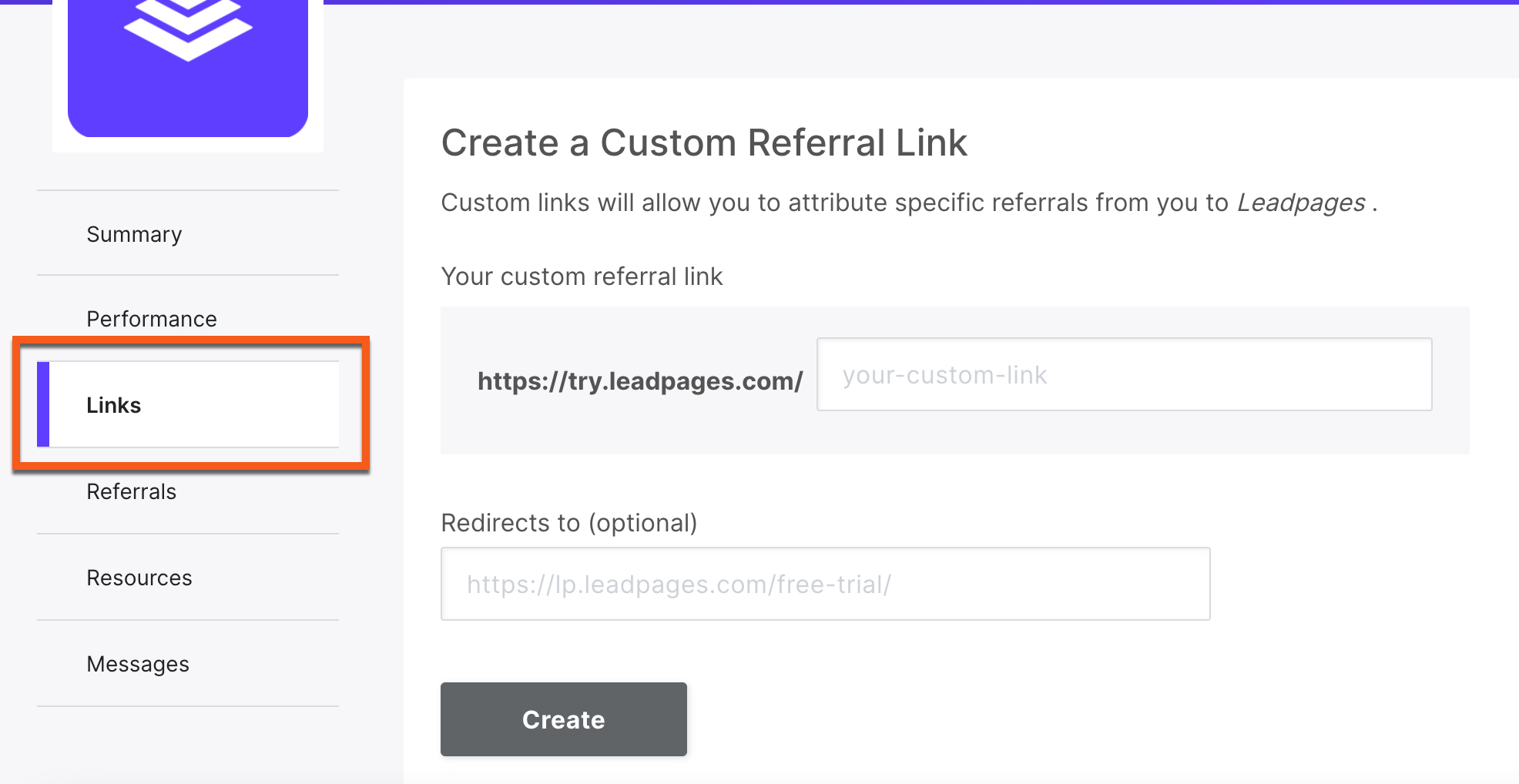 Leadpages creative assets
Not only does the Leadpages affiliate program offer industry-leading commission rates, but we also make it ultra-easy for you to promote our platform to your friends and followers.
Inside your PartnerStack account, you'll find an abundance of creative assets (banner ads, blog images, animated gifs, etc.) as well as swipe copy to use in your emails and social media posts. These assets are located within your PartnerStack account under 'Resources.'
Learn more about Resources here.

Promotion ideas
Promoting Leadpages is easy! Here are just a few ideas our current partners are using to promote Leadpages and earn recurring commissions:
Co-Host an Affiliate Webinar with Leadpages: We have created a proven Leadpages webinar just for affiliates that's designed to get you commissions. If you can register at least 200+ for a live webinar, we'll host a dedicated Leadpages webinar with you.

Promote Our Weekly Live Leadpages Webinar: Don't have a big enough audience for your own webinar? Market our weekly live webinar to your audience and start making commissions now.

Exclusive Deals & Limited Time Offers: As a partner, you can offer exclusive Leadpages deals and packages on your website as often as you like.

Drive Traffic to Leadpages Blog Posts and Tutorials: Love sharing valuable content? Use your unique affiliate links to drive traffic to any Leadpages blog post or our marketing content.

New Leadpages Features: Leadpages releases new templates and features frequently. As an affiliate, you can capitalize on any launch or new feature with promotions of your own.

Market Leadpages in Blog Posts, Social Media & Emails: Love Leadpages? Have a great case study to share? Tell your story and promote Leadpages to your audience.
Tracking and cookies
We currently offer a 90-day cookie life. This means from a visitor's click on your link, if they purchase over the next 90 days (without clicking someone else's link), you're the affiliate of record.
Conversions are tracked through your affiliate link provided by our affiliate tracking software, PartnerStack.
Commissions
How and when you get commissions
All Leadpages Affiliate Partners earn a base recurring commission of 10% for referrals (past and present), with the opportunity to earn up to 40% and 50% commission based on the amount of new customer sales you refer within each month.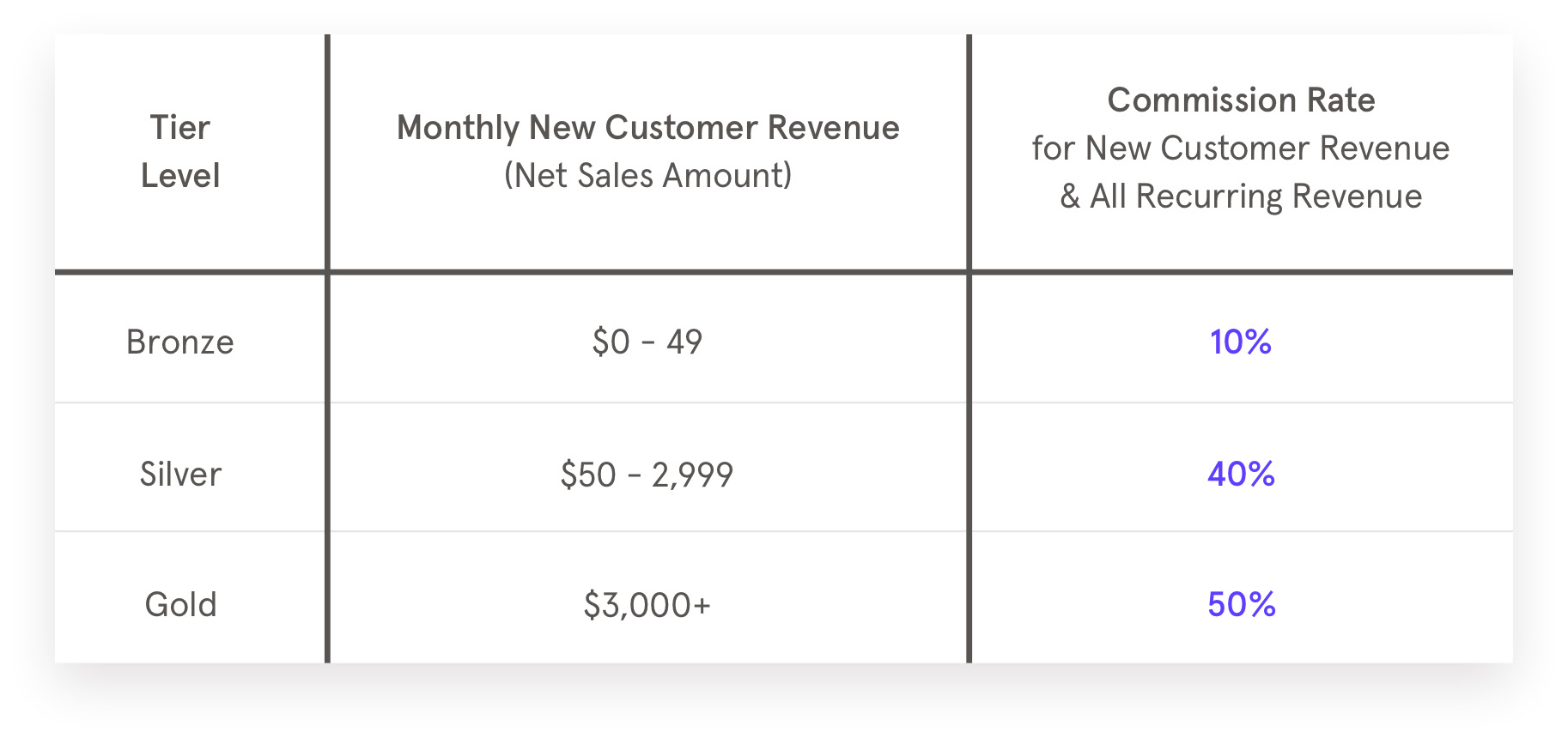 Commission tiers are calculated on a 30-day rolling basis. A partner moves fluidly through the commission tiers whenever the sum of New Customer Revenue during the look-back window exceeds $50 (Silver) or $3000 (Gold). When the sum of New Customer Revenue drops below the tier threshold, the commission tier returns to the previous level.
Any recurring transactions that occur for an affiliate are awarded 10%, 40%, or 50% commission respectively, based on the New Customer Revenue (Net Sales Amount) over the previous 30 days. Recurring transactions do not factor in determining an affiliate's commission tier status. Commission tiers reflect the commission rate applied to both new and recurring transactions.
Commission tiers are tracked automatically (and reported in real-time) within PartnerStack, subject to transaction verification, fraud, and refunds.
Example:
The affiliate generates sales (and commissions) over the following period:
November 14 -

new sale $37

(10% - Bronze)

November 20 - recurring sale $300 (10% - Bronze)

November 22 -

new sale $79

(40% - Silver)

November 29 - recurring sale $708 (40% - Silver)

December 1 -

new sale $37

(40% - Silver)

December 14 - recurring sale $37 (40% - Silver)

December 24 - recurring sale $79 (10% - Bronze)

January 1 - recurring sale $37 (10% - Bronze)

January 3 - new sale $37

(10% - Bronze)
Getting paid
When you earn a reward, you'll notice that it'll first appear under the "Rewards" section of your Rewards & Withdrawals tab, with a status of "Pending", with an estimated payment date.
Rewards are held in your account as "Pending" until the Leadpages team has reviewed them.
Rewards are typically paid out on the 13th of each month. Keep in mind that there can be unpredicted delays in payouts that could result in your rewards coming after the 13th.
Once your rewards have been approved and paid for by Leadpages, your funds will be available for cash out on the Rewards & Withdrawals page.
NOTE:

You must have at least $5 USD in rewards in order to cash out. If the amount is under $5 USD, your status will appear as "Pending" until you earn more rewards.
Once your rewards are available for cash out, you will receive an email notification from PartnerStack letting you know.
You can cash out any rewards that are available following these steps:
Select

Rewards & Withdrawals

in the top menu bar

Confirm that your connected payout provider (Stripe or PayPal) is accurate

Click Withdraw
TIP:

Rewards are paid out via PayPal or Stripe. Before cashing out, make sure you have the correct PayPal email address or Stripe account details linked in your Rewards & Withdrawals.
Receiving your commissions: payout provider
At the end of each month, your affiliate commissions are calculated and available for cash-out via PayPal or Stripe. In order to access your commission payouts, you'll need to connect your PartnerStack account to either PayPal or Stripe.
Here is more information on how to do that.
Affiliate training
Take our quick start affiliate training to learn more about promoting Leadpages and collecting commissions.
---
Need more help?
You can always get in touch with our support team—just click Support in your Leadpages navigation menu, or submit a ticket ↗