The Leadpages Affiliate Partner Program allows Leadpages members and friends to market our top lead generation tools, which have helped over 40,000 marketers generate more leads and improve their businesses.
The fine print
This article details the basics of the program and answers some frequently asked questions, assuming your are a Leadpages affiliate. If you'd like to join our affiliate partner program, click here.
We use Impact here at Leadpages to manage our affiliate partner program. Login credentials and access to your affiliate account are all controlled by Impact.
Leadpages Affiliate Partner Program Terms of Service
For questions beyond what's covered in this article, contact partners@leadpages.com.
Manage your affiliate account
Logging in to Impact
To access your affiliate account, you'll want to log in to Impact here.
After creating an affiliate account, Impact will send a verification email from notifications@app.impact.com. If the link is not clicked in the verification email, you will not be able to log in to Impact.
NOTE: Impact uses usernames, not email addresses. (i.e. john.smith not john.smith@company.com)
If you've forgotten your password to your Leadpages affiliate partner program account, you can either click Forgot Password from the Impact login page or click here to reset it.
If Impact says the email address you entered is invalid for resetting your password, fill out this form to reach out to Impact, as it's possible you did not confirm your registration email.
Affiliate dashboard
From your Impact dashboard, you have easy access to a snapshot of your analytics including commissions, Leadpages assets to promote, your withdrawal settings and your affiliate link.
Below we'll go into the details of each.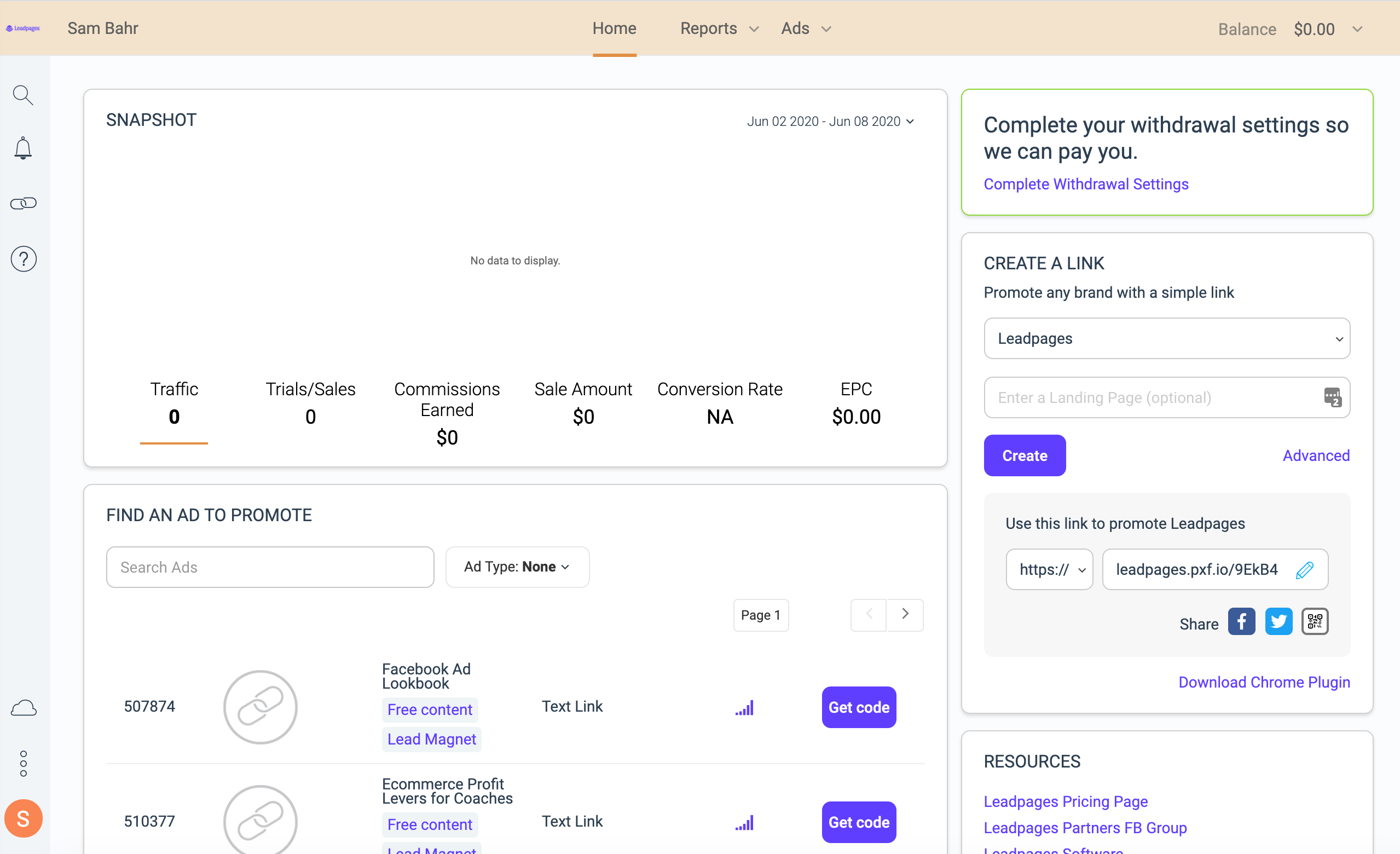 Promoting Leadpages
Accessing your affiliate link
After your affiliate application has been reviewed and accepted by Leadpages, you'll receive an email to confirm your registration. After confirming your email, you will receive a welcome email from Impact with your affiliate link as well as HTML to use on your website.
Purchases of Leadpages made through this link (not counting yourself, of course) will be credited to your account. You continue to earn referral commissions for each account renewal (monthly/annually) as long as they maintain their membership.
To access your affiliate link outside of the welcome email, log in to Impact, then click the link icon on the left-hand sidebar.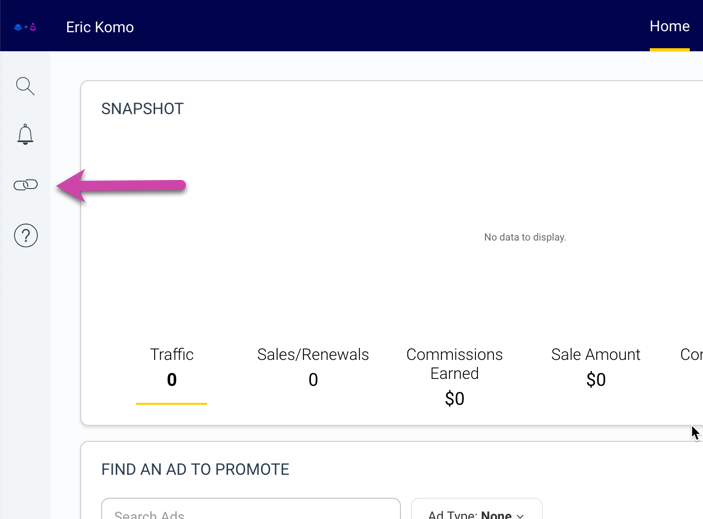 Leadpages creative assets
Leadpages has supplied you with creative assets to help you drive referral sales. These assets are located within your Impact account under your Ads tab's Ads & Links section.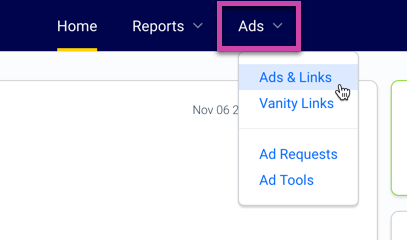 Promotion ideas
Promoting Leadpages is easy! Here are just a few ideas our current partners are using to promote Leadpages and earn recurring commissions:
Co-Host an Affiliate Webinar with Leadpages: We have created a proven Leadpages webinar just for affiliates that's designed to get you commissions. If you can register at least 200+ for a live webinar, we'll host a dedicated Leadpages webinar with you.
Promote Our Weekly Live Leadpages Webinar: Don't have a big enough audience for your own webinar? Market our weekly live webinar to your audience and start making commissions now.
Exclusive Deals & Limited Time Offers: As a partner, you can offer exclusive Leadpages deals and packages on your website as often as you like.
Drive Traffic to Leadpages Blog Posts and Tutorials: Love sharing valuable content? Use your unique affiliate links to drive traffic to any Leadpages blog post or our marketing content.
New Leadpages Features: Leadpages releases new templates and features frequently. As an affiliate, you can capitalize on any launch or new feature with promotions of your own.
Market Leadpages in Blog Posts, Social Media & Emails: Love Leadpages? Have a great case study to share? Tell your story and promote Leadpages to your audience.
Tracking and cookies
We currently offer a 30-day cookie life. This means from a visitor's click on your link, if they purchase over the next 30 days (without clicking someone else's link), you're the affiliate of record.
Conversions are tracked through your affiliate link provided by our affiliate tracking software, Impact.
Commissions
How and when you get commissions
All Leadpages Affiliate Partners earn a base recurring commission of 10% for referrals (past and present), with the opportunity to earn up to 40% and 50% commission based on the amount of new customer sales you refer within each month.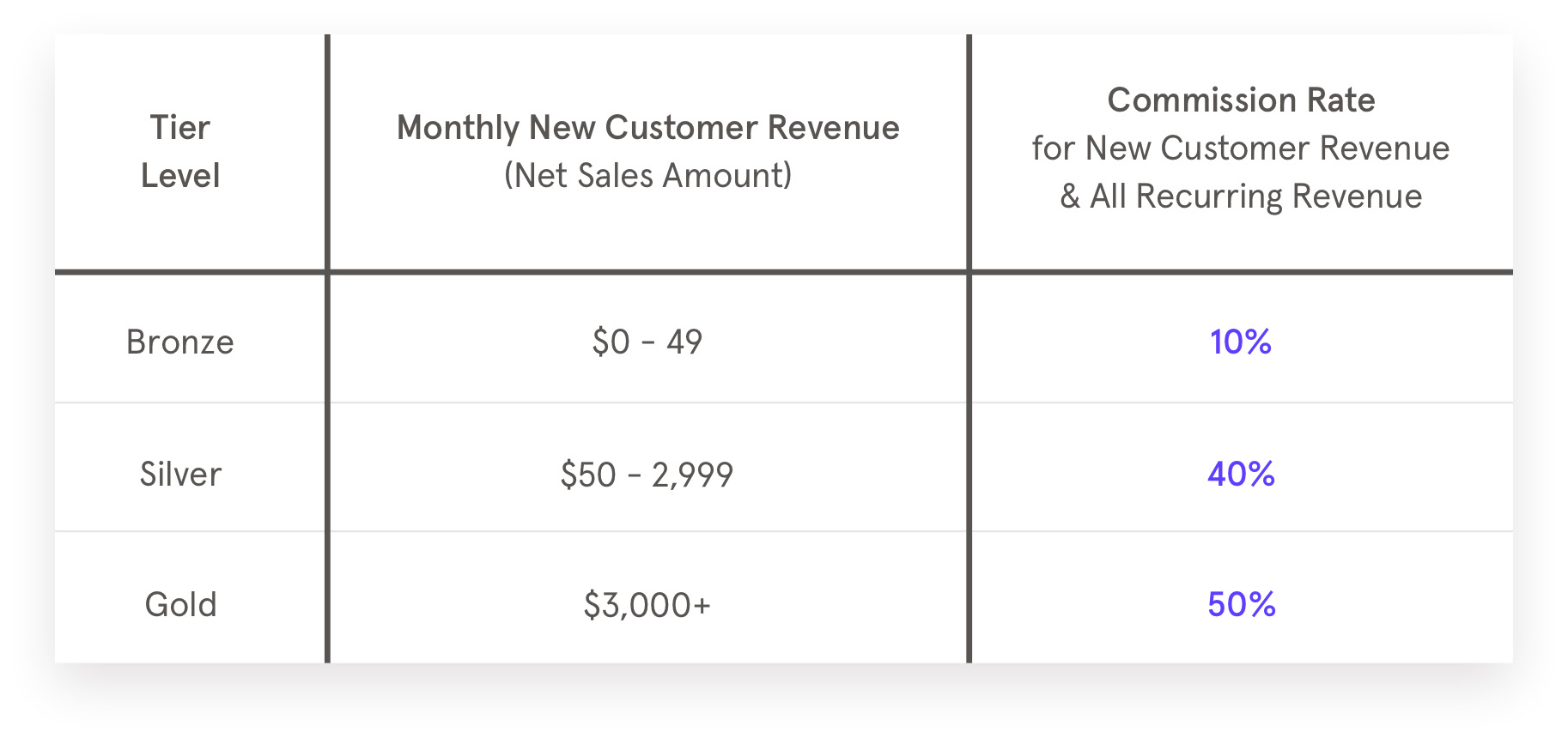 NOTE: Your Impact account will not reflect a percentage greater than 10% even when you have earned a greater commission rate. However, the Leadpages finance team will adjust your payout accordingly.
Sale commissions are paid out on the 15th of the month, 45 days after the close of the month.
Example scenarios:
Let's say you generate $2500 in revenue this month (July), with $1000 from new accounts and $1500 in renewals. You would earn a 40% commission for July because of the revenue from new business (for a total payout of $1000).
In August, you generate $1500, with $37 in new accounts, and $1463 in renewals. You would earn a 10% commission for August (for a total payout of $150).
Then in September, you generate $6500 in revenue, with $3100 from new accounts, and $3400 in renewals. You would earn 50% commissions for September (for a total payout of $3250).
For more on commission tiers, watch our video here.
Only Approved statuses are eligible for commissions.
There is a waiting period that shows as Pending before you are eligible for commissions. This is in place to protect you (and us) from chargebacks, fraud, and cancellations. As long as the referral stays active through that Pending period, the affiliate will become Approved for payout.
NOTE: Once a subscriber is listed as a "Recurring Payment" within Impact, you are eligible for a commission from that signup.
Manage your commissions
You can manage your payment dollar amount threshold in Impact by clicking on the settings icon at the bottom-left corner of your account, then Settings. Under the "Finance" section, click Bank Account. There you'll be able to set what type of payment schedule you'd like your commissions to be paid out in as well as where you'd like those commissions to be deposited.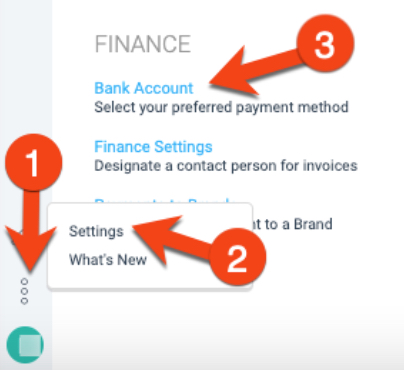 Affiliate training
Take our quick start affiliate training to learn more about promoting Leadpages and collecting commissions.
---
Need more help?
You can always get in touch with our support team—just click Support in your Leadpages navigation menu, or submit a ticket ↗