Landing pages can make a great addition to your existing WordPress site, and publishing pages to your site is easy with our connector plugin. This article covers how you can publish, update, and delete landing pages on WordPress.
The fine print
This guide assumes you've already installed the WordPress plugin. If you haven't, you can follow our guide here.
Your WordPress setup might look different than the one used for this guide. For reference, we're using WordPress 4.6.1 running the Twenty Sixteen theme, and version 2.1.4.4 of the Leadpages plugin.
If you're publishing a split test via the plugin and you've previously published a page to the URL you'd like to use for your split test within the Leadpages WordPress plugin, make sure to change that page's URL or delete it from the plugin's published pages as shown below.
Adding a new landing page to your WordPress site
Choosing a page type
You can publish four different types of pages using our plugin. Each one has slightly different characteristics for various use cases, which are detailed below:
Normal
You can have unlimited normal pages active at a time, and this will be the type you use for most situations. Each normal page has its own customizable URL slug, so it's easy to direct visitors to a normal page (whether via social media, ads, or an email campaign).
For even more flexibility, you can add multiple levels to your page's URL slug, like so: https://www.yourwebsite.com/books/book-sale-page.
NOTE:
You should be able to use any standard
permalink settings
, but keep in mind you may run into issues if your site uses a custom structure.
Homepage
You can have one active homepage at a time, which will override your site's default homepage with your chosen landing page. Your homepage will be accessible at your root domain, or main URL, e.g. http://yourwebsite.com, http://www.yourwebsite.com, etc.
TIP: If you use a landing page as your homepage, we recommend choosing a page template with a navigation bar, so visitors can access other parts of your site (as your normal theme won't be visible on landing pages published to WordPress).
Welcome Gate
You can have one active Welcome Gate at a time, which first-time visitors will see when they land on your site (regardless of which page they're attempting to visit).
Welcome Gate pages are great for converting new site visitors to leads right away. Visitors who have been to your site before will bypass the Welcome Gate and can access your site normally unless they've cleared their browser cache, or are visiting your site in an incognito/private window or a different browser.
Each Welcome Gate also has a customizable URL, so you can send visitors there even if they've already been to your site.
404 Page
You can have one active 404 page at a time. When visitors navigate to a broken link or page that doesn't exist, they get a 404 page. Using a custom one can turn these instances into opportunities to give away a lead magnet or otherwise convert disgruntled visitors.
There isn't a custom URL available for 404 pages, but our plugin will automatically provide a broken URL so you can test out your page.
Publishing a new landing page
NOTE: Before publishing a landing page to your WordPress site, the page must be published within Leadpages.
Use the following steps to publish landing pages to your site:
Click Leadpages › Add New from your WordPress Dashboard.
Choose the type of page you'd like to publish, then select your landing page.


TIP: If you're not seeing the landing page you're looking to publish in the dropdown menu, click the blue ⟳.

If applicable, choose a URL slug as well as whether or not you'd like to cache your page. Caching can serve to increase page loading speed, but may interfere with pushing updates to your WordPress-published landing page.

Updating pages
You don't need to take extra steps to update your landing pages on WordPress when you make changes. As long as you save and update your page from within Leadpages, you'll see them update on your site.
TIP:
Caching and security plugins can cause update delays. If your pages don't update quickly, search for and disable/deactivate any plugins that may be caching your site (keeping in mind caching may not be the plugin's primary function). Or, check out our
troubleshooting guide
.
You can set different statuses on your landing pages via the main plugin page in your WordPress Dashboard:
Click Leadpages in your Dashboard's sidebar.
Toggle the checkbox next to any page you'd like to update.
Choose "Edit" from the Bulk Actions menu, then hit Apply.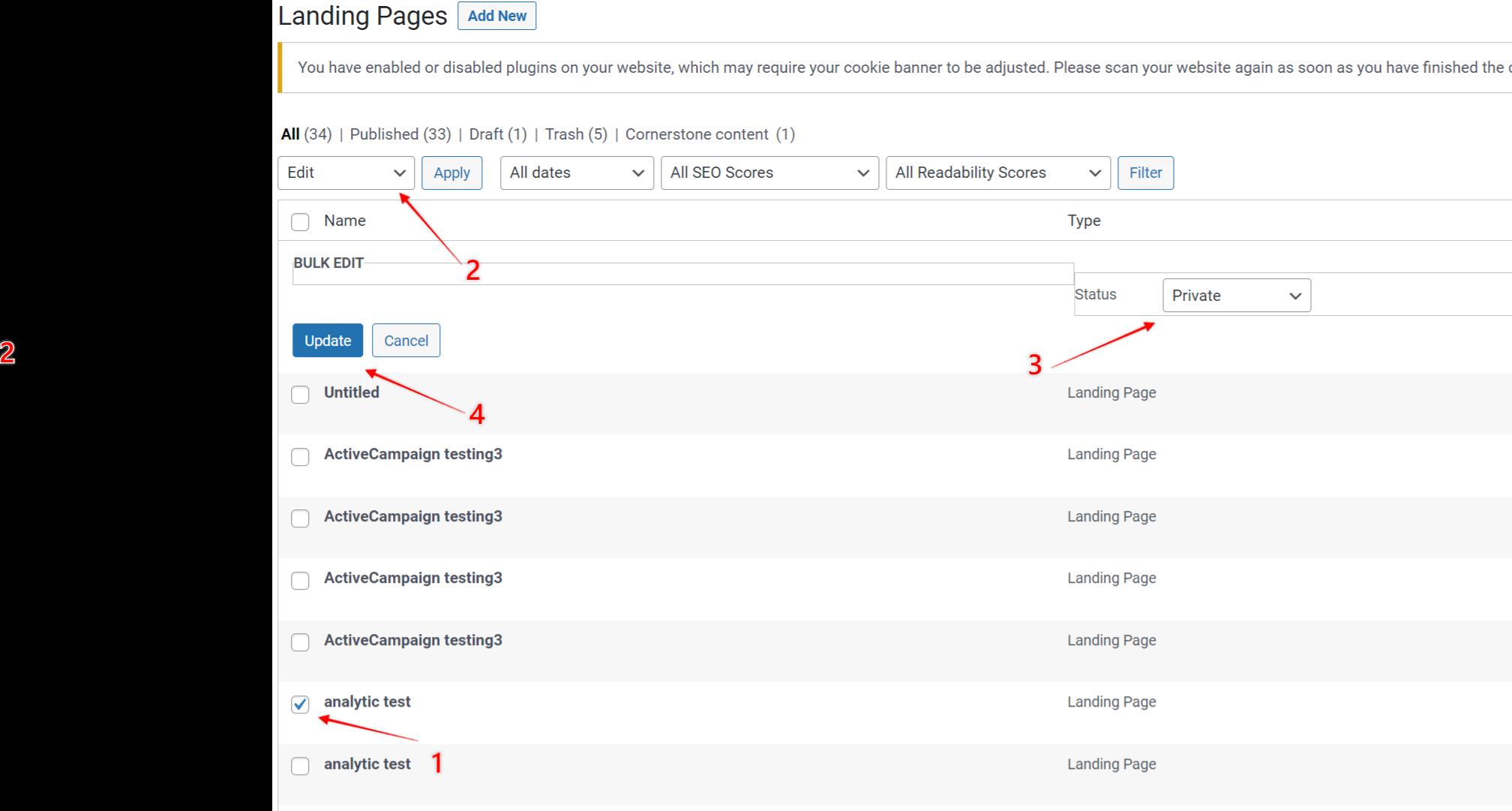 One great use case for this is to hide pages that you've published (keeping in mind draft pages won't be accessible to visitors).
Deleting pages
To delete a page, you'll first need to move it to the trash within WordPress.
WARNING: Deleting a page from within Leadpages will not remove it from your site. Instead, visitors to that page will see an error.
Here's how to delete a page from your site:
Navigate to the Leadpages plugin from your WordPress dashboard.
Select the checkbox next to the page(s) you'd like to delete.
Select Move to Trash from the "Bulk Actions" dropdown and click Apply.
To delete pages permanently, navigate to the Trash tab and click Empty Trash… or select your page and choose Delete Permanently from the Bulk Actions menu.

TIP: You can also restore deleted pages via the trash tab's bulk actions menu.
---
Need more help?
You can always get in touch with our support team—just click Support in your Leadpages navigation menu, or submit a ticket ↗