Once your landing page is ready to go, you have a few options for actually publishing it. From quick hosting on Leadpages' servers to connecting your domain, there are ways to publish no matter what your setup is.
In this guide, we'll cover each publishing option and how it works. You'll find links to more in-depth resources throughout so you can learn more about any particular publishing option.
NOTE:
If you're looking to publish a Leadpages Site, we have an article specifically for
publishing sites here
.
The fine print
When publishing your pages, here are a few things to keep in mind:
You can access any published landing page at its Leadpages Domain on our servers at any time.
Once you publish a page, you also have the option to unpublish the page.
First time publishing
After you start with a template, your page will stay in Draft mode until you hit publish. Here's how to publish a page for the first time.
Open your page in the builder.
Double check everything in Preview mode (you can preview what your page will look like on different devices, too.)
Click Publish in the top-right corner of the builder. (If you receive an error about connecting your Stripe account to a checkout widget, click here for more info.)
Choose to publish your landing page to a connected domain or your Leadpages Domain, then click Publish.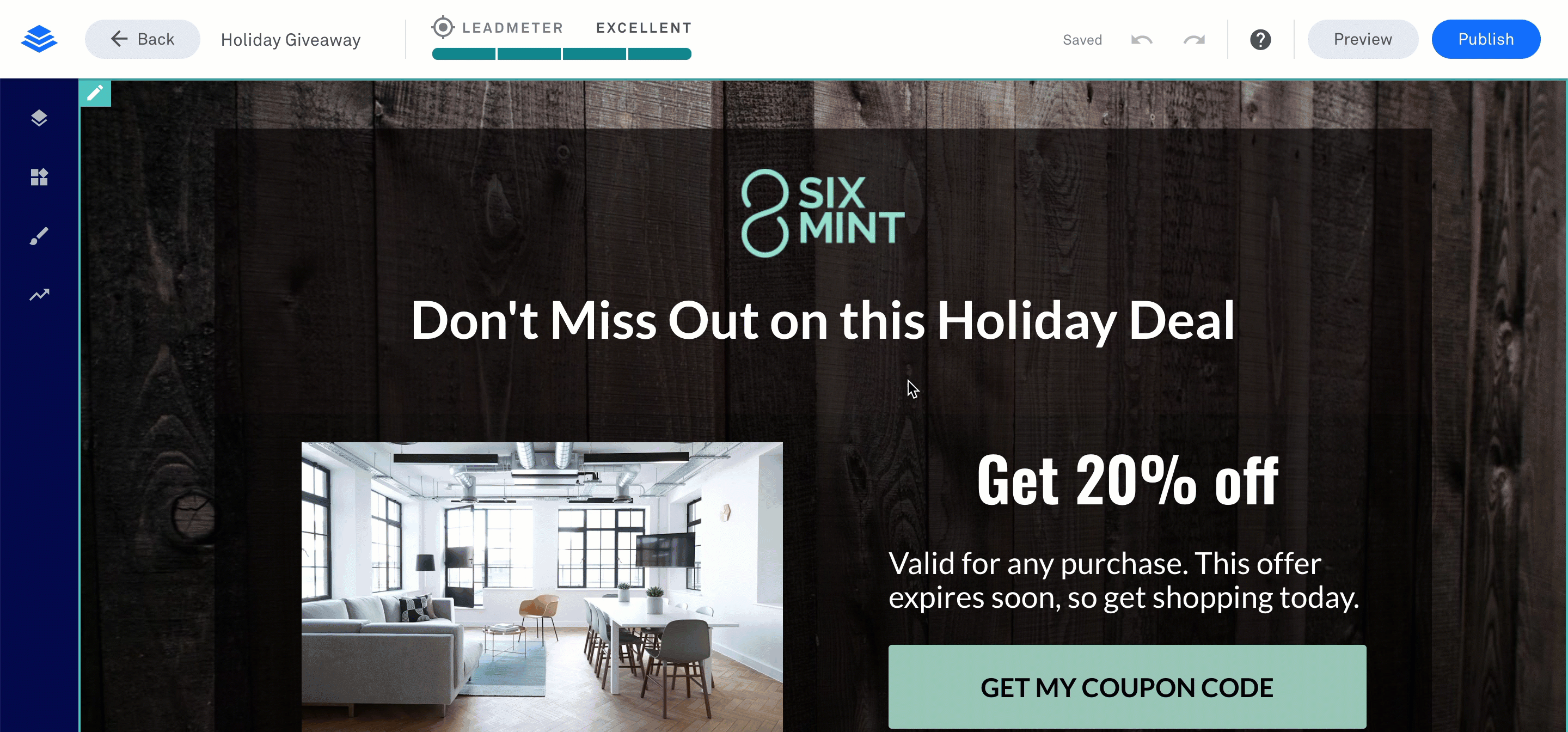 And, well… that's it! Congrats on publishing your page 🎉
After your page is published, you'll see an Update option instead of Publish. From the drop-down menu, you can access lots of page options, including your publishing settings and the option to revert back to the last published version.
Pages on your Leadpages Domain
You can access any of your published pages at your Leadpages Domain on our servers. By default, each page's URL will follow the same basic structure:
https://LeadpagesDomain.lpages.co/your-page-name
These default URLs are perfectly valid—you can use them to promote your page via email, ads, or other channels. If you have a domain or website, you can connect your domain to Leadpages or use one of the other publishing options below ↓
View and edit your page's URL
To get your page's URL, click the down_angle button next to Update in the top-right corner of the builder, then "Publishing Options."
Your page's URL will appear in the publishing modal. From there, you can view your live page and copy or edit its URL.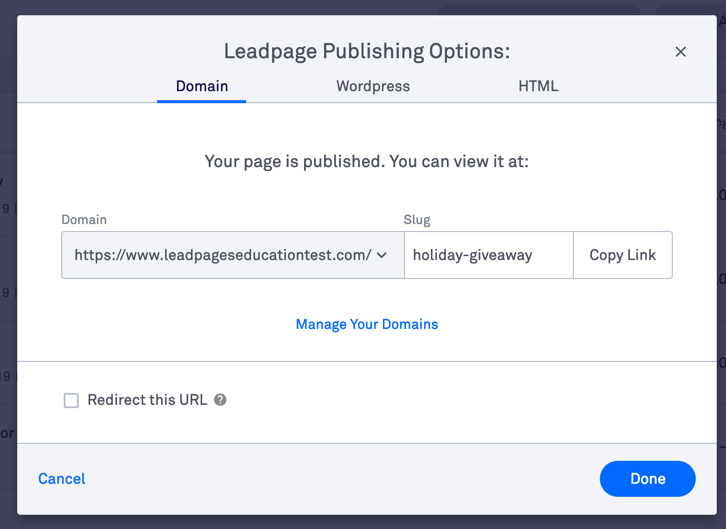 You can also access your publishing options from your account navigation menu by selecting Landing Pages, then, select "Publishing Options" from the action menu more of the page you'd like to view.
Editing your page's URL presents a couple of options:
Keep in mind, you must choose a unique slug; no two pages can have the same URL.
NOTE:
If you'd like to change your account's Leadpages Domain,
let us know
—we can happily change it on our end.
TIP: Only certain characters are allowed for page slugs—if you have invalid characters, click Fix it for me to automatically convert to a valid URL.
Split tests
If you create a split test, each page in that test will use the same URL. To learn more about how URLs in split tests work, see About Split Test URLs ↗
Other publishing options
Beyond publishing pages on our servers, you can also publish pages on your own site or domain.
Connect your domain
To publish to a root or subdomain you own, you can connect your domain to Leadpages by following these steps.
This way, you can publish pages without the need for your own web host, but you don't need to use the lpages.co domain.
WordPress
If you use WordPress, our plugin is the easiest way to get pages up-and-running on your site.
To learn how to install and use the plugin, be sure to check out our WordPress Publishing articles.
Non-WordPress sites
There are a few options available if you don't have a WordPress site.
HTML export
For full control, we recommend using our HTML export feature. Download the code for your page and use it with any site platform that supports JavaScript (or upload directly to your server via FTP).
Check out Publish Pages as HTML for full details.
FAQs and additional resources
Is it possible to redirect a page to a different URL?
Yes, if you're using the Leadpages-published version of your page, you can redirect traffic to any external URL. Find out how ↗
Avoid setting up any sort of domain masking—it can cause major issues on your landing pages, including the loss of opt-in data. Learn more about domain masking and alternatives ↗
Are my pages secure?
All pages are securely served over HTTPS. If you publish to your own server, you're responsible for ensuring the security of your pages. To find out more, check out Secure Landing Pages: About SSL & HTTPS ↗
What happened to the Facebook Tab publishing option?
There are significant limitations to publishing a page to Facebook as a Page tab:
tabs aren't visible to mobile users
only one page can be published at a time
it's not possible to direct most ads to tabs
We now recommend posting a link to your landing page on your Facebook Page's Timeline or as an ad.
---
Need more help?
You can always get in touch with our support team—just click Support in your Leadpages navigation menu, or submit a ticket ↗