You don't need to do anything special to make sure your pages appear in Google search results. However, by taking just a few extra steps, you can optimize your pages for Google search and other products.
NOTE: Google has announced Universal Analytics will stop receiving new hits on July 1, 2023 and recommends transitioning to Google Analytics 4.
Google Ads
Google Ads can be a great way to promote your pages and get more traffic. You can make it easy to find your business when people search for terms related to your industry, products, or services.
Also, you only pay for ads when visitors click on them, so you can get started with Google Ads even on a limited budget.
It's important to note, all ads must pass Google's approval process. You can learn more about how Google reviews ads (and how to comply with AdWords standards) here: About the ad approval process ↗
To get started, visit the Google Ads homepage.
Hide pages from search
Need a page to stay private? One of the best ways to keep a page hidden is to prevent search engines from indexing it.
While we don't "submit" published pages or pop-ups to Google (or other search engines), they might still appear in results if other pages link to them.
To prevent search engines from indexing your page, turn on the setting from the Settings tab in the builder.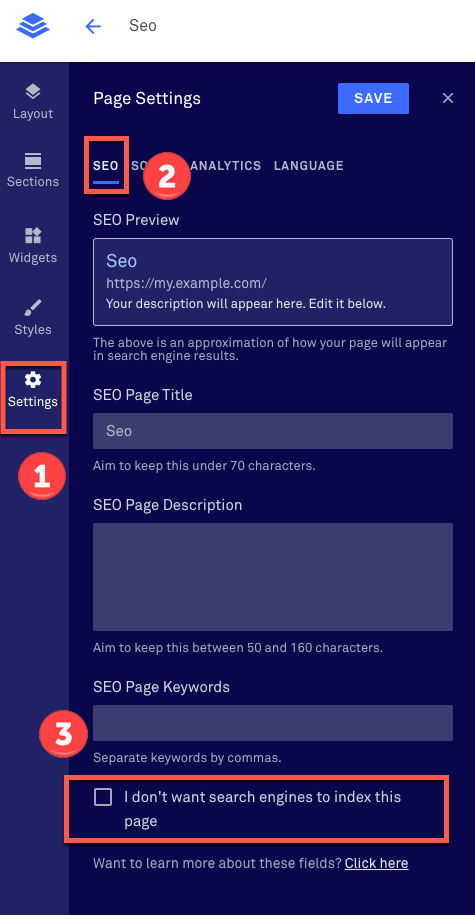 Optimize pages for search
Search engine optimization (SEO) is a complex topic, so we won't cover all the details here. The good news is that a lot of best practices are built into Leadpages already—such as mobile responsiveness and structured HTML.
For additional tips, check out Google's Webmaster Guidelines. While you may not be able to implement every single best practice, their guide provides handy advice for optimizing your pages.
Finally, you can set the title, keywords, and description of any page—simply follow the steps in our article here. If you're unsure what to put in your page's SEO fields, review this article from Google: Create good titles and snippets in Search Results ↗
Google Analytics
We automatically collect analytics for your pages and pop-ups, but you can track even more data with Google Analytics.
Google Analytics 4 Measurement ID
Google Analytics 4 (GA4) is a new property designed to collect event-based data from both websites and apps. GA4 goes beyond tracking traffic and empowers users to analyze customer usage. This property replaces Google's Universal Analytics.
To begin tracking GA4 in Leadpages, you'll need a Google Analytics account, a property ID, and within that property you'll create a data stream to obtain a Measurement ID. → Here's where to find your Measurement ID.
Within the Settings section of the Leadpages builder, you can paste your Google Analytics 4 Measurement ID (i.e. G-123456789) under the Analytics tab. This is a quick and simple way to get your Google Analytics tracking code running on your page.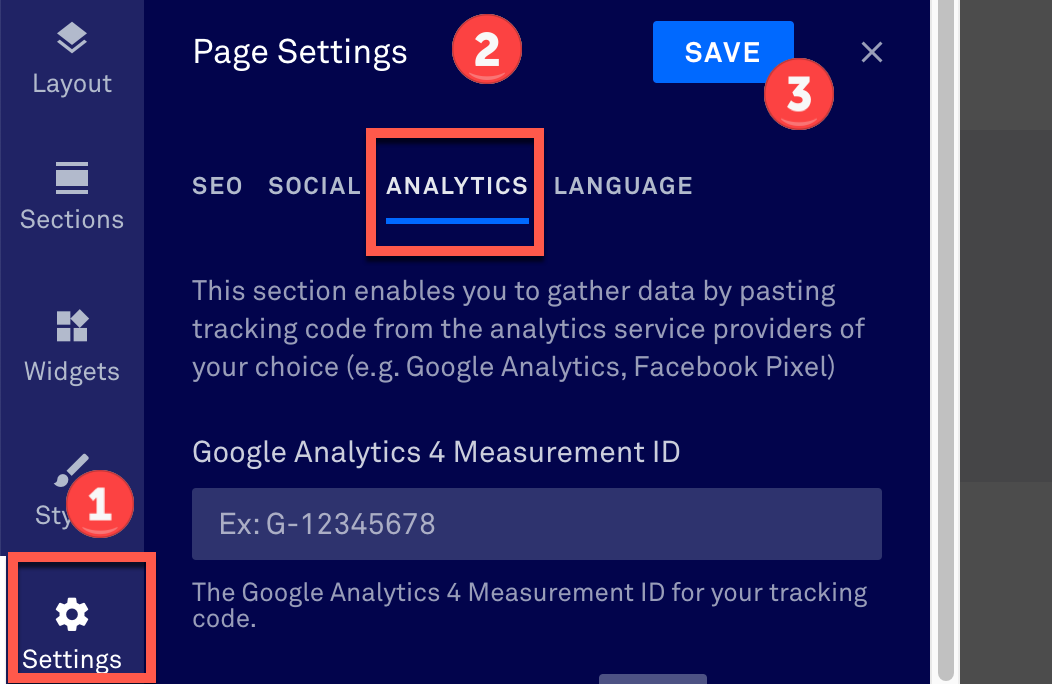 NOTE:
This field is currently for GA4
only
. If you're using Google Tag Manager , you'll want to utilize the tracking code sections detailed in the article linked below to paste the entire tracking code onto your page.
While we're unable to offer direct support for using Google Analytics, you can check out our introduction for how to implement them in Leadpages here: Tracking and Using Third-Party Analytics.
Universal Analytics
Within the Settings section of the Leadpages builder, you may have previously added your Google Analytics Tracking ID (i.e. UA-123456-0) under the Analytics tab.

Google will stop processing new data through UA beginning on July 1, 2023. We recommend users begin transitioning all assets to utilize the new GA4 property type. Read more about Universal Analytics going away here.
We will continue to display the UA field in Leadpages through mid-July, after which it will be removed so users do not accidentally add a field no longer supported by Google.
---
Need more help?
You can always get in touch with our support team—just click Support in your Leadpages navigation menu, or submit a ticket ↗