We integrate with AWeber, a popular email service provider, so you can send leads directly to your forms. Learn more about using AWeber with Leadpages below.
The fine print
AWeber is available with all of our tools, including pages, sites, pop-ups, and alert bars.
AWeber forms default to one single name field rather than first and last name. In order to customize your AWeber fields, make sure to create form associated with your list, set up your fields in AWeber, then integrate that form with the Leadpages form widget.
AWeber blocks role email addresses (e.g. support@, no-reply@) from contact lists. Learn more →
Integrate your account
All you need to connect your two accounts is your AWeber username and password. Follow our guide here.
Send leads to AWeber
Once you've integrated at the account level, AWeber (and your forms) should show up in the integration settings for your pages, pop-ups, etc.
Follow these steps to choose an integration as the destination for your leads.
Customize your fields
To create custom fields, you'll need to set up a Sign Up Form within AWeber. It's a good idea to give your form a specific name so you can identify it when you're back in Leadpages. You can do so under the Settings step in AWeber's form builder.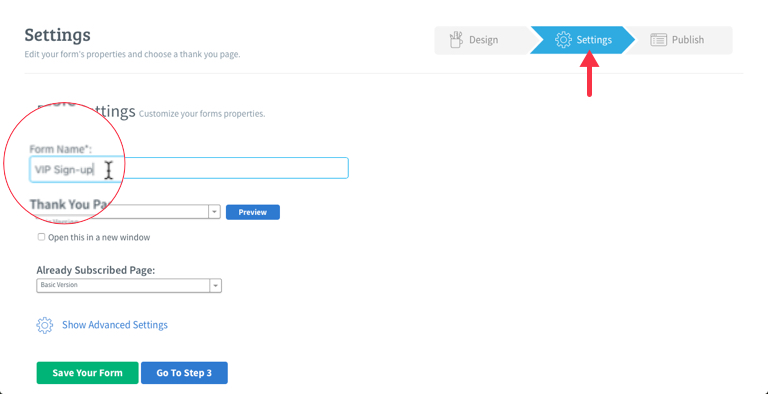 Once you've added custom fields to your form within AWeber, you can add those fields to your form within Leadpages.
As you create your form, here are some tips to keep in mind:
Your form's design won't carry over to Leadpages—so you don't need to spend time choosing a form template in AWeber.
Leadpages supports most fields from AWeber, but if you use AWeber with other services (like a webinar provider), you'll want to make sure all your fields match up. For instance, GoToWebinar uses "First Name" and "Last Name" so your AWeber form should have both fields as well.
There's no need to publish your form from AWeber—as long as you save your work you should be able to access it in Leadpages.
For more information about working with forms, check out AWeber's guide here: Sign Up Forms.
AWeber tags
In addition to sending your leads to an AWeber list, you can also apply AWeber tags to those subscribers using the Leadpages AWeber integration.
Once you've selected the AWeber list or form you'd like to integrate with, Leadpages will pull in 500 of your most recently used AWeber tags for you to search from in order to tag your opt-ins.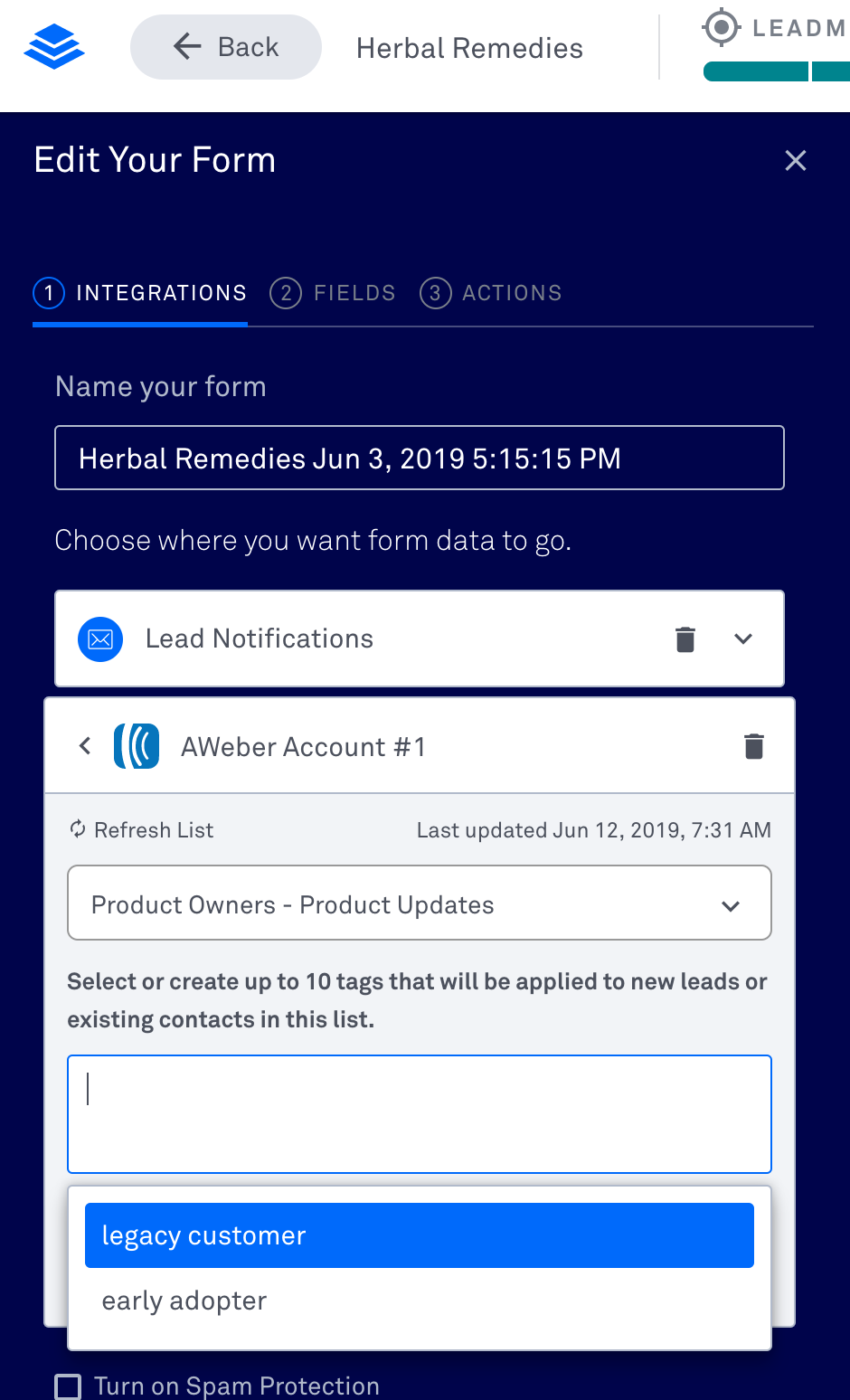 If you haven't created any tags yet within AWeber, or are looking to create a new tag for these opt-ins, no problem! The Leadpages AWeber integration allows you to create a new tag for your AWeber subscribers right within Leadpages. Simply start typing your tag and click "Create "[tag name]" or simply press the return/enter key.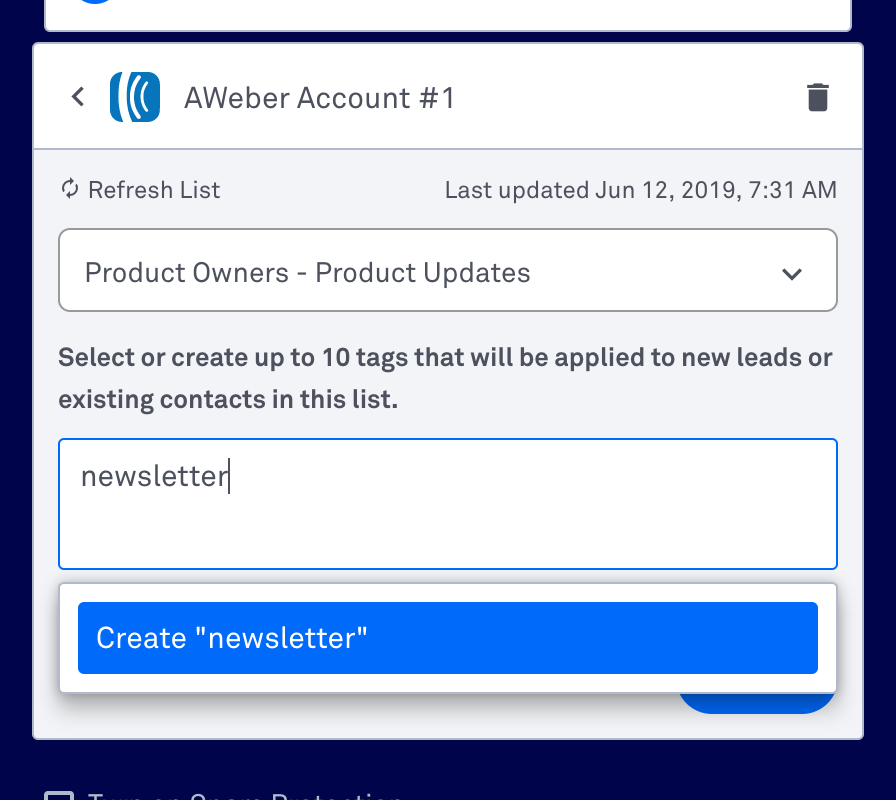 You can select up to 10 tags per Leadpages form with the Leadpages AWeber integration. To remove a tag, simply click the X next to it in the tag listing.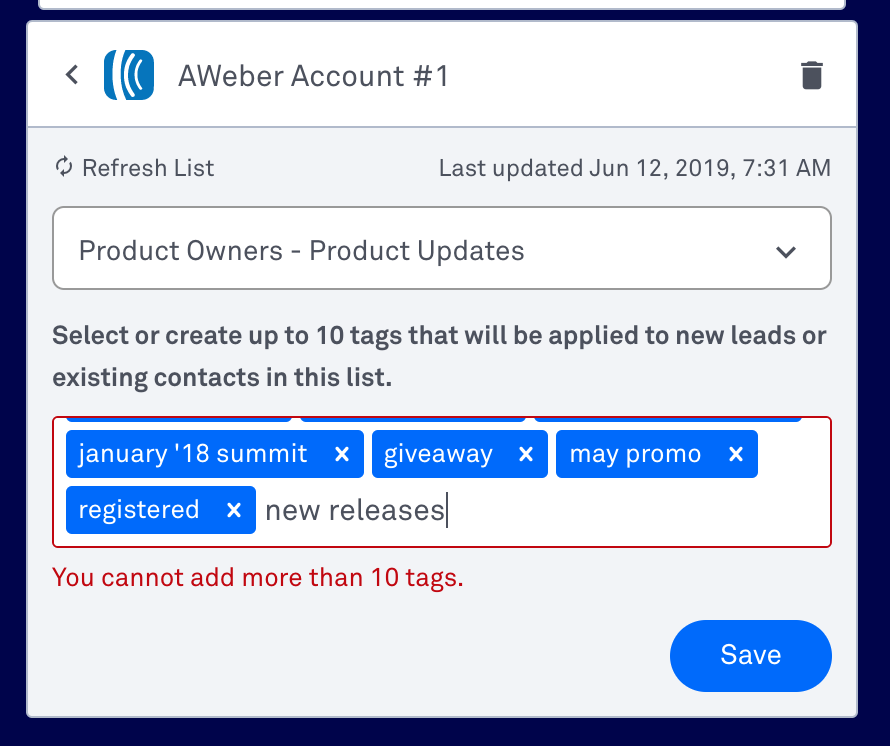 Troubleshooting tips and FAQs
Can I turn off confirmed opt-in?
Yes, you can turn off confirmed opt-in on a list-by-list basis within AWeber. To learn how, check out their article here: Can I Disable Confirmed Opt-In? The setting should be under "Send a confirmation for subscribers added via API".
How do AWeber's thank you pages work with Leadpages?
We recommend setting your thank you page within Leadpages, which will override basic settings in AWeber.
AWeber's "already subscribed" page setting doesn't work with Leadpages using the API integration.
---
Need more help?
You can always get in touch with our support team—just click Support in your Leadpages navigation menu, or submit a ticket ↗