Publishing a Leadpages alert bar to WordPress is easy with the Leadpages WordPress plugin. Here we'll walk you through how to publish alert bars via the plugin, change which bar is published to your site, as well as remove it entirely.
The fine print
Alert bars published via the Leadpages WordPress plugin will be published on every page of your WordPress site. Not using the plugin or want to publish it only to select pages? Learn more on publishing alert bars here.
Some WordPress themes may conflict with a Leadpages alert bar.
Publishing a new alert bar
Before taking the steps to publish an alert bar to WordPress via the Leadpages plugin, make sure you have installed the Leadpages WordPress plugin on your WordPress site.
With the plugin installed, follow these steps to publish your alert bar:
From the left-hand side of your WordPress dashboard, select Leadpages, then Alert Bars.
Click the radio button next to the alert bar you'd like to publish to your WordPress site.
Save your changes.
Updating alert bars
Any edits or updates you make to your alert bar within the Leadpages application will automatically be applied to that same bar when published to WordPress via the plugin.
To publish a different alert bar, simply navigate to Leadpages >> Alert Bars in WordPress. Select the new alert bar in the list and click Save.
Remove an alert bar
To remove an alert bar published via the Leadpages WordPress plugin, select the "Disable Alert Bar" option in the alert bars listing within the plugin and save your changes.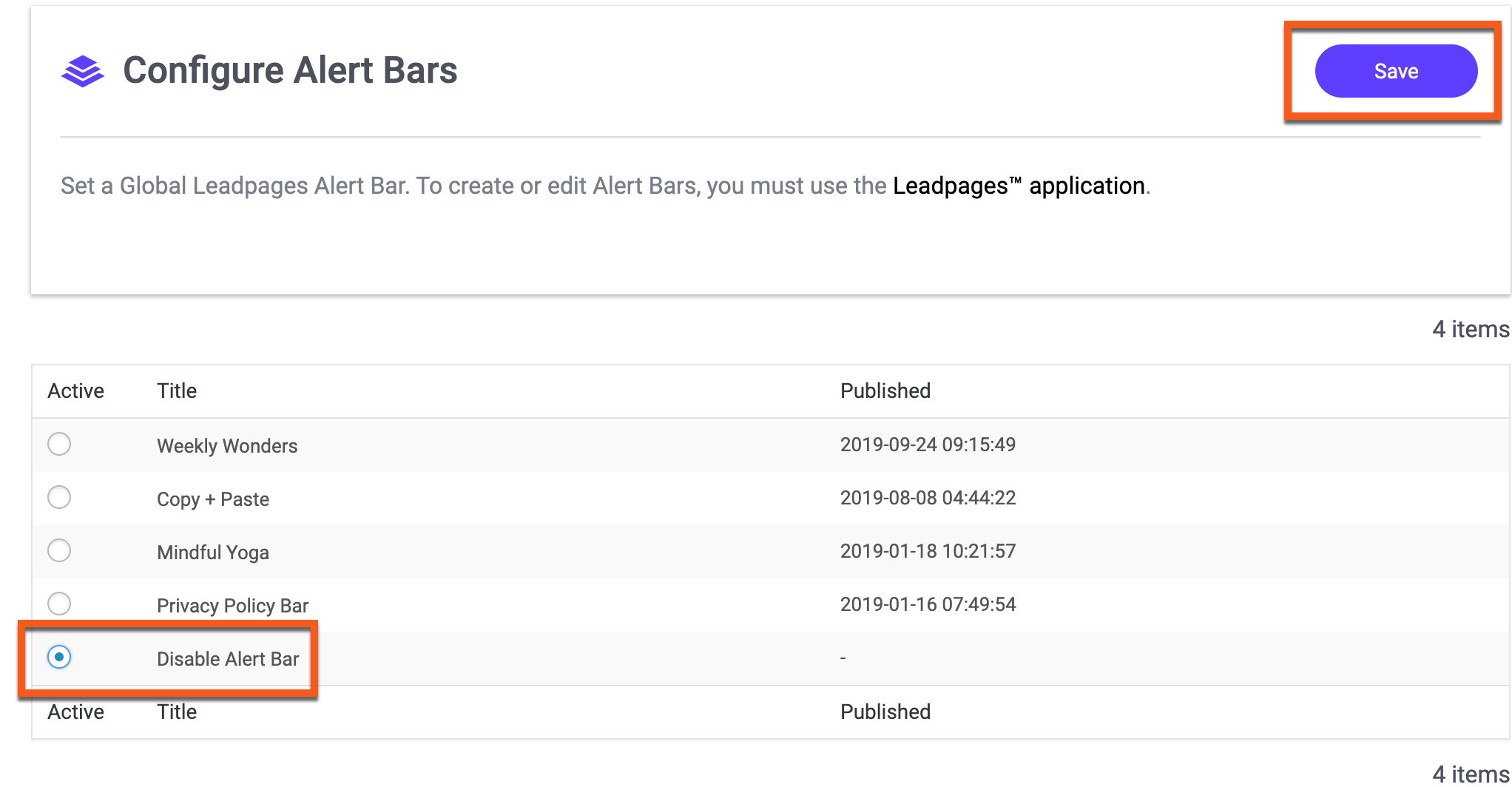 ---
Need more help?
You can always get in touch with our support team—just click Support in your Leadpages navigation menu, or submit a ticket ↗