Every Leadpages account includes a plugin you can use to install your landing pages, pop-ups, and alert bars on your WordPress site.
Make sure your WordPress site has PHP version 7.2 or higher currently installed. If you're unsure of your PHP version, you can install this separate plugin on WordPress to find out. In addition, make sure your PHP is using TLS 1.2 or higher.
To connect Leadpages to your WordPress site you'll:
Download the WordPress plugin from your Leadpages account
Upload the plugin to your self-hosted WordPress site and activate it
Begin publishing pages, pop-ups, and alert bars to your site
Download the plugin
Click the Actions more next to any published page in your Landing Pages listing, then Publishing Options. (A page must be published in order to access these options.)
Select the WordPress & HTML tab and click Download Now.
​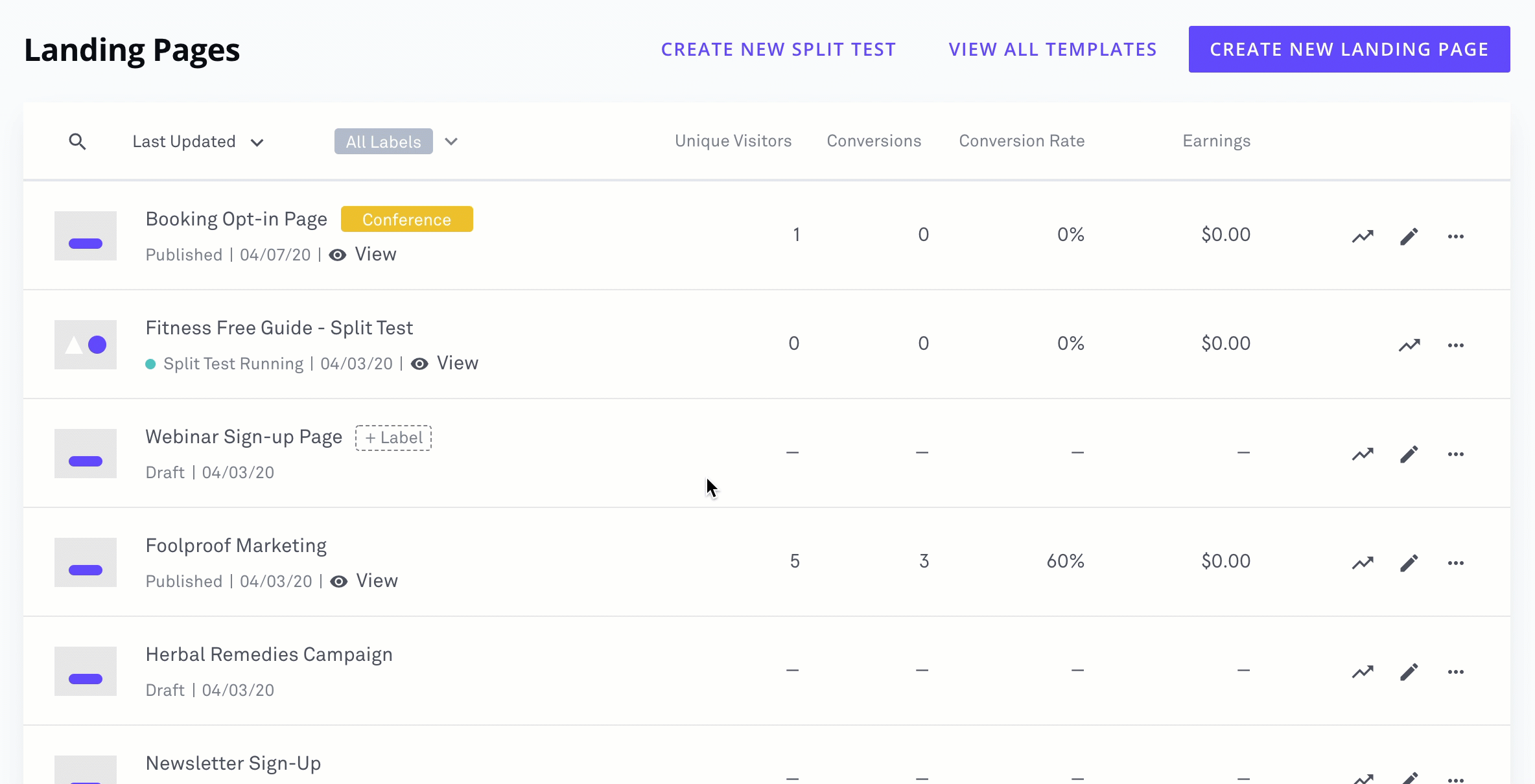 NOTE: The plugin will download as a .zip file. Keep the file in .zip format and do not open it. Safari users: Go to your browsers Preferences >> General >> uncheck "Open safe files after downloading" to ensure the browser does not automatically unzip the file.
You only need to download the plugin once. That said, you may want to follow the steps above if the version number listed next to the Download Now link is not the same as in your WordPress account. Additional details are available here: Migrating from Previous WordPress Plugin Versions.
Add the plugin to your WordPress site
Now that you've downloaded the plugin, it's time to install it on your site.
Log in to your WordPress Dashboard and choose Plugins › Add New.
Click Upload Plugin. Choose the ZIP file you downloaded and click Install Now.
When prompted, click Activate Plugin to complete the installation. You should now see Leadpages in your WordPress Dashboard's sidebar.
Click the Leadpages tab and log in using your Leadpages credentials.
NOTE:
If you sign in to your Leadpages account using Google single sign-on, you will need to set a password for your account in order to log in to the WordPress plugin. Simply log in to your Leadpages account and click
"Set Password" in your account settings
.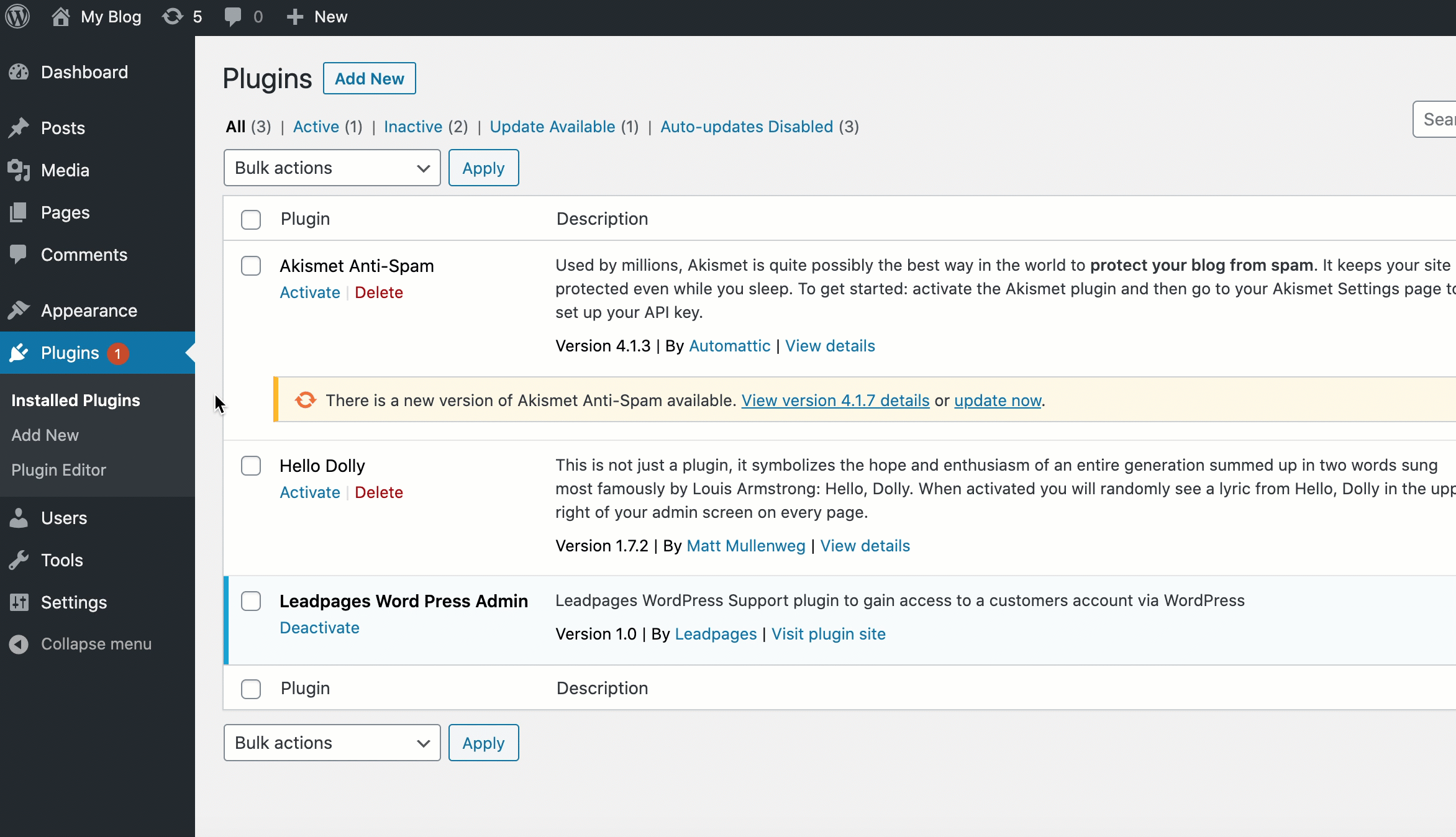 Troubleshooting tips
The steps below should help resolve most common issues you might have while installing the plugin and logging into your Leadpages account.
Make sure you don't already have the Leadpages plugin installed.
Manually type in your Leadpages login credentials, instead of using a password manager to auto-fill.
If you see a blank white screen, make sure your WordPress site has PHP version 7.2 or higher currently installed. Learn more…
Still experiencing issues? Please reach out to our awesome support team—we'll be happy to help.
Start publishing landing pages, pop-ups and alert bars
Now that you have the plugin installed, it's a snap to start publishing landing pages and pop-ups to your site. For more information, see:
Update the plugin
To update your Leadpages WordPress plugin, log in to your WordPress site and select Updates from the left-hand sidebar. If "Leadpages Connector" is listed under the plugins list, select it and click Update Plugins.
If the "Leadpages Connector" is not listed in the plugins list within Updates, there are no updates to the Leadpages WordPress plugin at this time.
---
Need more help?
You can always get in touch with our support team—just click Support in your Leadpages navigation menu, or submit a ticket ↗