Some pages call for a little more breathing room between elements—or perhaps you just want your main call to action to stand out from its neighbors. Whatever the case, this widget allows you to add space to any part of your page.
In this article:
Customization and styling details
Using the space widget
To add a spacer between elements in a column, drag a space widget from the sidebar and drop it wherever you'd like the space added.
The space widget differs from padding and margin settings, as it's best suited for adding space between specific elements. Spacing settings in our layout tools affect all elements in a section or column. To learn more, see: Customize layouts and section styles
Customization and Styling Details
Similar to other widgets, when placed next to another widget, the size and shape of your space widget will automatically adjust.
Simply hover over the right or left-hand side of the widget, then click and drag the sizing slider to adjust.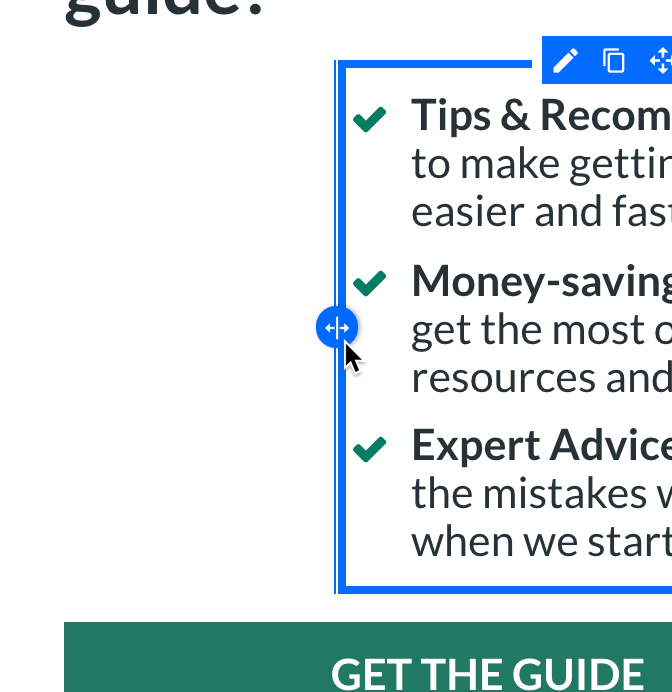 Tips and Frequently Asked Questions
Can I reduce spacing between elements?
The space widget is only intended to add vertical space between elements. To reduce space between sections and other elements, you can adjust margin and padding values in your page's layout settings. Some elements (like the HTML widget) will take up less space on your published page—they're given a bit more room in our builder so you can easily edit them.
Vertical sizing in our builder is determined by horizontal space. So you can also adjust a column's width to change its elements' vertical sizing.
---
Need more help?
You can always get in touch with our support team—just click Support in your Leadpages navigation menu, or submit a ticket ↗