The social like widget allows visitors to Like a page you created with Leadpages or another valid URL and share it on their personal Facebook Timeline. Each Like is recorded, so you can choose to display the total number of Likes alongside the button on your page.
Using the social like widget
Widget setup
After you have dragged and dropped the social like widget, click on it and a sidebar opens on the left side of the builder where you can configure the "Like another URL" for Facebook. Simply click the Facebook panel in the sidebar to open its settings.
By default, the Like button will be linked to your landing page itself with the "Like this page URL on Facebook" option. However, you can choose a different URL by selecting the "Like another URL" option and pasting in a URL of your choice.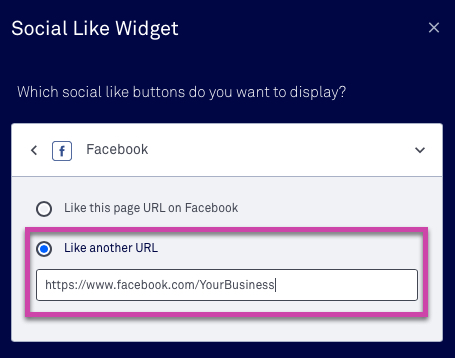 TIP: You can set your Facebook Fan/Business Page URL as the Like URL, which will allow visitors to Like your Facebook Page directly from your landing page.
If you leave the Like this page URL on Facebook option selected, the URL where your visitor actually views the page is the one that will receive the Like. This means if your page receives Likes on more than one published domain (such as on your website and on Leadpages.net), the Likes will be split. So if you plan on publishing your landing page on multiple domains, we recommend using the Leadpage redirect feature to send traffic to one published URL from Leadpages.net.
If you've chosen the Count on Side display option in the widget's style options, you can check the Show faces of visitors' friends who like the page option to display friends of the visitor who have already Liked the page.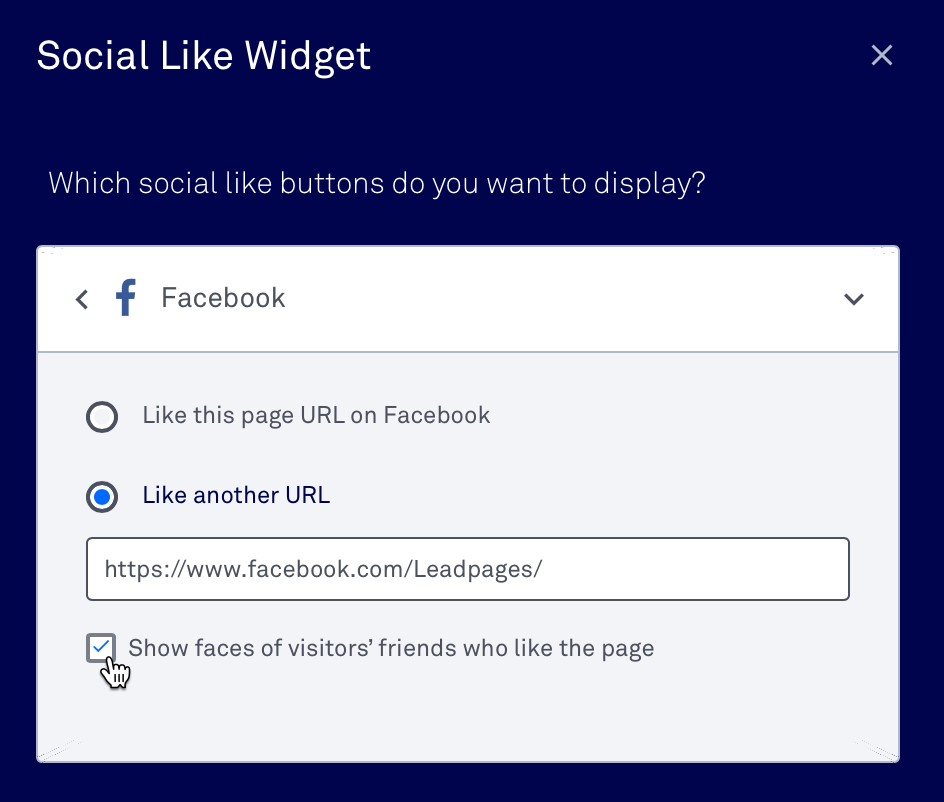 Customization and Styling Details
Alignment Options
The social like widget can be placed above, below, to the left, or to the right of any element on your page. To accomplish this, simply drag the widget where you'd like it to appear in relation to the other element.
The width of the widget can be adjusted when it is placed to the left or right of another element, by dragging the border between widgets.

Style Options

No Count: When the No Count option is selected, the number of Likes will not be displayed on your landing page.
Count Above: When the Count Above option is selected, Likes will be recorded and shown above the social like icon.
Count on Side: When the Count on Side option is selected, Likes will be recorded and shown to the side of the social like icon.
Tips and Frequently Asked Questions
TIP: When to use this widget
This widget is best used on pages where visitors are likely to have heard about your page or services on Facebook, as it helps your page views grow organically.
---
Need more help?
You can always get in touch with our support team—just click Support in your Leadpages navigation menu, or submit a ticket ↗