NOTE:
Opt-in texts
have been discontinued for accounts created after June 8, 2021.
Opt-in texts allow you to collect leads via text messages. People who see the phone number and text code that you promote can opt in to your email lists via SMS messaging—that is, the same text-message service most people use on their phones every day.
Through integration with your email service provider and a lead magnet, you can arrange for your new leads to automatically receive something good—for instance, information about an event, email updates on your project, or even a coupon for your business.
This article introduces opt-in texts and lays out the steps to set them up.
Creating a new opt-in text
Navigate to Conversion Tools in your menu, then Opt-in Texts.
Click Create New Opt-in Text.
Select your opt-in text number, unique identifier, and your custom opt-in message. See "Setting up opt-in text options" below for more information.

Setting up opt-in text options
Choose your country and opt-in text number. If your country isn't listed, please choose a U.S.-based number — i.e., a number that begins with "+1." Note the 5-digit short code numbers will only work from within the U.S.
Your opt-in text's unique identifier is the "code" that your leads will send to your opt-in text's number to start the opt-in process. Unique identifiers can't be used by more than one user—which means each account comes with ten unique identifiers. If you'd like to purchase more, please contact our support team.
​NOTE: Your unique identifier must be one word between 6–20 characters (letters, numbers, and dashes only).​
Add your custom instructions for opting in. We strongly recommend a message that includes explicit instructions to respond with only an email address. If your lead responds with text other than their email address, the opt-in process won't work.
Integrate your opt-in text and more
Once you've configured your opt-in text's options, you can decide what you'd like to happen when your leads opt in.
Many email service providers, such as Mailchimp, require an international phone number field set up on your form within their service in order to properly integrate an opt-in text. Click here for more information on adding a custom phone number field to your Mailchimp form.
NOTE:
Opt-in texts utilize our Standard (Legacy) Builder integration system. Make sure to connect any services you'd like to use with opt-in text by
following these steps
.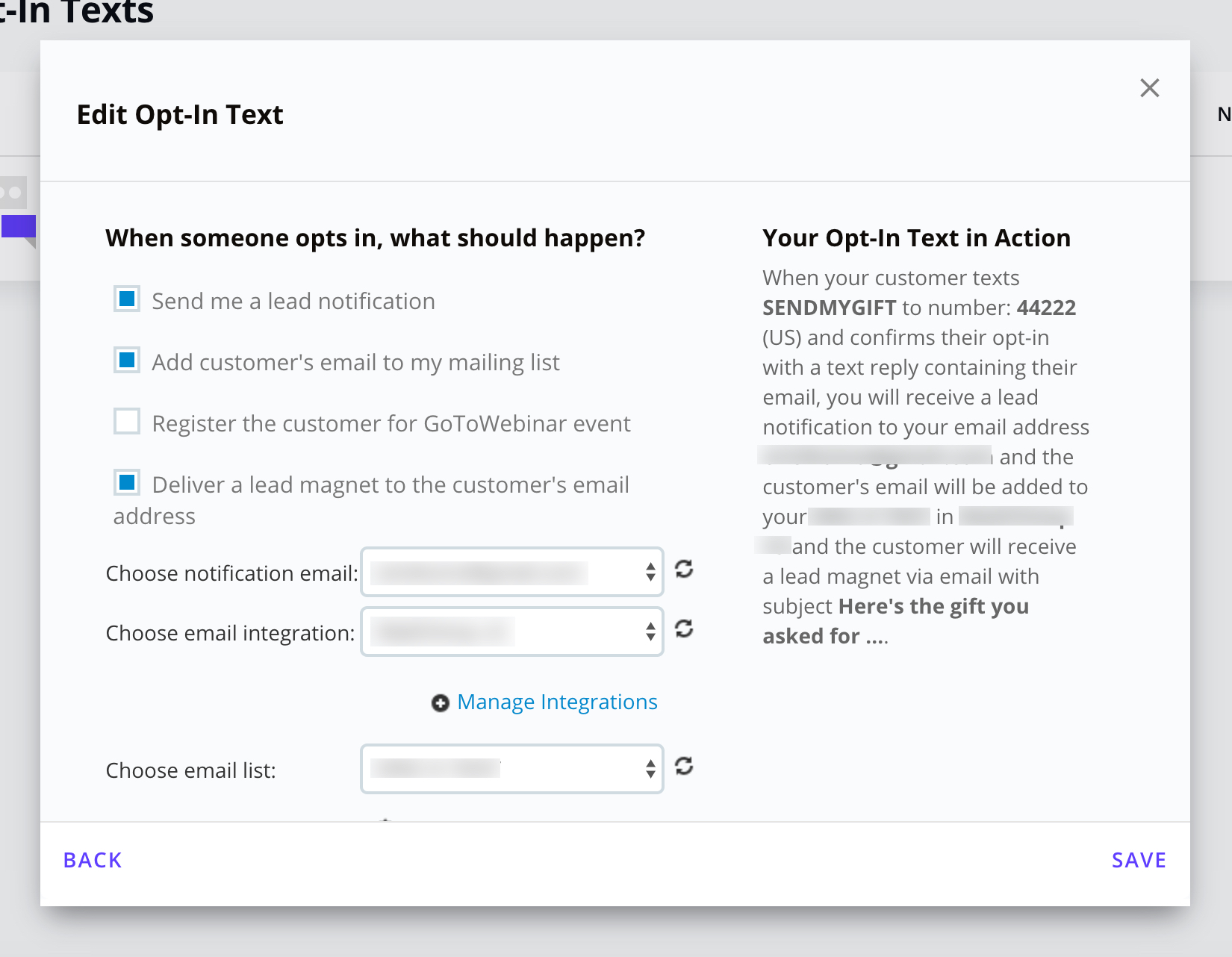 About opt-in text actions
The "notification emails" will be sent to your account email address, or any other email you've set up in our Lead Notifications system. For more information on Lead Notifications, please see our article here.
All API-based integrations in your account will appear as mailing list options.
A GoToWebinar integration is required to register customers to GTW events.
You'll see any options you select reflected in the "Your Opt-in Text in Action" panel, as shown above. When you finish customizing your opt-in text, click Save & Close.
You can always go back and edit your opt-in texts—as well as view how many opt-ins you've collected-under Conversion Tools in your account navigation menu, then Opt-In Texts.
Frequently asked questions
My country is not listed. Can I still use opt-in texts?
Yes, you can still use opt-in texts! All it takes is using one of the "long numbers" (e.g. U.S. phone numbers with +1 in the beginning).
5-digit short code numbers you see listed only work in the U.S. at this time.
Like with any other international number, international fees will apply. Meaning, people who opt-in to your opt-in texts may be charged messaging fees depending on their mobile carrier.
My integration is on the list but I can't get it to work! What can I do?
Some integrations require specific formats for the lists/forms in order to work with opt-in texts. The following integrations require manual tweaking:
Mailchimp: In order to use Mailchimp with opt-in texts, you will need to change the default form to include phone number field or else it will be missing from the audience. The best practice for this integration would be for the default form for your audience to include only email and phone number fields.
OfficeAutoPilot (ONTRAPORT): In order for OfficeAutoPilot/ONTRAPORT list to work with opt-in texts, you must first create a sequence.
Infusionsoft: For Infusionsoft to work with Leadpages, both Legacy and Campaign Creator forms need to be configured with a phone field and an email field as default. The form must also have bot detection turned off. Once that has been accomplished the forms will be compatible with opt-in texts.
Why is phone number data from my opt-in text opt-ins being populated in multiple fields?
Some integrations will automatically fill in multiple fields with the phone number collected from a opt-in texts submission.
Marketo: When integrated with opt-in texts, Marketo will automatically use information submitted to populate "Phone," "Fax," and "Mobile" fields.
iContact: When integrated with opt-in texts, a standard list populates the phone number data into "Business Name," "Phone" and "Fax" fields.
Constant Contact: When integrated with opt-in texts a standard list populates phone number data into "Home," "Mobile," "Work," and "Fax" fields.
Salesforce: When integrated with opt-in texts, phone number data shows up in Leads as "Phone" and "Fax" fields, but not as a subscriber in the campaign.
Why is my integration collecting emails but no phone number?
It is currently not possible to send phone numbers through opt-in texts to the following integrations:
SendReach
ActiveCampaign
GoToWebinar
Convertkit
If this is occurring and your integration is not on the list above, please reach out to support for help!
Can I send opt-in data from an opt-in text to two lists in ActiveCampaign?
It's not currently possible to set up an opt-in text to send opt-ins to multiple lists in ActiveCampaign. That said, you can set up an automation within ActiveCampaign to ensure opt-ins are subscribed to multiple lists by following the instructions outlined here.
Do opt-in texts comply with industry standards for users to opt-out of SMS messages?
Yes, the opt-in texts system is powered by Twilio, which provides a variety of identifiers so users can opt out of text messages (and back in). Send STOP, STOPALL, UNSUBSCRIBE, CANCEL, END, or QUIT to your opt-in text number to opt out of notifications.
Users can also send START or YES to restart notifications, and HELP or INFO to learn more about opt-in text messages. Please note that any of the identifiers above are reserved, and cannot be used for your opt-in text unique identifier.
For more information on these identifiers, click here.
---
Need more help?
You can always get in touch with our support team—just click Support in your Leadpages navigation menu, or submit a ticket ↗