Steps to upgrade
There are plenty of reasons you might want to upgrade your account. Whether you want access to pro-level features or just want to switch to annual billing and save on your subscription, here's how you can upgrade:
Click Upgrade at the bottom-left corner of your navigation menu.
Review the available plans, then select Upgrade for the plan you'd like to switch to (as shown below).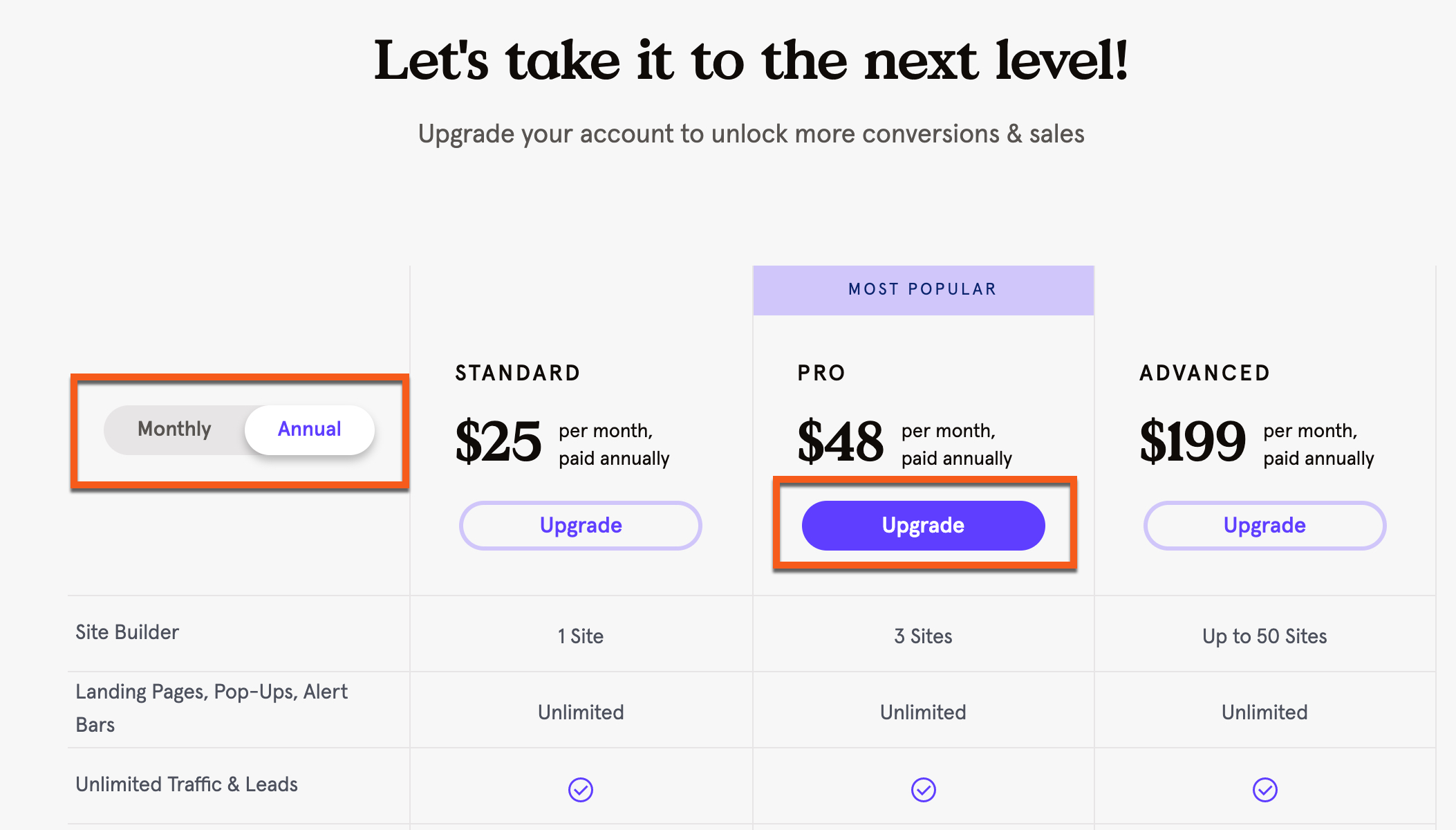 TIP: You can save money by paying annually for your Leadpages subscription.
Fill out any payment details as necessary, then you'll be all set! Enjoy your new subscription.
The fine print
There are a few billing-related items to keep in mind whenever you change your plan. Here's what you need to know:
Any balance on your current plan will get credited to your new plan—which can reduce the initial price. For instance, if you have $30 worth of time remaining on your current plan, and upgrade to a $100 plan, you'd get charged $70. (Note you may not be charged immediately if you have built up credit in your account.)
In most cases, you'll be charged immediately upon upgrading your plan. Kindly note, if you change your plan during a trial, you will not be billed until the end of your free trial.
All of our plans renew automatically (on a monthly or annual basis). A new billing cycle begins any time you change your subscription.
When you change plans, you'll lose access to any locked-in pricing or features from your old plan. If you decide to switch back to your original subscription in the future, you'll be subject to any changes in pricing or features.
Looking to change to a lower plan?
If you need to switch to a less expensive plan for whatever reason, just let us know and we can help you out. Since changing your subscription can prevent you from accessing certain features or locked-in pricing, we do require you to confirm those changes.
---
Need more help?
You can always get in touch with our support team—just click Support in your Leadpages navigation menu, or submit a ticket ↗