Pop-ups are high-converting, customizable opt-in forms that can be embedded on almost any site. This guide will cover how to create (and personalize) a new pop-up from scratch, so you can start gathering leads and growing your list.
What are pop-ups?
Our pop-ups are opt-in forms that can be triggered automatically, by time or action, or manually, by a user clicking an image, button, or link. You will choose a trigger when you're ready to publish the pop-up, as laid out below.
NOTE:
Standalone pop-ups are separate from pop-ups you create
within
a landing page or site with Leadpages.If you intend to use a pop-up linked to a button or text on a landing page or site built with Leadpages, you will create an on-page pop-up.
Learn more here
.
You can use standalone pop-ups on any platform which allows for the use of HTML and JavaScript, such as WordPress, Squarespace, or your own site.
Getting started
To create a new pop-up, navigate to Conversion Tools in your navigation menu, then Pop-Ups. Click Create New Pop-Up.
Next, choose a descriptive name for your pop-ups and click Start Building to open the pop-up builder.

Customizing and adding content
All new pop-ups include a few widgets to get you started, including some text and a form. Click any widget to customize it, like the text widget shown below: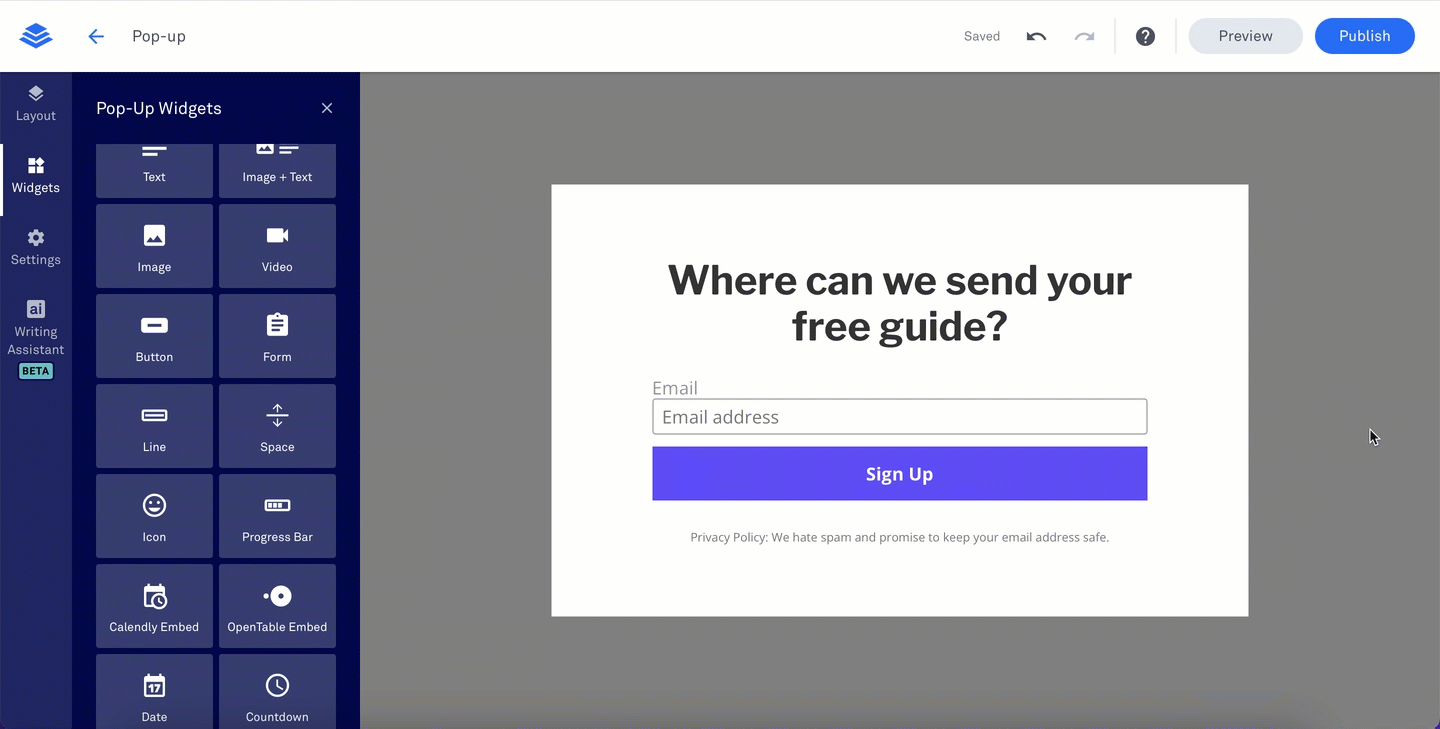 Also, if you already have a pop-up built, you have the option to copy + paste a section onto your new pop-up. Learn more ↗
Adding new content
You can customize your pop-ups with additional content widgets. Here's how:
Click the widgets icon in the left-hand sidebar.
Choose a widget and drag it onto your pop-up.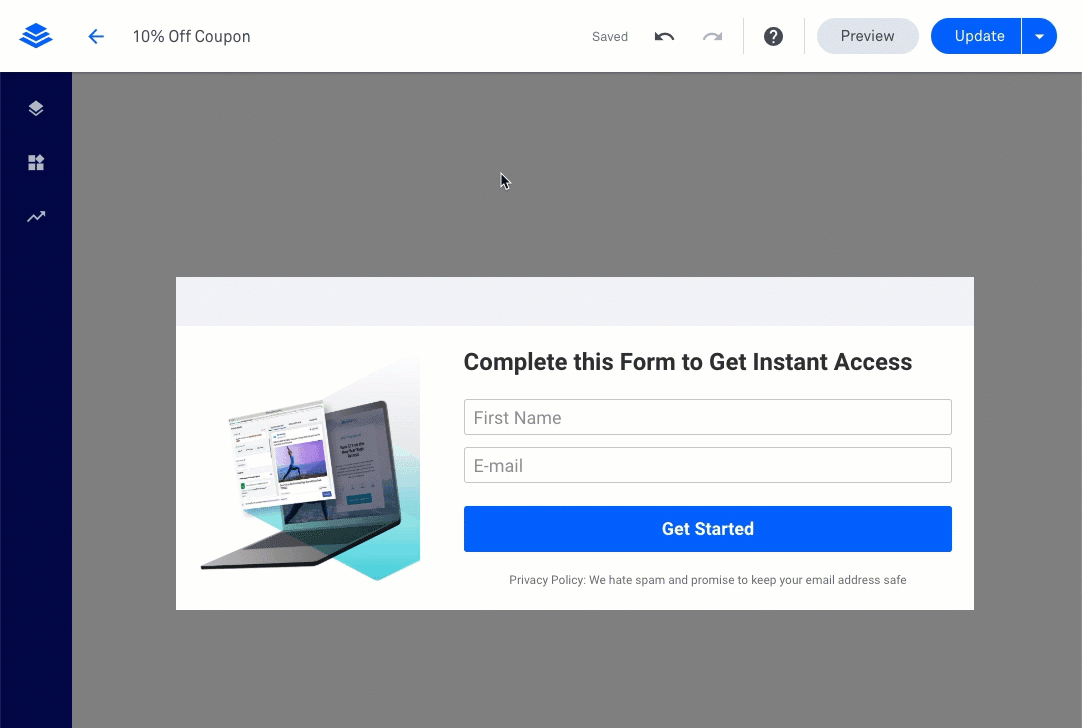 You can learn more about each widget here: Using widgets
TIP: Be careful not to add too much content to your pop-up. Typically, the highest-converting pop-ups are laser-focused—more in-depth content is better-suited for a landing page.
Moving and deleting elements
Hover over any widget to move or delete it. A blue shaded area will indicate where your widget will move as you drag and drop, which is shown below.
Background color or image
You can add a background color or image to each section of your pop-up by clicking Layout in the left-hand sidebar, or simply hover over your pop-up and click the section name in the top-left corner of the pop-up.
Open the section drop-down, then click the gear icon to navigate to the section's style settings.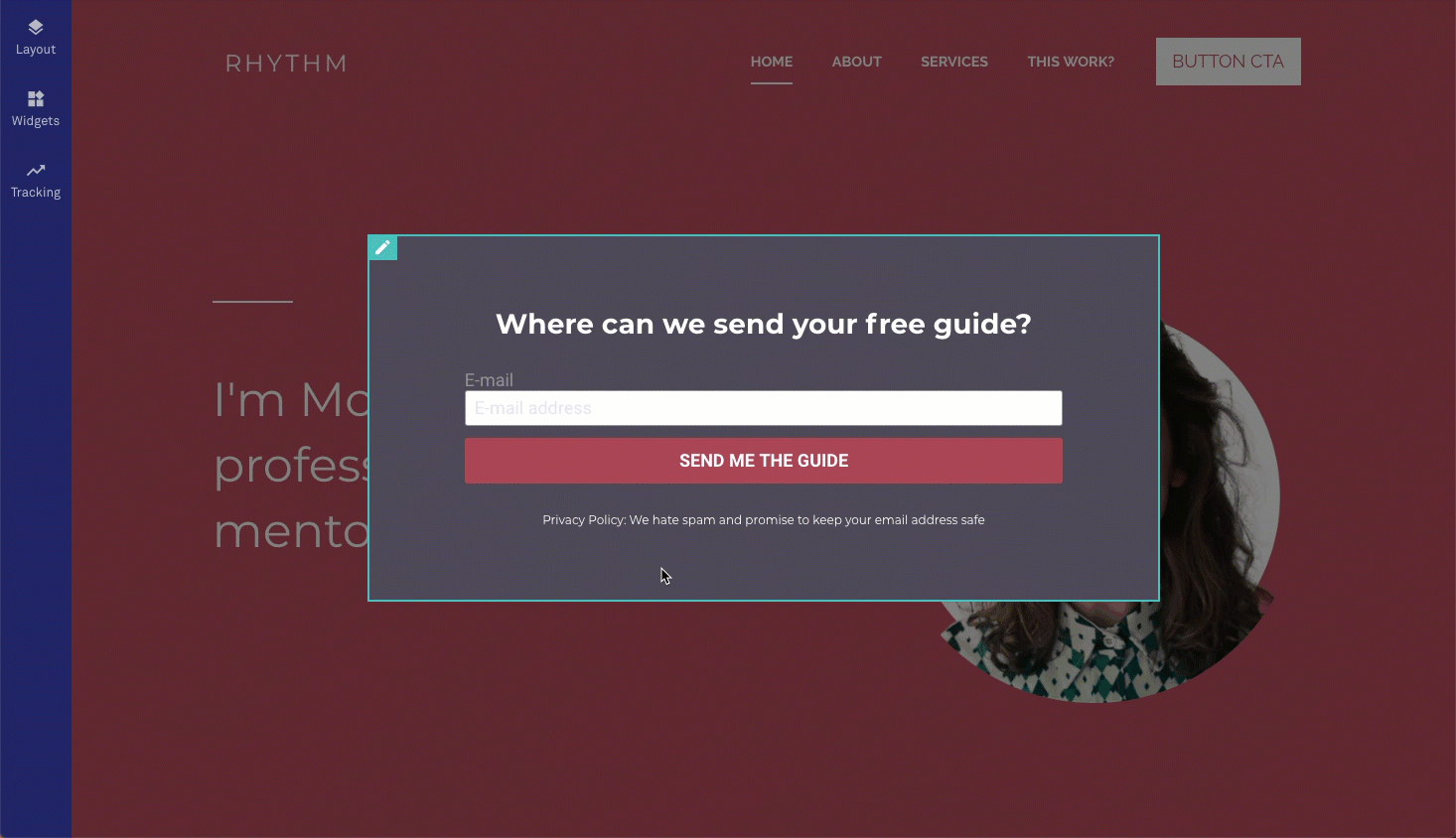 Setting up your form
Each pop-up includes a form widget by default. In most cases, you'll want to customize the following parts of your form:
your integration settings: where you're sending lead data
your form fields: what information you collect from visitors
follow-up: what happens after someone submits your form
For details on customizing and setting up your form widget, please see our article here: The form widget
Publishing your pop-up
Now that you've created your pop-up, it's time to publish it to your site. Click Publish in the top-right corner of the pop-up builder to explore the available trigger options. For a full guide on publishing your pop-up, please see: Publish your pop-up
Frequently asked questions
Can I use standalone pop-ups on a landing page or site?
Yes! Learn more here →
NOTE: If you do use a standalone pop-up on your page or site, you'll need to look at the pop-up's analytics data to track opt-ins—as they won't appear for your page or site.
---
Need more help?
You can always get in touch with our support team—just click Support in your Leadpages navigation menu, or submit a ticket ↗